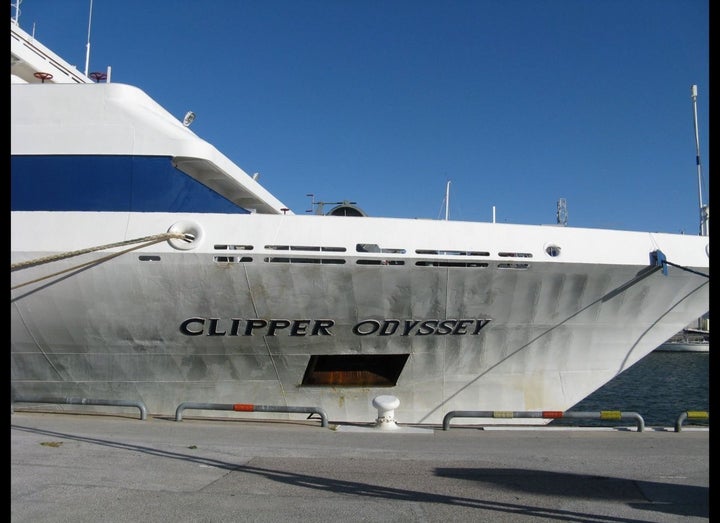 "This isn't the Love Boat," declares one of the veteran passengers -- she's been on 30+ trips with Zegrahm Expeditions -- who has a sixth sense for identifying first timers, including those with a romantic agenda. She points out a woman decked out in a canary yellow ensemble with clutch and stiletto heels to match. "Newcomer," the veteran declares.
Another shivers in a thin, fashionable red cardigan and silk capri pants, an outfit that's clearly out-of-season for the breezy, rainy Baltic Sea clime. "She's dressed for Bermuda," my friend observes.
Zegrahm Expeditions has a high percent of returnees -- oftentimes it's 70% -- and these veteran passengers know what to pack: plenty of Gore-Tex rain gear, good shoes for cycling, hiking and walking on cobblestone paths and jackets insulated with down or fleece. With rain pants deployed and a GPS and a walkie talkie permanently clipped onto his jacket, Mike Messick, the energetic expedition leader with a warm, easy-going and confident demeanor (and one of several Zegrahm owners), embodies the company's adventure-centered ethic. (He's prepared for any emergency -- even pedestrian ones that might occur while walking within medieval city walls -- and, given his love of techie gear, very much resembles the Zodiac pilot he once was.)
Swathed in a SmartWool sweater, a Cintamani polar fleece jacket, a pair of Mountain Hardware pants and other high-tech adventure gear, I'm fairly sure I fit right in with the Zegrahm uniform. But, alas, even though our ship, the Clipper Odyssey, is only 335 feet long with a mere seven decks, I'm often lost -- a dead giveaway that I'm a first timer -- showing up on level five for an afternoon lecture that's on the deck below or on the wrong level to disembark in the morning. (Blame it on my geographic dyslexia.) But with so many passengers commiserating on their many idyllic Zegrahm journeys, it got me wondering what keeps them coming back?
The cuisine? With a chef that hails from India, it's no wonder the flavorful menus have options that are Asian inflected, such as smoked duck with ginger and lemongrass, and aloo gobi with mango chutney. Fish dishes that include swai fillet encrusted with macadamia nuts easily satisfy health conscious diners like myself. Of course, the ice cream socials, trays of brownies and chocolate chip cookies, and grilled burgers, fries, bratwurst and hot dogs appeal to those who hop on a cruise expecting to toss dietary restrictions out the window.
The cabins? The Clipper Odyssey offers an intimate voyage with its maximum 110 passenger load, though on my journey we were half full. Of the four floors of cabins, some of the spacious staterooms are complete with a patio and all come with a comfortable bed and bathroom. But, it was the flat screen television screen displaying the GPS position of our ship that tickled the geek in me. Waking up in the middle of the night, I could spy when we were about to enter the Kiel Canal and take on a pilot to help us navigate one of the world's busiest waterways. (I have an obsession with watching how, even in tumultuous seas, a pilot can casually jump from their small boat onto our ship and visa versa.)
I'm of the opinion that what most likely keeps passengers committed to Zegrahm is the engaging college-type lectures (without the stress-inducing tests) and adventure opportunities where a respect for nature and local culture is foremost.
The ship's public spaces are a celebration of Zegrahm's routes that encompass some of earth's most far-flung locales. As I wander the ship, I find the walls hung with color photos of indigenous people, landscapes and flora and fauna: children from Papua New Guinea, a crested tree dragon found in Borneo and a red crowned parakeet spotted in the Auckland Islands. The library is stocked with a trove of coffee table books and tomes providing an in-depth perspective on such topics as reef fish of Micronesia, Tasmanian flora and Bush food in Australia.
A cadre of on-board scholars -- they include a naturalist, cultural and political geographer, deep-sea diver and maritime archeologist, Russian and European historian, Viking and Norse archeologist, and a paleontologist and maritime historian -- provide a wealth of entertaining insights and relevant context for our daily discoveries as we cruise the Baltic, taking time to crawl into a 6,000-year-old megalith (Denghoog on Sylt Island), bicycle along a narrow strip of land that's trimmed with wild white beaches (Curonian Spit in Lithuania), enter a round 12th-century church that was once used for defense (Osterlars on Bornholm Island), bird watch along tall sand dunes covered in heather (on Sylt) and inspect unique picture stones dating from the year 700 (Gotland Museum in Visby).
Each of our excursions (see a selection of them below) are saturated with myriad cultural surprises and lessons in the physical and natural sciences and the humanities. What better way to stimulate body, mind and spirit? Now that I'm home, I'm planning to use some of my new-found knowledge at one of the many trivia nights that are proliferating around my hometown.
Sylt, Germany
We stroll a boardwalk that wanders through a marshy reed-strewn scape. Ahead is the Burg, which, to the untrained eye, is simply a doughnut-shaped grassy landscape. To an archeologist, such as Colleen Batey, this represents a 1,000-year-old Viking fortress -- there are only three to four such forts in all of Scandinavia -- that served as a trading outpost beside a harbor when the sea once washed up to this area. On an afternoon bicycle ride, we inspect the 15th-century St. Severin Church in Keitum -- a settlement favored by well-to-do whalers -- where a brass door knob is shaped like a whale and the churchyard is home to a macabre bronze sculpture resembling the shroud of the grim reaper.
Kiel Canal, Germany
Transiting the canal whose size and locks bear no resemblance to those of its sister in Panama, we spot the most curious ferry that's suspended by cables from the Rensburg Bridge. On the north shore, a restaurant announces each ship, including ours, that passes and, in keeping with the tradition, we blow our horn. Yet, despite all the activity, the path along the canal rolls through a pastoral landscape with tidy houses, farmland planted with barley, dense forests of willow, ash and oak and fields of purple fireweed.
Kevin Clement, a naturalist who teaches at the Denali Foundation in Alaska, explains that whenever a bumblebee gets nectar from fireweed, it'll remember the exact blossom for nine days and revisit it. Once we pass through the second and final canal lock, we enter the Baltic Sea that's a museum of perfectly preserved shipwrecks, including the Russalka, explains Jim Delgado, a maritime archeologist, who had dived and peered into the cabins of this 18th-century Russian ironclad.
Bornholm, Denmark
Passing quaint half-timbered houses painted in yellow, white and red -- the crimson color is derived from ox blood -- and a quarry cut deep into the earth, we learn that the island is renowned for its granite that ranges in color from blue to black. According to Ralph Eshelman, who has a specialty in paleontology and cultural resource management, while the mica and feldspar give granite its color, it's the quartz that lends hardness to the rock. And, we can also thank the quartz for Bornholm's blinding white beaches as well as its successful glass blowing industry. (After all, glass requires quartz sands.) But tourist delights aside, Tim Baughman, a history professor from the University of Central Oklahoma, explains that with its position in the Baltic Sea between the coast of Germany and Gotland, Bornholm has long been strategic. So much so that the Germans used this isle as a listening station during World War II.
Klaipeda, Lithuania
Cycling paved bike paths on the Curonian Spit, a ribbon of land that's a mere 1,300 feet wide at its narrowest, we first head towards the forest-clad interior of this UNESCO World Heritage Site where bird sounds from blackbirds, chat finches and other species are abundant. Then we veer down a path towards one of a string of tempting sandy beaches. Along the shore, three locals, instead of spreading out beach towels, are dragging large nets through the surf as they sift for chunks of amber, the fossilized resin of conifers. Using our hands, we pick through the sand and find dozens of orange-hued amber grains. (Apparently a violent storm the night before explains why the amber is especially plentiful.) Ralph tells us that amber, one of the first products used in trade, was even mentioned in Homer's Odyssey. But not all amber is orange, he adds. The different colors, from the most expensive, translucent gold, to the cheapest, opaque black, depend on impurities, the type of tree and what part of the tree the resin originated.
Visby, Sweden
We wander the cobbled lanes of the walled quarter of this town that's designated a UNESCO World Heritage Site. Along one lane are houses from many ages: one with a tarred facade is from the 1700s while across the street is a 13th-century dwelling bearing a tiny doorway. Among the many church ruins, the only one that's intact is St. Mary's Cathedral, which has some unusual features, says Ron Wixman, a cultural and political geographer who had taught at the University of Oregon. He points to the entrance on the south, instead of the usual west, side, which represents a portal used by the unbaptized, as well as a petaled flower carved into the ceiling of the ante-church, reflecting a fertility goddess symbol once used to appeal to women.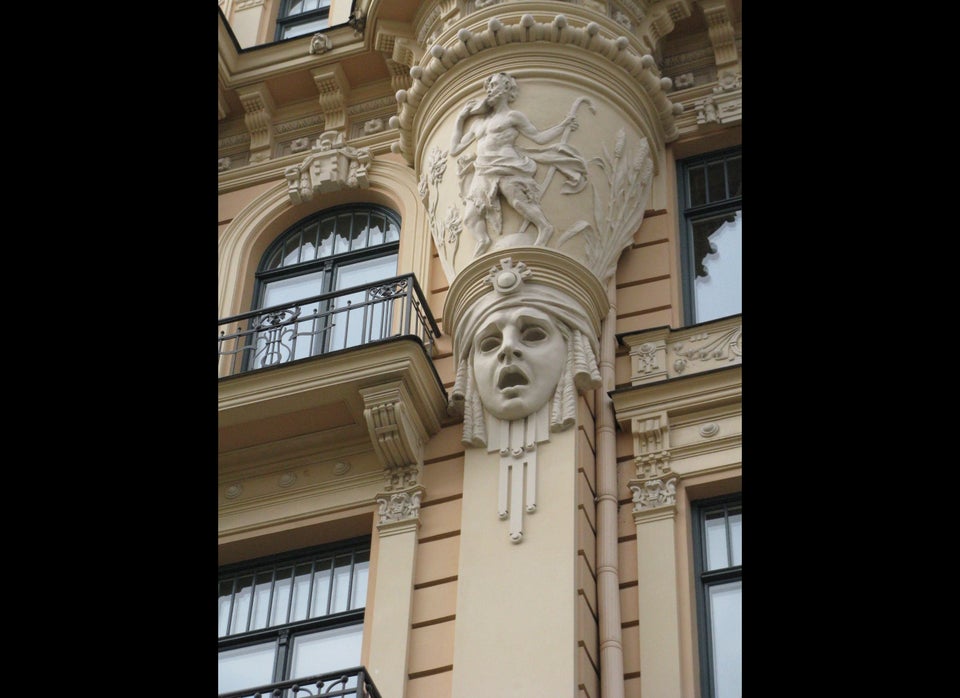 An Education At Sea