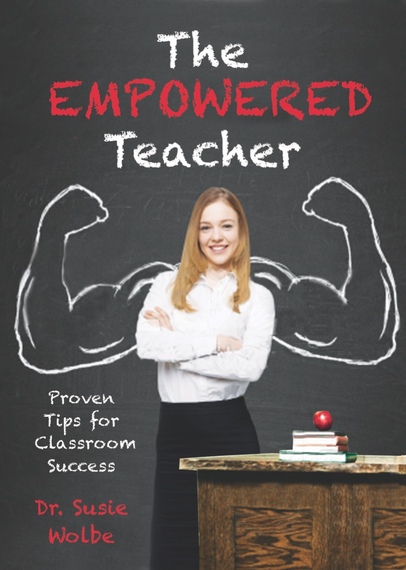 When I retired from my school in 2012, I had been a teacher, and then a K-8 principal for 14 years. At the time, I knew I wasn't through with wanting to positively impact children, their families, and teachers; I just knew I needed to move on from that particular school situation. As I was taking stock of myself, my needs, and what I felt might be most helpful for those people with whom I had interacted in my former role, I just started writing. The result? The Empowered Teacher: Proven Tips for Classroom Success.
The offerings in The Empowered Teacher are what I'd hope for every teacher, child, and parent:
Encouragement to establish positive relationships with colleagues, students, and families
An understanding that teachers need to develop a habit of self-care for themselves, and then teach their students and families to do the same
Learning strategies that can help decrease stress and anxiety, emotional reactivity, rumination, and negative thinking patterns, and, at the same time, help improve focus and attention, relationships, empathy for self and others, appreciation, gratitude, and an ability to notice the gifts in the world around them
A method, for adults and children, for how to approach disagreements with others, even for children as young as kindergarten age
An understanding of how adults can achieve work/life balance, and for students and parents to thoughtfully avoid over-scheduling children's activities so kids can experience a balanced life, too
A connection to cutting edge programs, like Challenge Success and Mindset, so teachers, students and families can benefit from the latest research involving motivation, resiliency, and setting appropriate goals
Procedures to minimize the time it takes to complete the daily "minutiae" with which every teacher has to contend
Study and organization strategies for both the school and home so students learn to work efficiently and independently, and know how to plan their schedule well
Knowledge for how to set up a home study area so kids do the schoolwork, and parents simply oversee the process rather than 'helping' complete ever project and assignment
Nothing is perfect, and there are surely strategies and procedures that were overlooked, or simply not included, in this offering; that's actually acceptable. What is not acceptable is for teachers to leave their profession because they are underpaid, overworked, or underappreciated, or have such a work/life imbalance that either their students or their families pay the price.
Teachers will never be paid like rock stars, but they are the real rock stars of the world.
They work with children of all ages, as well as dealing with families and legalities far beyond their training allows.
People think teachers get the summers off, without even realizing that that's when teachers earn money from a second job...or a third...or fourth, so they can actually have enough money to pay their bills throughout the year.
Teachers never stop learning; they try to stay up with the latest research, improve their teaching units, and do anything else they can think of to put a spark in the eye of a child who suddenly, finally, miraculously learns something new. And that spark in a child's eye is what makes the low salary and enormous effort all worthwhile.
Teachers are the rock stars of the world, and let's hope they all become empowered sooner, rather than later.
Maybe you'll want to get a copy of The Empowered Teacher for your child's teacher!
Related