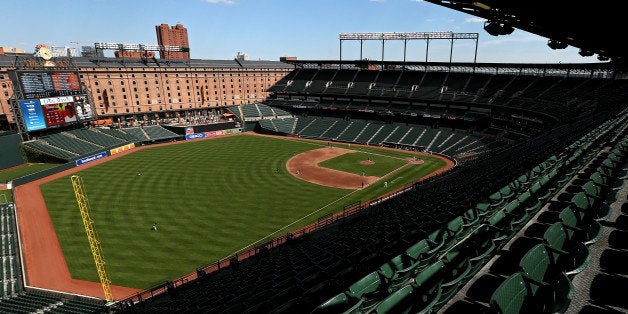 On April 29, 2015 after a state of emergency had been declared in their city, the Baltimore Orioles defeated the Chicago White Sox in an empty stadium. Those reporters who attended the game described the atmosphere as "bizarre," "eerie," and "surreal." This game, played in a park without fans, revealed the strange and sad condition of the soul of the city of Baltimore and cities across America.
The fans were barred from Oriole Park on April 29 when the violence that had been contained within segregated pockets of poverty spilled out into the heart of the city where the upscale Inner Harbor area intersects with the troubled West-side and where Oriole Park at Camden Yards is located. The stadium closed because an already divided city could no longer sustain the peace. Peace is built on justice, trust and shared prosperity. Like many of our cities, Baltimore stopped doing what cities do -- bring diverse people together to establish a common life that ennobles them all. Thus the empty stadium symbolized what happens when democracy fails and the people permit inequality to excuse injustice.
A. Bartlett Giamatti, former Commissioner of Major League Baseball and Renaissance scholar, once wrote that the sports venue is itself a city, "At once a market, a forum or a meeting place, a house of worship if you wish ... a special, set-aside-in-midst-of-life indoor or outdoor little city." He pointed out that these little cities are special because players and fans take a break from work to spend their time together watching a game. Watching a ball game in a city park is more than relief from the tedium and pressures of life. At the game, players and fans together both enact and celebrate human freedom and human community. On April 29, the ballpark ceased to do what ballparks do -- bring people together. The game played inside the park was a mere business transaction.
The headlines now tell us that Baltimore is returning to normal. For those who live in places like Sandtown-Winchester, where Freddie Gray grew up and where much of the rioting took place, normal means something different from those in the harbor neighborhoods. Normal in Sandtown-Winchester means continuing to live in segregated poverty with little opportunity for employment, deteriorating housing, an overtaxed healthcare system, inadequate schools, and few safe places for children to play. The average life expectancy in Sandtown-Winchester is about the same as it is in Nepal. Sandtown-Winchester didn't simply fall into poverty as a stone might fall to the ground. Sandtown-Winchester was made poor through a series of deliberate policies enacted over a century.
We Americans have become so accustomed to living with poverty in the midst of prosperity that we sometimes delude ourselves into accepting injustice rooted in inequality as inevitable and intractable. We lose sight of the fact that like our ballgames, our cities are our artifacts, our inventions. An empty Oriole Park revealed the depths of our social dysfunction and our willed powerlessness. But we built both the park and city and we have the capacity to remake them. Giamatti reminds us that, "Human beings made and make cities, and only human beings kill cities, or let them die. And human beings do both ... by the same means: by acts of choice."
Our fate is really up to us. We can choose to create a new normal, where there is a new business as usual, where our cities and our ballparks are not merely places where business is transacted but where all citizens flourish, where fairness and justice are guaranteed to all, and where no one at any level of the social strata is locked out.
REAL LIFE. REAL NEWS. REAL VOICES.
Help us tell more of the stories that matter from voices that too often remain unheard.