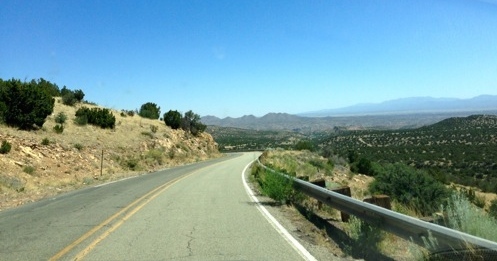 Each year as the summer season approaches, the road begins to call to me. I'm not the only one who feels this way. Summer vacations and American road trips go hand in hand. There's something magical about driving the country's roads and highways, never certain about what charming small town or awe-inspiring, yet utterly secluded terrain may be around the next bend in the road. My favorite discoveries on the road tend to be hot mineral springs. And why not? After long hours in a car, there is nothing quite as soothing to end a day than by melting into bubbling geothermal mineral pools. Perhaps that's why a recent hot spring themed five day road trip through the State of New Mexico, the Land of Enchantment, has left me daydreaming about when I can go back to explore more.
Start your trip by flying into Albuquerque and spending the night at Hotel Andaluz, a 75-year-old downtown boutique hotel with classic Andalusian and Moorish design and architecture. It is the only hotel in the Southwest to receive both a Gold LEED Certification and be on the historic registry. After spending the afternoon window shopping and eating in the historic district of Old Town, return to Hotel Andaluz and you are pretty much ensured a deep sleep on their luxurious and soft Italian Frette linens topped with goose-down duvets. You'll need the sleep, tomorrow is a big driving day!
DAY TWO: TRUTH OR CONSEQUENCES
Pack into your rental car early and start driving south on I-25 towards the City of Truth or Consequences. Normally a short two hour drive, today it's going to take a lot longer because you are going to take a lengthy detour for a couple uniquely New Mexican adventures.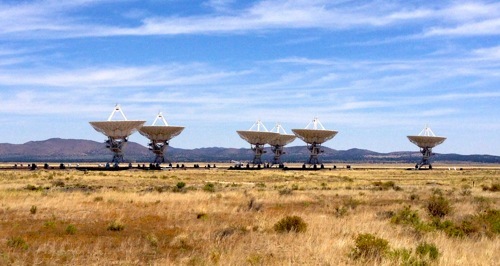 Once you reach Socorro, take US-60 W for about 46 miles until you reach the Very Large Array Radio Telescope (VLA). The VLA consists of 27 dish antennas, each 82 feet in diameter, in a Y-shaped configuration spanning 22 miles. You've probably seen this massive radio telescope in the movies Contact and Independence Day.
By now you are probably getting hungry, so continue west on Highway 60 for another 41 miles until you reach the unincorporated community of Pie Town, NM, which is located on the highest point of the Continental Divide National Scenic Trail. What better reason to visit Pie Town than to eat pie?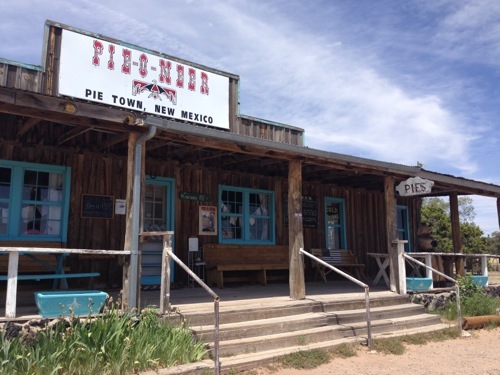 Stop into the Pie-O-Neer Café to stuff your belly full of Kathy Knapp's mouth-watering pies. A hamlet of only about 153 people, there's really no other reason to visit Pie Town than to eat a couple pieces of scrumptious pie (confession: I tasted three different kinds). Call before you visit to make sure they are open. Discoveries in the middle of nowhere like the VLA and Pie-O-Neer Café are at the heart and soul of the American road trip experience. After having your fill of pie, top off your travel mug with coffee and back track on Highway 60 East to I-25 S. About 155 miles after leaving Pie Town, you'll finally find yourself in tonight's destination: Truth or Consequences.
Once named Hot Springs, this eclectic small artsy town with a distinct Bohemian vibe changed its name in 1950 to Truth or Consequences (or "T or C", as the locals call it) as part of a publicity stunt to celebrate the ten year anniversary of Ralph Edwards' popular NBC radio game show of the same name. Check into a hotel in T or C's Hot Springs Historic District, and then melt away any residual road trip muscle gridlock by immediately submerging yourself in a hot spring soak at one of the ten commercial spas open to the public.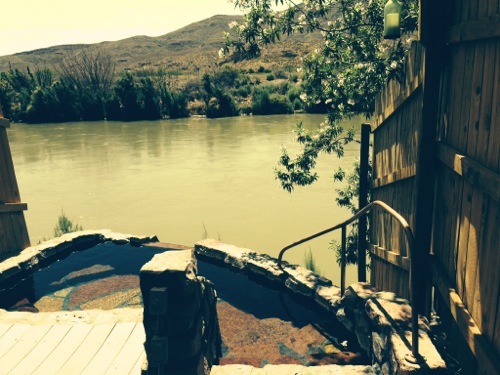 Choose from the picturesque riverside pools at Riverbend Hot Springs that overlook the Rio Grande and Turtleback Mountain, to the free-flowing pebbled bottomed private thermal pools at La Paloma Hot Springs, to an upscale spa experience at Sierra Grande Lodge & Spa.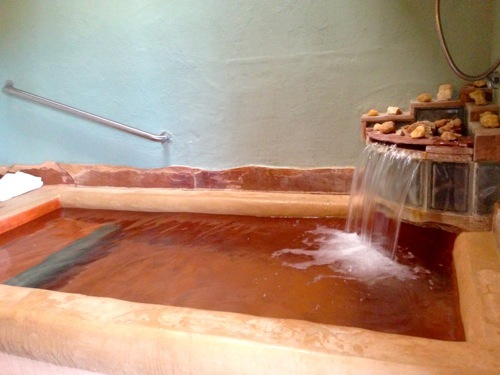 I made my home for the night in The Jetsons room at Blackstone Hotsprings, where each of the renovated rooms are themed after popular television characters. After dinner at Latitude 33, an Asian Fusion restaurant that combines flavors from across the northern 33rd latitude, I found myself rushing back to my hotel to indulge in a very luxurious private soak in the humongous hot mineral bath in my room.
On your way out of town, stop by T o C's quirky Passion Pie Café to grab a couple homemade pastries to fuel you on your three hour drive north to Jemez Springs. Drive north on I-25 to US-550 N to NM-4 E and you'll soon find yourself in the mountain village of Jemez Springs. Drop your bags off at any number of local hotels, and then take a pre-lunch soak at either the municipally owned Jemez Springs Bath House, an 1870's somewhat rustic, renovated Swiss-chalet-style building in the middle of town, or alongside the Jemez River at the large communal red-rock pool at Giggling Springs. Spend your afternoon five miles north of Jemez Springs on a two mile hike through the Santa Fe National Forest to McCauley Hot Springs, a series of three natural pools in a woodsy setting.
No trip to New Mexico is complete without a visit to Santa Fe. Whether it be art and culture, world class cuisine and shopping, exploring nearby ancient Indian ruins and traditional pueblos, or hiking the pristine wilderness of the Sangre de Cristo Mountains, Santa Fe has something for everyone. You'll arrive after a short 1 ½ hour drive from Jemez Springs.
Continuing the hot spring theme of this road trip, book a treatment at Ten Thousand Waves. Although it doesn't have natural mineral water, the spa experience is modeled after the great Japanese mountain hot spring resorts. Everything from the gardens to the word work to the therapies and pools is designed to bring about a sense of tranquil relaxation.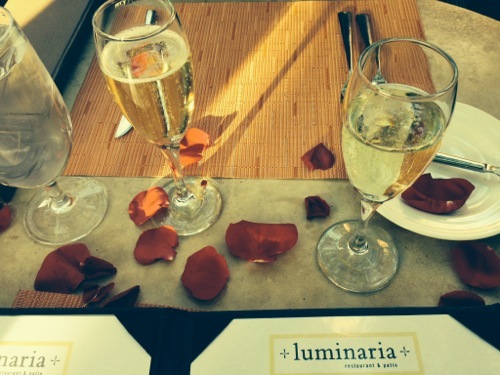 Indulge and stay at the Inn and Spa at Loretto, one of only two hotels in New Mexico to receive the AAA 4-Diamond rating and the only hotel in Santa Fe with a penthouse. One of the most photographed buildings in the state, views from the hotel overlook the mountains. You need go no further for dinner than the Luminaria Restaurant, located on-site at the Inn and Spa at Loretto. Here you can dine outside overlooking the fabled Loretto Chapel, feasting on a scintillating cuisine created for the most sophisticated palates by new Executive Chef Marc Quinones, winner of 2012 and 2013 "Best Chef In the City" by Albuquerque The Magazine.
Head north out of Santa Fe for a one hour drive to Ojo Caliente Mineral Springs Resort and Spa, the crown jewel of New Mexico hot spring spas. This secluded sacred sanctuary surrounded by stunning high desert mesas is one of the oldest mineral hot springs in the country. It features a whopping eleven different thermal pools, including a mud pool and three private outdoor pools with kiva fireplaces.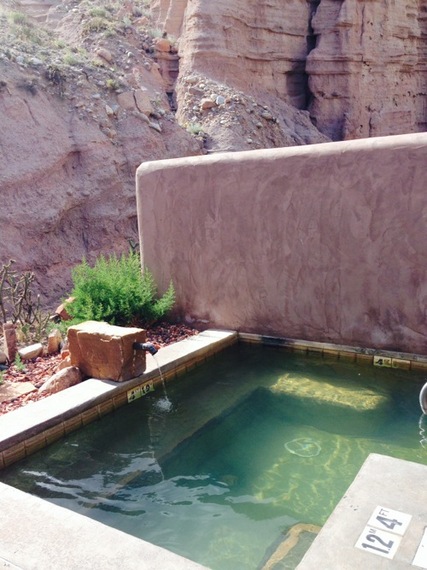 Ojo Caliente is the only hot spring resort in the world with four unique, sulfur-free mineral waters flowing from a subterranean volcanic aquifer: iron, arsenic, soda and lithia. Every pool is filled with different types and combinations of these waters, each believed to be beneficial for everything from depression and fatigue to digestive problems and arthritis.
Take a break from soaking in the pools to restore and detoxify further with one of Ojo Caliente's many diverse signature spa therapies. If you can tear yourself away from the decadent waters, take an on-site yoga class, or throw on your hiking shoes and hike a hilltop trail behind the resort to the Posi pueblo ruins. You won't want, or need, to leave Ojo Caliente for your meals. Enjoy global cuisine in The Artesian Restaurant or the Wine Bar & Lounge. Take a late-evening soak in the Kiva Pool under the starry desert sky, and then collapse into a peaceful slumber in your room.
My guess is you just may wake up the next morning and decide you need to stay an extra day. And you'll probably spend your flight home mapping out your next New Mexico road trip. That's because once you get a taste of paradise, you will want to come back for more.