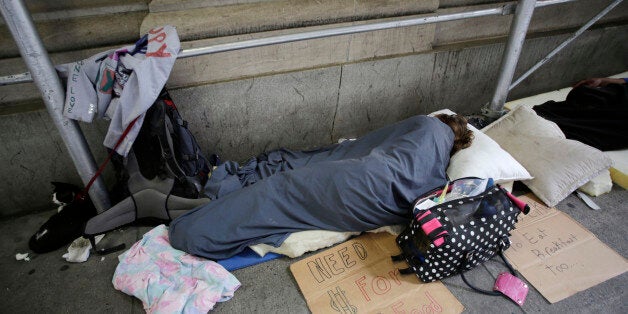 Across the country, far too many men, women and families with children experience homelessness. Here in the District of Columbia, in the shadow of our nation's capital, more than 7,000 people experience homelessness on any given night -- sleeping outside, in a shelter or in transitional housing. In the past five years, our city has seen a 12 percent increase in homelessness.
For decades, we have tried the same old approach to solving this seemingly unsolvable problem. But it doesn't have to be this way. We know what it takes to end homelessness. And in Washington, D.C., we have a plan to get it done. Our goal is to end homelessness in the District by 2020.
When I came into office earlier this year, I put together a team of nationally recognized homelessness and housing experts, led by Laura Zeilinger -- who previously directed homelessness efforts for the Obama Administration. With broad engagement and support from key stakeholders, our local Interagency Council on Homelessness released a strategic road map. That strategy includes making the necessary investments in affordable housing, permanent supportive housing and rapid rehousing -- all supporting a 'housing first' policy. We put our money where our mouth is, with $145 million devoted to homeless service programs. And this is a community that looks out for our neighbors. More than 11,000 people have joined the cause by signing this pledge.
As part of our strategy, we are rethinking the way we provide emergency shelter to families. To start, we are changing our seasonal approach to the challenge. Historically, we only provided shelter access to families when it's extremely cold (when shelter in D.C. is a legal right). But waiting until winter allows too many families to suffer needlessly on the streets and creates a bottleneck that strains our system. We know that homelessness isn't caused by the weather, so now we provide shelter access to families who need it, when they need it.
We are also laying plans to close D.C. General, a former hospital that has served as the District's largest family shelter for seven years. As any current or former resident can attest, D.C. General is no place for families. It's too big, too old and physically detached from the services and supports that individuals experiencing homelessness need.
This week, the District took a bold step forward in our fight against homelessness. The Council of the District of Columbia passed my Administration's legislation that paves the way for the development of small, dignified, emergency family housing across the city. These neighborhood-based facilities will have private rooms that are safe and clean. There will be common spaces for children to play and do homework, and services like housing assistance and job placement -- the very things that are proven to help families exit shelter and get back on their feet. Once these facilities are in place, we will be able to shut down D.C. General once and for all.
For possibly the first time in our city, we have a chance to end homelessness -- making it rare, brief, and nonrecurring. It's not going to be easy. We have to take new approaches that break the status quo. But it's worth it, because by getting this right, we will help families get back to a place they call home.
Popular in the Community