Every entrepreneur has a moment when he or she sees an unfilled demand in the marketplace and their own unique ability to fill it. Since founding NFTE over 20 years ago, I have had the privilege of meeting many young entrepreneurs and hearing their inspiring stories of entrepreneurial success. Sarah, one of our alums, is one of those success stories. But, in addition to her own small business achievements, I think her story provides a powerful example of the insights and adaptability that a small business owner needs in the market.
Sarah Farzam of Bilingual Birdies came to New York City seven years ago, after graduating from UCLA, to become a high school teacher. By working as a cocktail waitress at night, she was able to save enough money to start her own business -- something she had aspired to since seeing her own mother's and father's office supplies business thrive before losing out to big chain competitors.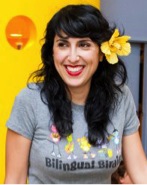 Sarah Farzam
Sarah first got the idea for Bilingual Birdies while hanging out with her two nieces in a West Village park. She was struck by the number of mothers, babies and nannies speaking a variety of languages around her. Later, in a music class with her nieces, she had her first insight: if she could add language to this, then she would have a product. She went home to create a logo for herself, and then with 5,000 flyers she went to local parks to hand them out to parents promoting the launch of her business.
Her product was Bilingual Birdies, a music and dance program to teach children languages. She started spending more time in the park getting feedback from mothers; and after her two months, she finally found a facility for her business, a dance studio that agreed to rent their basement for a small amount of rent. But, she was discouraged that only one person came to her big opening. She had only one $25 check. She started to understand something new, though -- that her key market was not the mothers in the neighborhood, as much as it was the nannies. They were the ones who would tell the mothers how they wanted to spend time with the children and what activities to pursue. Soon, the business started to grow.
She pivoted three years in, changing to market to large organizations like the New York Public Library. Essentially, Sarah went wholesale. She has contracts with several large organizations -- the first of these was the Children's Aid Society -- and the business has grown by an astounding 101 percent, so she is able to serve the mothers and nannies free-of-charge. As the founder, Sarah credits NFTE for helping her to learn record-keeping and business skills. It was there that she created her first business plan, and through this knowledge, she had the insight to change her business to wholesale, leading to massive growth. After the pivot in her business model and completion of her course, her business grew 101 percent and finally reached profitability. Sarah was recently recognized in an article in Inc. Magazine as a great example of how a small business owner must adapt to a changing market, even when it feels risky.
When I spoke to Sarah the other day, I learned that, like so many other entrepreneurs, was planning to further adjust to the marketplace and pivot her business again. Entrepreneurship is risky, but Sarah knows what she is doing. This time, Sarah's company will refocus on their online teacher training program, Culture Academy, based on a business plan pitch for which she recently won a $25,000 startup fund. She expects this pivot to result in another 100 percent growth. I wish Sarah and Bilingual Birdies even more success, and hope others will be inspired by her story and start their own small businesses.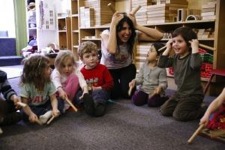 Sarah with a class at Bilingual Birdies
REAL LIFE. REAL NEWS. REAL VOICES.
Help us tell more of the stories that matter from voices that too often remain unheard.