Ten miles into the ride, cycling as fast as I could through a muddy stream in Atlantic Canada, my tire slipped on a cantaloupe-sized rock and I fell to the side of the trail. My legs were muddy but, amazingly, my loaner kilt didn't have a splotch and my ego was bruised more than my leg.
I was on Grand Manan Island in New Brunswick on a bike ride with Off-Kilter Biking owner Kurt Gumeschel and his best friend, Geoff Slater. They ride in kilts not only because they live in the Scottish heritage St. Andrews-by-the-Sea, but also because kilts make great mud fenders. The one I was wearing was the red New Brunswick made by Kurt's father, a tailor.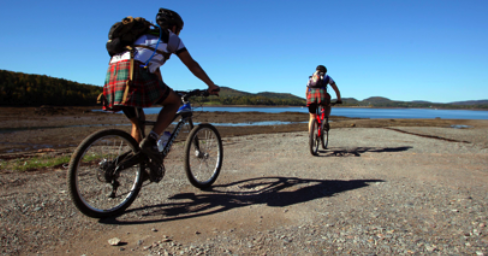 Riding in Kilts with Off-Kilter Bike Tours, Atlantic Canada (Photo courtesy of MADPIX)
Last year, when I cycled to Ministers Island with these two kilt-wearers they told me about an epic ride they lead on Grand Manan, which is considered one of the three most beautiful islands in the world. The idea of riding on jagged cliffs 600 feet above the Atlantic, spotting whales and dolphins, and peddling through single track in magical forests sounded like the most perfect bike ride in the world, so I signed on. To get there, you take the first ferryboat from St. Andrews to Grand Manan, and have to complete the 100k ride in time to catch the last ferry back. Not wanting any pressure, I booked a room at the Inn at Whale Cove Cottages where Willa Cather built a cottage in the 20s.
"Anyone can do a century," said Slater as we peddled off the ferry and onto Grand Manan. "What makes this so special is the distance, the difficulty, and the scenery."
He grinned. "I think you'll find this uber-special." We climbed up a hill, then left the road (the only one on the island) and peddled across a grassy path in a flower-dotted meadow. We were high up, close to the edge of the cliff -- 600 feet above the Atlantic, though the crashing waves sounded as though they were only a few feet away. He'd kept talking about the difficulty and I figured he meant the exposure to the cliffs, but we were far enough away that you couldn't possibly tumble into the sea.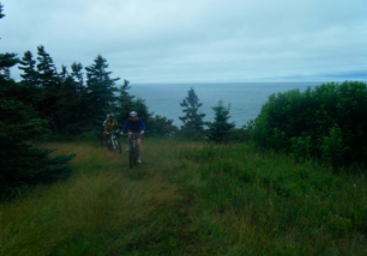 Riding Along the Cliff Edge, Grand Manan Island (Photo Courtesy of Geoff Slater)
Suddenly there was no more trail, just a long gnarly twisting hill where every few feet there'd be a root, fallen branch or rock sticking up out of the earth. Slater, ahead of me, flew down the hill. I crawled with both hands squeezing the brakes praying to the cycling gods that I wouldn't fall. Each time I came to another obstacle, I braked as hard as I could, almost coming to a dead halt.
"Just ride right over them" said Gumeshel, behind me. "Lean forward."
Easy for him to say. I'm used to the paved road of Central Park, not an obstacle course in the middle of a forest. As if that wasn't bad enough, in some places the trail was so narrow that my handlebars caught the branches and I had to dismount and yank the bike free.
Equally difficult were the up hills, some so steep I had to get off and walk my bike. At home I ride a very lightweight road bike, but the Cannondale mountain bike they'd loaned me, though the latest model and with dual suspension, was like pushing an elephant up a mountain. As the trail became still steeper, Slater offered to carry my bike.
I'm not a wimp so I declined.
After what seemed like more than an hour, we arrived at the summit of the forest. I sighed with relief, but the sound quickly became a gasp when I saw that the trail plunged back downhill alongside a deep ravine. Now I had to walk the bike downhill, which was even more exhausting because I had to keep the brakes squeezed. My hands ached.
Next, we rode on a rocky road which was even more scary than the roots in the forest.
Finally, we left the forest and continued on an old rescue trail, which had been made long ago to rescue shipwreck survivors. Now we were riding through puddles which in places came up almost as high as our pedals.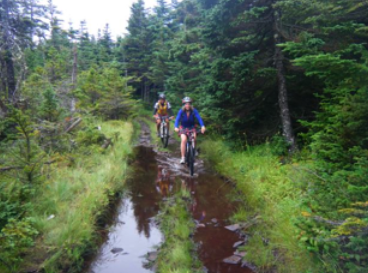 Author and Gumeschel in Puddles of Grand Manan
(Photo Courtesy of Geoff Slater)
I had no idea what was beneath the surface and it was like riding an obstacle course blindfolded. Each time we came to the end of one of these rivulets, I'd thank the biking gods. Then I fell and banged my knee, which hurt, but didn't seem like a big deal until it swelled to the size of an egg.
It's hard to think about pain when you're standing in a clearing, listening to the waves crashing down below the cliff, and watching a bald eagle swoop past .
I'm home now and though my bruise is a bit smaller. I've been wearing shorts to show it off. When anyone asks, I tell them I fell off my bike during a rocky, rooted, muddy, wet and spectacular ride through the pristine wilderness of Grand Manan Island.
I tell them I was wearing a kilt.
Related