Without sharp changes in investment and direction, the current U.S. strategy to produce sufficient energy -- including energy generated from clean sources -- will lead to severe water shortages and cause potentially major damage to the country's economy, environment and quality of life, according to new reporting at Circle of Blue.
For as long as the United States has been a nation, the central idea guiding energy development is to generate as much as the energy sector is capable of producing. In every way imaginable, though, the 21st century is testing the soundness of that principle. A number of environmental, economic, and political impediments lie in the path to large increases in American energy production.
None, though, is more significant than the nation's steadily diminishing reserve of fresh water. The place where rising energy demand collides with declining water supplies is a national choke point that the United States has barely begun to address, and certainly isn't close to resolving.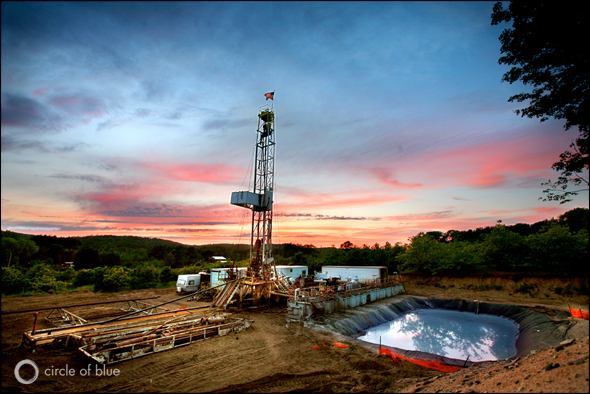 Michigan's New Natural Gas Rush: Energy and Water in Play -- One natural gas gusher plus a record mineral lease sale could mean a big new play for energy producers and horizontal hydraulic fracturing in Michigan. This new well is located in Benzie County, Michigan. (Photo ©2010 Heather Rousseau/Circle of Blue)
Four months ago, in Choke Point: U.S., we set out to better understand what was happening around the United States as communities, businesses, and residents confronted the increasingly fierce competition between water and energy. We dispatched reporters to the coal fields of southern Virginia, the high plains of the Dakotas, California's Central Valley, the Midwest's farm fields, northern Alberta, and to other regions. They returned with riveting narratives about the urgent contests between energy development and water supply that can be resolved, but also pose extraordinarily difficult challenges to regional economies, governing practices, technological development, and the quality of natural resources.
Circle of Blue team reporting reveals that unless there are sharp changes in investment and direction, generating sufficient energy, including from clean energy sources, will lead to severe water shortages, and potentially severe damage to the American environment and quality of life.
"In the next decade, every single sector will need to reform due to water shortage. This is not in fifty years, this is in the next decade," Keith Schneider, Circle of Blue's senior editor, recently told an audience of energy and environmental experts from the research, policy, business, and security sectors at an event hosted by the China Environment Forum and the Environmental Change and Security Program at the Woodrow Wilson International Center for Scholars. Experts predict that acute water shortages will change strategy, business operations and that depletion of global water resources is more rapid, severe, and complex than anticipated.
Jeffrey J. Fulgham, chief sustainability officer of GE Power and Water, said potential solutions to the tight water-energy nexus include sharper focus on water demand, water pricing and the use of new technologies.
 This shift will need to occur quickly.
We also found through Choke Point U.S. that the collision between water and energy could have serious implications not just for the United States, but also for freshwater supplies around the world.
More key findings
Unless the U.S. government plans more carefully, generating energy from clean alternatives is almost certain to consume much more water than the fossil fuels they are meant to replace.


The region confronting the energy-water choke point in the most dramatic fashion is the Southwest, where climate change is steadily diminishing snowmelt in the Rocky Mountains and a prolonged drought is threatening to halt energy production at the Hoover Dam.


The next era of hydrocarbon development is well underway in the United States, as energy companies invest billions of dollars a year to tap the "unconventional" oil sands of Canada, the oil shales of the northern Great Plains, and the gas shales of the Northeast, Texas, Oklahoma, and the Upper Midwest. However, tapping each of these carbon-rich reserves is using three to four times more water than the conventional oil and gas reserves they are replacing.
Developers in North Dakota are spending roughly $7 billion annually to drill 1,000 wells a year now into the Bakken Shale. That effort will produce 100 million barrels of oil and 100 billion cubic feet of gas this year, but will use billions of gallons of North Dakota's scarce groundwater.
Each of the thousands of wells drilled each year into the unconventional gas shale's underlying the Northeast, Gulf Coast states, the West, and Midwest requires three to six million gallons of water injected under high pressure to fracture the rock and enable gas to flow out of the rock.


In Kern County, California, where the agriculture and oil industries compete for diminished supplies of water for irrigation and energy production, the winner is the oil industry.


The energy vector in the United States points strongly to more fossil fuel consumption, not less.
All new energy technologies except wind and solar PV will require increased freshwater withdrawals.
J. Carl Ganter is director of Circle of Blue, the leading news and science organization reporting global water issues.

Calling all HuffPost superfans!
Sign up for membership to become a founding member and help shape HuffPost's next chapter