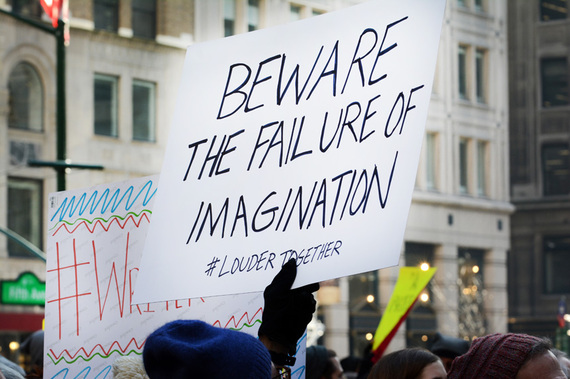 On January 15, I went to a rally on the steps of the New York Public Library. It was sponsored primarily by PEN--an organization of poets, essayists and novelists (of which I am a member) to focus attention on protecting the First Amendment--freedom of speech. It was the first activist event I've gone to since I marched against the Viet Nam War. It was a large gathering of thoughtful people. In general, writers think before they commit words to public viewing. Many poems were recited including those that had been performed at presidential inaugurations. The Twitter tag #loudertogether reminded us solitary workers in our silos that we need to speak up every chance we get if we want to protect the First Amendment. In our history, from Common Sense, to the Declaration of Independence to our precious Constitution, words have power. The rally consisted of many eloquent expressions and reminders of what we stand to lose with this new presidency.
Many children's authors were in attendance. Fatima Shaik, Co-Chair of the Children's and Young Adult Committee, told me,
"Children's writers are here today because we want the First Amendment to be protected. We know that children's writers are the number one challenged group. People are always thinking that their child shouldn't read something and neither should anybody else. We think children should be able to read widely so they get ideas from all sides."
But there were two particularly potent take-aways from this gathering that affected me as a citizen. Andrew Solomon, President of PEN, roused the gathering with a few strong words of his own.
".... we are here today to fight in particular for the first amendment, with its guarantee of protected speech.
"Trump has used many methods of silencing.
"He silences through ridicule of those who have less power than he does.
"He silences through autocratic threats.......
"He tries to silence us by threatening financial consequences.
" 'We're going to open up those libel laws, so when The New York Times writes a hit piece which is a total disgrace or when The Washington Post...writes a hit piece, we can sue them and win money instead of having no chance of winning because they're totally protected.'
"When, at his so-called press conference, he attacks a CNN reporter for asking a perfectly reasonable question by saying his organization is guilty of promulgating 'fake news,' that is a closing down of the reporter and his freedom to ask questions........
"As Mao and Stalin went after the intellectuals first, so Trump goes after the intellectuals, against those whose words might buck up an opposition to him."
But the sentence that really stunned the audience was:
"A South African friend, who lived through Apartheid, said to me the week after the election, 'What is shocking is not how shocked you feel today, but how much less shocked you will feel in six months.' "
He ended by asking us all to please, "Stay shocked."
I want to believe that many people, who have never spoken up before, will join these children and create a new era of activism that renews and refreshes our freedoms and our democracy.
REAL LIFE. REAL NEWS. REAL VOICES.
Help us tell more of the stories that matter from voices that too often remain unheard.