I became aware of Dr. Constantine Santas' writings through his book "Aristotelis Valaoritis," a biography of the great Greek epic poet from the island of Lefkada. Throughout the years, however, Dr. Constantine Santas, professor emeritus and former chair of the Department of Literature at Flagler College in Florida, has authored many titles such as "Responding to Film," "The Epic in Film: From Mythos to Blockbuster," and "The Epic Films of David Lean," as well as co-authoring "The Encyclopedia of Epic Films."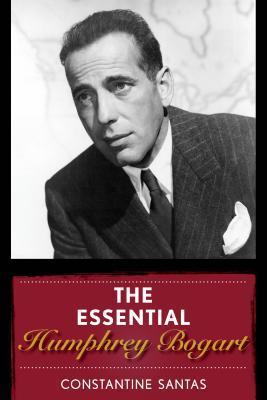 Dr. Santas has long been a keen observer and reviewer of world cinematography which remains the main object of his research. Recently, he returned to the written world with a notable effort dedicated to the famed American actor, Humphrey Bogart. Entitled "The Essential Humphrey Bogart," it is published by Rowman and Littlefield.
In his new book, Dr. Santas covers the evolution of the legendary American actor and his hypocritical art, presenting reviews and details of the major movies of his career as well as his smaller films from the 30s, 40s and 50s. As noted in the preface, Humphrey Bogart participated in 81 films, at first in supporting parts and later in leading roles that marked the golden era of Hollywood.
Santas brightens his discussion of any film he considers to be exemplary of the acting abilities of the American star with parallel information about his private life. As a university researcher, he claims that the life of Humphrey Bogart was inseparable from his work because the surroundings of his cinematic life included many loves and scandals and marked him as a personality alongside his role as actor.
According to the short but accurate biography in the preface of the book, Humphrey Bogart was born in New York on December 25, 1899 to wealthy parents. His father was a doctor and his mother an artist and they belonged to the high society of the city. However, his father became addicted to morphine, the family lost its glory and the actor was forced to financially support his two sisters, one of which eventually died from alcoholism while the other was institutionalized in a psychiatric hospital.
The superstar of American cinema started out in the jazz era by working odd stage jobs in order to cope with his obligations towards his family. His good looks and his inspirational use of language (he was reading quality literature) would bring him to Broadway where he began playing supporting roles. Eventually, he would enter the cinematic scene, taking years to become established between New York and Hollywood (1930-1935).
His big break would come with "The Petrified Forest," after which he would sign a modest contract with Warner, followed by the very successful "High Sierra" which earned him his first leading role and enabled his career to take off.
Humphrey Bogart had three failed marriages (Helen Mencken, Mary Philips and Mayo Mathot) but the great love of his life was Lauren Bacall with whom he had two children, Stephen and Leslie. In the book, Santas portrays Bogart as a loner, a person cut off from the outside world by anything other than plateau relationships. He was a heavy drinker and smoker, a combination that would lead to his premature death in 1957.
Santas covers the totality of the great star's movies with minute details about their screenplays, his co-stars and the overall works in general. What makes the book such a great read is the fact that the author places each film within the political and social environment of the time, replete with details and facts that make for interesting myth and reality. There are numerous symbolic scenes from key movies and legendary phrases which Humphrey Bogart voiced with the paradox being that Santas describes these words as if they emanate from Bogart's personality rather than from the actual role he was interpreting.
Although the book is a product of scientific and academic research, it is anything but boring. Conversely, the uplifting material and deep exploration of the unknown aspects of the actor and his films make for lively reading. Personally, from the first to last word of its 212 pages, I discovered an unknown multidimensional Humphrey Bogart and learned of his very significant contribution to the golden era of American cinema!
REAL LIFE. REAL NEWS. REAL VOICES.
Help us tell more of the stories that matter from voices that too often remain unheard.