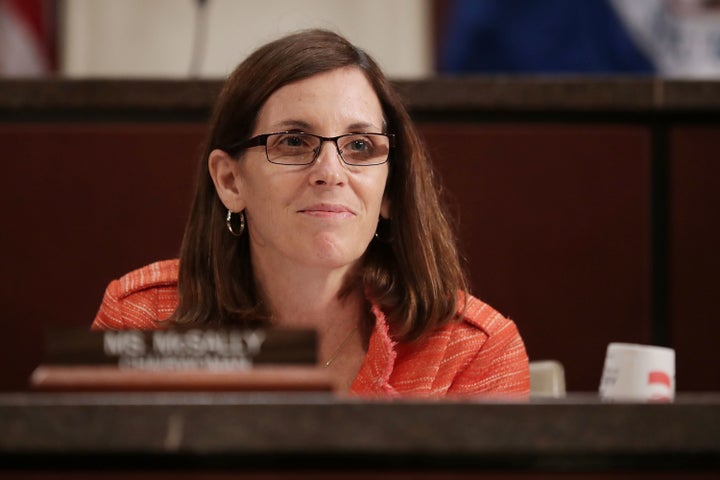 PHOENIX – Rep. Martha McSally was trying to make a sale.
The Arizona Republican ― the party establishment's pick to replace retiring GOP Sen. Jeff Flake in November's election ― was talking to a voter as part of a phone bank operation at her campaign office here. The voter, an older man, had received a mailer from former state Sen. Kelli Ward ― McSally's main rival in the Aug. 28 GOP primary ― attacking McSally's commitment to gun rights.
"I actually have my Glock [firearm] with me in the office today," McSally said, before referencing her military past. The first U.S. woman to pilot a fighter jet in combat, she flew A-10 Warthogs that attacked the Taliban in Afghanistan.
"I've shot the biggest gun of anybody in Congress," she told the man.
Hanging up the phone, McSally hit a bell on the table to signal she had won over another voter. She's been doing a lot of that lately as the front-runner in a three-candidate dash to the right in the desert, where each of the primary contenders claims to run with the backing and encouragement of President Donald Trump.
Vying with McSally and Ward ― an arch-conservative who failed to topple Sen. John McCain (R) in a 2016 primary race ― is former Maricopa County Sheriff Joe Arpaio. He's the anti-immigration leader who received a pardon from Trump after his conviction for ignoring a federal court's order to stop violating the civil rights of Latino citizens.
The outcome of this year's primary could determine which party controls the U.S. Senate next January. National Republicans believe either Ward or Arpaio would lose to Rep. Kyrsten Sinema, the all-but-certain Democratic nominee to replace Flake. Republicans have a 51-49 advantage in the Senate, and a Sinema victory is essential to Democratic hopes of retaking the chamber. 
Fortunately for allies of Senate Majority Leader Mitch McConnell (R-Ky.), it's been McSally, a one-time swing-district moderate who has never publicly revealed if she voted for Trump in 2016, who has broken away from the pack. While she once called Trump "disgusting" and condemned the then-GOP presidential nominee following the release of the "Access Hollywood" tape in which he bragged about committing sexual assault, she now proudly features him in TV ads.
She and her allies have swamped Arizona's airwaves with commercials emphasizing her new-found friendship, along with her military background and support for border security. Her two opponents, meanwhile, have battled one another over the same slice of the GOP electorate while trying in vain to win the president's attention.
McSally's likely victory on Tuesday shows how establishment Republicans can thrive in GOP's Trump era: play up popular base issues like border security, keep the president close and hope for a little luck. 
But Republicans also worry that McSally's moves to win the primary may poison her chances in November against a Democratic opponent who has been free to spend millions introducing herself to voters. After Tuesday's primary, McSally will have little time to pivot or restock her campaign resources.  
"Clearly, McSally's people saw this was Trump's primary. She hugged on to Trump," said Mike Noble, a GOP pollster in Arizona. "They've done a much better job of adapting, and they had the resources to adapt."
As for Sinema, he said: "She's defined herself. And so when the attacks actually come, do they just bounce off?"
Noble's firm, OH Predictive Insights, conducted a poll last week showing McSally leading in the GOP race with 47 percent of the vote, compared to 27 percent for Ward and just 13 percent for Arpaio. Most undecided voters were breaking to McSally, and with many voters having already cast their ballots ― Arizona allows early mail-in balloting ― it's difficult to see either opponent catching her.
The second-term congresswoman began warming up to Trump even before she announced her Senate run. She stepped up her Fox News appearances and made sure to praise Trump when she was on the air. She dropped her co-sponsorship of a bill aimed at helping DACA recipients, and now brags about voting with Trump 97 percent of the time. She talks about ending "chain migration" and the diversity visa lottery – two top priorities of Trump and immigration hawks in his administration.  
"These are all things Trump and I are working on together," McSally said in a brief interview. "[Ward] is carrying around a cardboard cutout of the president. I'm in the Oval Office getting things done." 
She also insisted her alliance with Trump was more than one of convenience and touted his economic stewardship. Arizona voters, she predicted, "are going to have the question: Am I better off than I was two years ago? And the answer is very clear."
"I am partnering with President Trump," she said. "And I'm going to keep partnering him through Election Day." 
While Trump has not endorsed her, he has praised her on occasion at bill signings and other events. Those shout-outs are now crucial in her TV ads.
"My friend, Martha McSally, she's the real deal," Trump says in one of the ads. "She's tough." 
McSally-aligned groups have spent over $5 million on ads during the primary, compared to just over $400,000 by Ward and a super political actions committee supporting her, according to a source tracking media buys. Arpaio hasn't spent anything on television.
The massive spending gap has left both opposing campaigns hoping against hope for a Trump intervention. But Republicans following the race don't expect him to wade in with an endorsement in the race ― he's praised all three contenders in the past ― in part because any direct intervention will alienate at least some of his allies. (The Ward campaign initially agreed to an interview, then stopped responding to requests for comment. The Arpaio campaign did not respond to a request for comment.)
In an interview with a local radio host on Tuesday, Ward linked McSally to McCain and Flake ― both frequent Trump critics. She also said attack ads from groups supporting McSally showed that her campaign was "surging." 
"As usual, people like Jeff Flake, John McCain, Martha McSally want to fight against the conservative voice, the voice of the people," she said. "I'm not going to allow it to happen." 
Polling on the race shows that a key problem for Ward and Arpaio is that they have been left to squabble over the same parts of the GOP base. Early iterations of OH Predictive Insights' survey had Ward leading McSally, but her advantage disappeared after Arpaio entered the contest. And Arpaio's campaign now appears to be on a mission to sink Ward's chances. 
Two former Ward former staffers ― Dustin Stockton and Jennifer Lawrence, both one-time reporters for Breitbart News ― now work for Arpaio. Both have previously accused Ward and her husband, Michael Ward, of various wrongdoings.
Both Ward, 49, and Arpaio, 86, have made tougher immigration enforcement the centerpiece of their campaigns. Arpaio kicked off his statewide tour at the Phoenix office of Immigration and Customs Enforcement, while Ward is campaigning with fellow Arizona Rep. Paul Gosar (R) and right-wing media personalities Mike Cernovich and Tomi Lahren.
During two campaign stops last weekend, McSally already seemed to be looking toward the general election. At her campaign office in Phoenix, she mingled with about two dozen volunteers, a Spotify "Heartland Country" playlist providing the background music. Many volunteers wore T-shirts emblazoned with the words "FLY. FLIGHT. WIN." and her campaign logo.
"Neither of my opponents has any resources," McSally told her volunteers in a speech peppered with military metaphors. "So we're taking the fight to the Democrats." 
She also warned about Democratic outside groups ― funded, she claimed, by billionaires George Soros and Tom Steyer ― who are attacking her ahead of the primary. Red and Gold, a Democratic group which has yet to disclose its donors, has spent millions lambasting her for supporting an "age tax" as part of the GOP's failed congressional attempts to replace Obamacare.
"You can't just sit there and take incoming, incoming, incoming," she said. "You know you're over the target if you're getting flak."
She then traveled to a diner in suburban Chandler, where she discussed regulatory rollbacks and immigration with a group of small business owners and local politicians, who shared their frustrations with Sinema. The chat, which rarely drifted away from economic concerns, offered a hint of the Chamber of Commerce-style Republican McSally may run as in the general election.
Arizona Democrats are prepared to pounce on any shift. 
"Congresswoman McSally's calculated shifts have damaged her credibility and prove she doesn't respect voters enough to be honest with them," state Democratic Party spokesman Drew Anderson said. "Arizonans just don't want another shady politician willing to say anything to advance her own career."
And Democrats remain confident in Sinema, 42, who has been free to spend millions of dollars promoting herself as a centrist who wants to "end the partisan nonsense" on health care and other issues. Sinema, who has voted with Trump more than 50 percent of the time, is counting on her moderate image to win over swing voters. 
"Sinema is running the campaign I wish I could run over and over again in that state," said Andy Barr, a Democratic strategist who has worked extensively in Arizona. "She's been allowed to introduce herself to voters on her terms with almost no pushback for months."
McSally, meanwhile, is preparing to remind voters of Sinema's past as a liberal state legislator and left-leaning activist. She told her volunteers she has the perfect contrast ready, referencing a photo of Sinema in a pink tutu protesting the Iraq War.
"She's tried really hard to make herself over. She's reinvented herself, from the flaming left liberal she was," McSally said. "You're going to see that in the general election. Me in uniform, Sinema in a pink tutu."
On Thursday ― five days before the primary election ― McSally's campaign put the ad on air.
Calling all HuffPost superfans!
Sign up for membership to become a founding member and help shape HuffPost's next chapter