There is simply nothing as magical as an evening train ride through Europe. This was a first for Joy, she had never taken a train in Europe and as our train departed the Venice train station we were filled with excitement as we sped through the night to Rome. The first twenty minutes of the trip took place in a tunnel under the water that surrounded Venice. I can't help but marvel at the pure ingenuity of mankind that anyone could ever have conjured up the idea to dig a tunnel under the water yet alone to actually accomplished the feat.
As we looked out the train window we could see the blackness and we realized we were under the very tunnel that mankind created to take passengers from one part of the world to another. As Joy and I looked out the window at the blackness we both decided that this was the perfect time to head to the club car for a glass of wine and Joy's traditional water (with ice, please). We were ending our trip to Europe in Rome, a city that dates back centuries and still honors the remnants of a time when this empire was the center of the world.
As we traveled through the night I couldn't help but think how short this journey is that we call life. We are here for one brief instant and then we return to the cosmos from where we came, not unlike this empire that once stood so strong. Although the façade of the buildings remain and the monuments that were erected to celebrate this great civilization still stood the people who once occupied this city and built these shrines had now all passed into the divine. Rome was the perfect embodiment of the transience of life. We are here briefly however if we live a life of passion and creativity we can leave a mark on the world that can last through generations.
This got me to thinking, if we are here for only a brief moment and we all will, like the people of Rome before us, one day leave this plane then wouldn't it be most prudent for us to love one another, to be kind to one another, to hold on to one another and support each other as we traverse this journey together as opposed to fighting one another and tearing apart our shared humanity all because we have forgotten one fundamental truth: we are all one and we are all in this together. This was where my heart was resting in this moment. Our trip was coming to an end, just like this empire that once stood so strong.
Joy and I arrived at the train station filled with excitement and as we exited the train we were met with the most beautiful and melodious sounds of a concert piano solo right there in the station.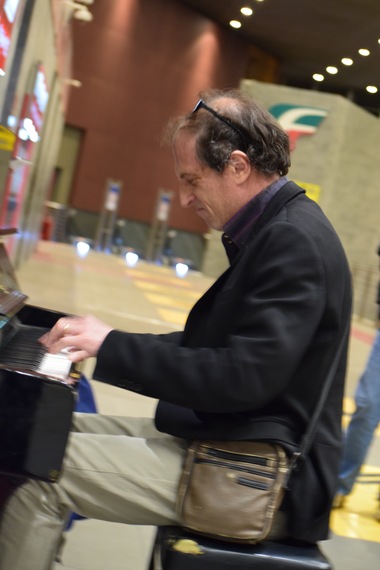 The cacophonous sounds emanating from the piano made me feel like I had landed right smack dab in the middle of Carnegie Hall with a front row seat to a world-class performance. Apparently, a fellow passenger decided to sit down and play an impromptu performance and within moments began drawing a small crowd to hear him play.
In my excitement I quickly grabbed my camera and I began firing off several shot of him while he played. I couldn't resist the desire to capture this man as he poured his passion through his hands to the keys leaving all that watched spellbound. To say that I took a lot of pictures would be an understatement and as he played I kept firing off shot after shot from my camera. This is, until, our traveling pianist finished his performance and grabbed his bag and quickly, without any need for approbation, rose from the piano stool and exited the train station.
This abrupt departure only added to the mystery and intrigue of this man so I followed after him snapping a few more shots before he exited the train station and my life forever. Soon after the man disappeared I spied four Rome train station police officers through the lens of my camera ascending the stairs from below headed directly towards me. For one moment I thought about capturing their image until I realized these police officers were coming implicitly for me.
I quickly placed my camera against my chest allowing my camera strap to support the camera as the police officers approached and it became increasingly obvious to me they were not coming to give me their personal welcome to Rome. You see, what I had failed to think about is that the last thing they probably want to see through the security cameras at a train station in one of the largest cities in the world is someone taking picture after picture of the train station. Given the tensions in the world it probably would have been more prudent to just watch the piano performance instead of photographically documenting it. I, in my excitement, allowed prudence to be trumped by enthusiasm.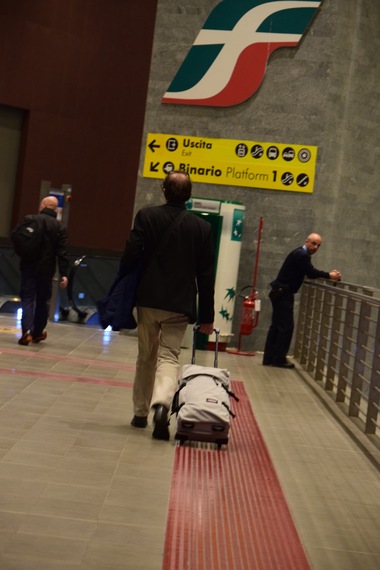 "Let me see your pictures," the lead officer said to me as he approached.
I quickly scrolled through my pictures for him and immediately he could see that I was not a threat in the least although his countenance didn't soften in the least.
"Delete them," he instructed with not a hint of humor or warmth in his voice and then he disappeared officiously into the caverns of the train station as his subordinates followed him.
I looked over at Joy as she stood off to the side with complete shock and horror on her face as she watched the entire episode unfold. As I walked over to her and began to tell her the story of what just occurred she quickly cut me off.
"Let's just get out of the train station. You can tell me about it in the cab," she said,
I agreed with her suggestion and we exited the train station out into the spring Rome air. Joy suggested that we grab a cab to the Rome Life Hotel for our final stay in Europe. We hailed a cab and hopped inside and I immediately began scrolling through the pictures in the train station (I disobeyed instructions to delete them).
As I looked through the pictures the cab driver raced and jutted through the streets of Rome summarily terrifying Joy during the entire ride. For my part, my heart was still racing from almost being arrested at the Rome train station only moments after my arrival and my attention was diverted to my camera roll so I took no notice of the poor display of driving that was occurring. In fact, it wasn't until long after the cab ride was over that the cab ride was even brought to my attention.
"Oh heavens, did you see how bad that cab driver was?" Joy asked. "He was easily in the top three worst cab drivers I have ever experienced."
I hadn't noticed but I was also abundantly aware of the reputation of Rome cab drivers that I wasn't surprised in the least. Taxi drivers in Rome have a notorious reputation for making passengers feel as if they are about to come face to face with their personal God and it secretly pleased me to know that this one lived up to that well deserved reputation.
"Welcome to Roma," I smiled as I said to Joy.
All of this was still a mystery to me as we were deposited on the doorstep of the Rome Life Hotel, which is a very nice hotel only a short walk from the Roman Coliseum. Joy and I checked in and even though the hour was late we dropped our bags in our room and then scurried across the street to grab a quick bite to eat.
Rome at night comes alive. This is a city that has two distinct personalities. There is daytime Rome, which is comprised of tourists from all over the world taking in all of Rome's edifices in the hopes of capturing the perfect picture and there is nighttime Rome, that comes alive long after the tourists have gone to bed. Each side of Rome is beautiful in her own way.
As Joy and I sat taking in Rome's night air we talked about this amazing journey. Tomorrow we would explore Rome but for tonight we simply wanted to enjoy each other. Over a glass of table wine that would rival a $200 bottle in the states, we talked about how blessed we are, we talked about this amazing European adventure, we talked about love, we talked about kindness and compassion but mostly we talked about gratitude. Gratitude is that ingredient that is at the heart of all manifestation for without it life becomes less vibrant.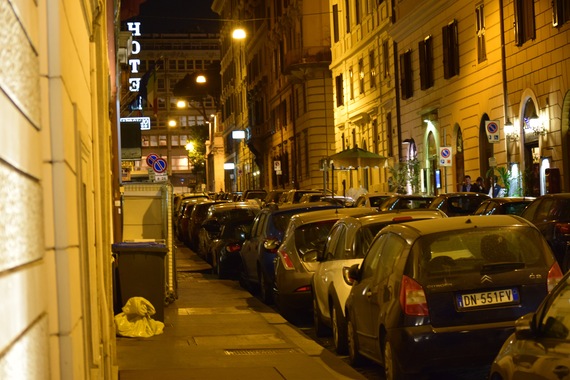 Morning Rome awaited us tomorrow but in the darkness of evening Rome we simply drank her in. We knew our time here was short, both here in Rome and our short stay on this plane called Earth, so Joy and I decided we would enjoy it at its fullest.
Roma, on each arm, a lover I never knew. An evening in Roma, what could be a more fitting way to end the adventure of a lifetime.