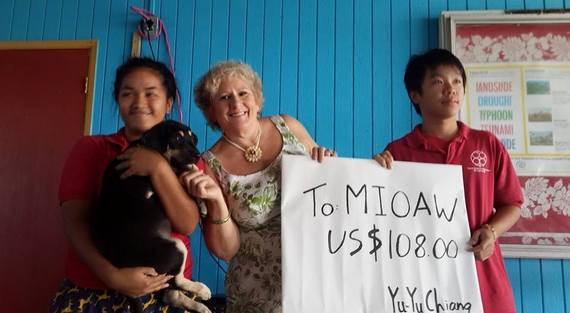 Yuyu Chiang (holding check) a MIOAW intern, held a fundraiser at Coop School by holding a movie night and selling popcorn. Patsy Peji Glad, Mioaw Majuro's Secretary holds the school mascot Ralik.
What do you do when you are an animal-loving American expat living on an island where people eat dogs?
If you're Lora Lee Mason, you get to work. When the tall, blonde, outspoken American first arrived on the Marshall Islands and learned untagged street dogs were clubbed to death and fed to local prisoners; she was horrified. She started MIOAW (Marshall Islands Organization for Animal Welfare), an NGO in Majuro, and posted updates on Facebook.
"The outpouring of support was incredible. People from all over the world sent collars and tags. They sent leather collars, rhinestone-studded collars, new collars, used collars. Some came with notes saying the collars were from one of their pets who had passed," she said.
Not only does Lora operate an underground railroad of sorts, instructing people to bring untagged dogs inside when the dog truck rubber hits the road, she treats animals for everything from broken legs to worms on the remote veterinarian-less South Pacific Island.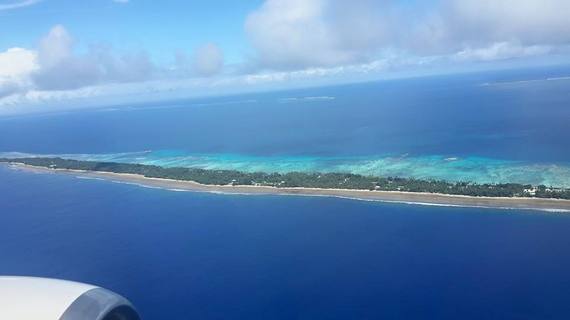 The Marshall Islands are a remote coral atoll of 64 islands in the Pacific Ocean. Majuro is the capital. It is located 2375 air miles Southwest of Hawaii.
Accordingly, Lora continually skirts the line between cultural imperialism and animal rights.
"This is a poor island. The in-your-face poverty here rivals anything in the states. People are starving. Dogs are a source of protein. I get that. I may not be able to really fathom it because it's not part of my culture, but heck, in many cultures eating cows is disgusting. I see my job as trying to help animals that people want to keep as pets and guard dogs," Lora said.
Lora's memoir, The Dog Lady, (written by Lora and me) describes her often hilarious, sometimes sad adventures treating animals with her makeshift vet bag, syringe and bottle of Ivermectin. She's unwrapped razor wire from dogs' necks, treated them after dog fights, and performed euthanasia. She secretly delivers food and medicine she buys herself to local residents.
"I have very little formal training. I'd probably be arrested and doing serious jail time for some of the stunts I pull off here," she said.
Lora's pipe dream is to find a vet who will stay on the island permanently. Until then, they do what they can without x-ray machines or diagnostic equipment -- Skyping vets in Hawaii, 2,375 air miles away, for advice; and enlisting a local farmer to neuter dogs.
One of Mioaw's biggest successes was organizing a visiting vet clinic in July 2013 called the Pacific Partnership 13 Humanitarian Visit. Despite ferocious rainstorms and a day-long electrical power outage, visiting vets saw and treated nearly 500 dogs (and an occasional cat or two).
"It was a huge deal. People waited on line with pets for hours. Some brought their animals in garbage cans because they didn't know how to transport them. We were giving kids quarters and t-shirts and telling them to bring in any animals they could find. The crowds came to watch -- everything is a source of entertainment and people hadn't seen anything like this before. We actually had to bring in the cops to help us keep order," Lora said.
The care was urgently needed, as a clinic hadn't been run on the island since 2008. Lora is hoping to raise money to run another clinic this summer (donations are always appreciated). The vets are important, because many dogs die from easily preventable ailments. There are an increasing number of female street dogs who have not been spayed -- "mounted" by so many male dogs over time their organs give out.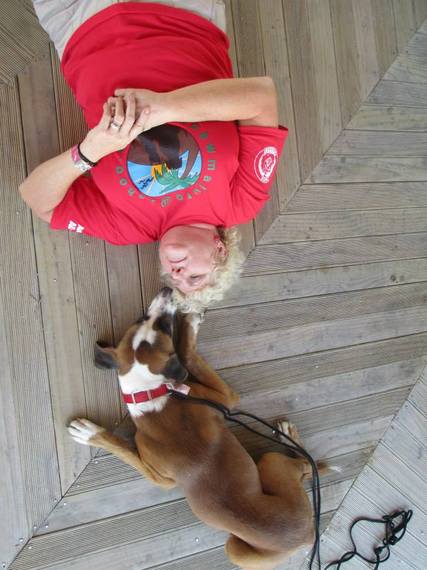 Lora Lee Mason takes a break. For more info on Mioaw visit their website http://mioawmajuro.org
It took Lora a long time to become enlightened enough to accept doggie steaks as a working concept. She first arrived in Majuro when her husband got a job as a store manager for a local food chain. She stood outside her husband's store, naively throwing pieces of rotisserie chicken to emaciated street dogs.
"My poor husband started freaking out. I can't help but laugh about it now. There I was throwing food out for the starving dogs in a place where people couldn't afford to feed themselves. I've come a long way, baby. Now, I even know what kinds of dogs are considered the best eating --small black dogs. My dog Odie is fortunately a fat yellow lab -- apparently not very tasty," she says with characteristic macabre humor.
Lora is proud local Marshallese and expatriate dog lovers like to volunteer at MIOAW. More local people are starting to understand the companionship pets can bring (credit due both to Laura's efforts and the increasing popularity of shows like Animal Planet). Teia Chutaro, a Marshallese student who wants to be a veterinarian, interns at MIOAW. Yuyu Chiang held a movie night and sold popcorn at the Coop school (where a dog named Ralik is mascot) to raise funds.
Lora admits working as Majuro's "Dog Lady" can be challenging. Dogs have been known to follow her like the Pied Piper when they need help. She's on call 24/7, has a good reputation and it has become standard practice for people to dial her when an animal is in trouble.
"People call all hours. 'This puppy got his leg tore off, my dogs got worms coming out of his ear, my puppy just got hit by a car and his skull is crushed.' It can get a little overwhelming," she said.
Some of her toughest assignments are when she's called in to perform euthanasia or to sit with a dog who's crossing over.
I think people just come to me because they want support. If an animal gets hit by a car or is barely alive after a beating; if there is no hope; I will come with my sheets and all the things I need in case I have to put it down. I'll take it away and comfort the person or just stay there until the animal passes. It gives people a little peace of mind.
Lora Lee finds self-comfort in small successes. She's proud when she walks to downtown Majuro and sees well-fed dogs with tags and collars. Workshops against domestic violence, which is becoming an increasing problem on the island (despite the Marshallese traditional matriarchal culture), now incorporate lessons about animal abuse. Everyone from "yachties" to schoolchildren have run fundraising campaigns.
"I have to rejoice in our successes and not dwell on the one's we can't save because if I did that I'd lose my mind," Lora said.
Lora Lee Mason's memoir The Dog Lady: The tribulations of an Animal loving expat in the Marshall Islands, will be published soon. For more info on MIOAW Majuro, please visit their website at http://www.mioawmajuro.org Donations are always appreciated.
Calling all HuffPost superfans!
Sign up for membership to become a founding member and help shape HuffPost's next chapter