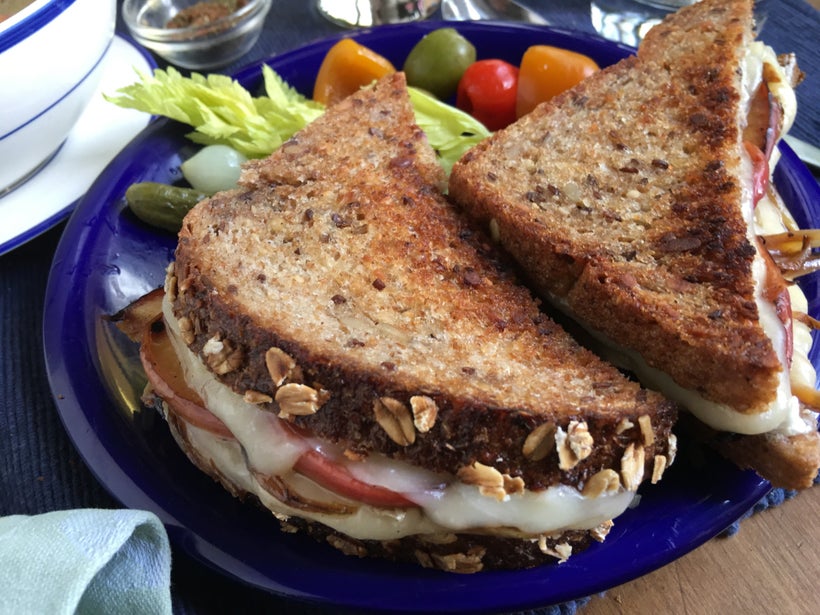 April is Grilled Cheese Month!
To celebrate grilled cheese month I have come up with an exciting spin on this classic sandwich favorite. These popular sandwiches delight us emotionally with satisfying comfort, outstanding flavor and gooey crunchy textures. These days there are many twists on the theme through the availability of every kind of cheeses from all over the world. My mission is to find superlative combinations of cheeses, breads, condiments and accoutrements. These include; herbs, greens, and thinly sliced tomatoes, onions, apples, pears, grapes or pickles of any sort. The additions elevate this scrumptious favorite with flavor balance, nutrition, fiber and all around wholesomeness.
First we must start with the bread. For some people, a whole-grained bread full of nutty seeds with great texture and flavor are a must. You may prefer tangy sour dough breads or just plain white bread.
Secondly is the choice of a singular well melting delicious cheese or a chorus of complimentary, incredibly flavorful, well melting cheeses. There are many possibilities according to your own preferences.
Next we must consider the grilling oil or butter. Should it be the standard American household butter or European butter, which has higher fat and lower water contents, more flavor and does not burn easily? Perhaps the choice might be just plain old real mayonnaise, one of my old standbys.
Then there is the debated question of whether it is a true grilled cheese sandwich if there are any additions to the classic combo of cheese, bread and butter. These could include; meats, vegetables, fruits and herbs. I personally don't like to stick with rules unless they serve a really good purpose. I opted for the addition of elements with compatible flavors and textures by using grilled fruit & vegetables, and fresh herbs.
One of my very favorite breads is Eli's Health Loaf. It is a lovely combination of coarsely stone ground whole wheat, Eli's own mother sour dough starter, whole seeds (sesame, flax and sunflower), water, honey and salt. The loaf is then coated with rolled whole oats before baking. Eli Zabar told me that he regards it as one of his greatest bread baking achievements. I agree and I think you will too.
I did a taste testing on many varieties of cheeses to find a beautiful flavorful blend with creamy melted lusciousness. For my recipe here I have chosen a trio of Schuman brand cheeses; buttery Fontal, mildly pungently aromatic Gorgonzola and tart creamy Goat cheese. Each of the chosen cheeses melt very well and have very different flavors that compliment each other.
To enhance the flavor of the cheeses while adding nourishment and texture, I chose to grill thinly sliced crunchy sweet-tart Gala apples, and sweet Vidalia Onions. I topped the caramelized apples and onions with fresh green fennel fronds for their lovely very mildly grassy licorice flavor.
For this recipe I chose to grill the bread with clarified butter, sold in jars as Ghee. Ghee, used in most Indian cuisine, does not burn at all during grilling temperatures, has a magnificent nutty buttery flavor and spreads and melts easily.
Tip: You can change every ingredient at will to your own taste, or to what you may have on hand. Imagination with experimentation makes for inventiveness and pleasure in cooking and sharing food.
I present to you my recipe for a different twist of gooey, tasty, nourishing, satisfying grilled cheese sandwiches.
Ingredients: Makes one sandwich
2 slices bread – Eli's Health Loaf or your choice
¼ thinly sliced Gala, Fuji, Braeburn or Honey Crisp apple – skin on
¼ thinly sliced Vidalia onion, leaving partial core in tact for ease of grilling
2 Tablespoons olive oil, divided for grilling apples and onions in batches
3 ounces thinly sliced or slivered Fontal (Fontina) cheese
1 ounce softened spreadable goat cheese
½ ounce Gorgonzola cheese, crumbled into small bits
½ Tablespoon chopped fresh fennel fronds, (optional) or herb of choice
1 teaspoon softened Ghee
A sprinkling of nutmeg and cinnamon to taste on apples before grilling , (optional)
1. Grill the apple and onion slices on medium low heat with oil until they are nicely browned. Set aside in single layers for ease of building your sandwiches.
2. Pair the bread slices for size and shape.
3. Open the pair of bread slices with the cooking side up.
4. On each slice of bread spread the cooking side with an even layer of Ghee.
5. Turn the slices over and evenly spread the goat cheese on each slice of bread
6. Place 1 ½ ounce of Fontal cheese evenly onto each slice of bread.
7. Sprinkle the gorgonzola on one slice of bread
8. Evenly arrange the grilled onions and apples onto the layer of gorgonzola.
9. Sprinkle the apple-onion layer with the fennel fronds
10. Heat the griddle or grill pan to low heat. If you are using an electric griddle it will be around 300° F.
11. Place both halves on the griddle ghee side down. You can use a lid to hasten the melting of the cheese. I like to use a glass lid so I can keep an eye on the progress.
12. When the cheese is melted remove both halves from the heat onto a cooling rack or cutting board. A rack will help keep the bread crunchy.
13. Immediately turn the plain cheese side of the sandwich onto the gorgonzola, fruit & vegetable side of the sandwich.
14. Press slightly to meld the sides together.
15. Let cool for a few minutes before slicing. This prevents the layers from sliding apart and squishing
Tip: Inserting several long sandwich toothpicks prior to slicing helps hold the layers together. Garnish the plate with assorted olives, pepperdew, cornichons and celery hearts for a delicious and beautiful side treat.
REAL LIFE. REAL NEWS. REAL VOICES.
Help us tell more of the stories that matter from voices that too often remain unheard.
This post was published on the now-closed HuffPost Contributor platform. Contributors control their own work and posted freely to our site. If you need to flag this entry as abusive,
send us an email
.