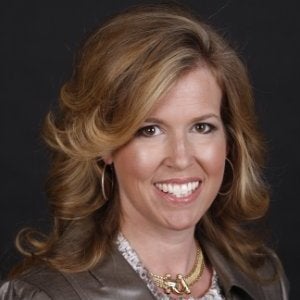 Leif Ackerman: I am here with Gretchen O'Hara, Vice President of US Go-to-Market for One Commercial Partner at Microsoft. Thank you for joining us today, Gretchen, pleasure to have you here.
Gretchen O'Hara: Oh, thank you, very excited to be here.
Leif Ackerman: We'll talk about the upcoming Annual Ideagen Empowering Women & Girls Summit at the United Nations and what you're working on with Microsoft to empower women and girls and specifically how you're forming initiatives to create that sustainability. What inspired you to join Microsoft?
Gretchen O'Hara: I've been at Microsoft for about 13 years and two things related to empowering women and girls have really inspired me throughout my career. The first is our mission, which is bigger than any one person. It's about empowering every person and every organization on the planet to achieve more. When you look at a company that's about bringing greater good and about making the individual, not just the company, better that's something that personally I get very excited about.
The second reason I stay so passionate about Microsoft is that we are continually driving innovation. As a leader, being innovative requires that you continue to evolve, continue to be open to new possibilities, and continue to seek change where needed throughout your organization. Ongoing learning - we call it having a "growth mindset" - is a centerpiece of this and a core value here at Microsoft. It starts with the individual but collectively having a growth mindset enables innovation at the team level, the organizational level and even outside of the organization within whole communities. This idea that we will continually grow, learn and innovate is a key strategy to achieving our mission.
Leif Ackerman: It sounds like Microsoft has a lot of initiatives that inspire you to strive towards establishing this pipeline for empowering women for future generations.
Gretchen O'Hara: Yes. And we're approaching the issue in two ways. First, we're thinking about how to reach young women and girls early enough to get them interested in STEM education and careers. Then, once those girls are in the workforce we're looking at ways of supporting and empowering them to become the next generation of leaders. It's a classroom to boardroom issue that we need to tackle and it requires investing in dollars and programs to really support girls at the very beginning of that cycle all the way through their careers.
Leif Ackerman: Touching on these STEM programs, how does that create sustainable progress so we can enhance the lives of these young girls, and when they become future professionals in the corporate setting?
Gretchen O'Hara: One of the things that I've been working on as part of my leadership in education and in the developer and startup audiences is how do we maintain the excitement we see in young girls initially through to college? How do we nurture analytical thinking, problem solving, computational thinking, skills that are required in STEM throughout grade school, high school and beyond? You get into third grade, sixth grade, eighth grade and even a sophomore in high school, and you start to see drop offs of these girls in the area of STEM. One of the areas that we're heavily focused on at Microsoft is bridging that drop off. We've invested about 75 million in an initiative called YouthSpark, a global initiative to increase access for all youth to learn computer science, empowering them to achieve more for themselves, their families and their communities
Under the Youth Spark umbrella, I'm personally involved in a couple of programs. The first is DigiGirlz, which gives high school girls an opportunity to learn about what a career in STEM looks like so they are aware of the possibilities. The second program is Girls Who Code. This is really about encouraging a curiosity for coding and exposing the girls to skills that I just talked about to help them envision a future for themselves in STEM. Both programs aim to bridge those exit ramps in the early years to prepare girls for higher education in fields of computer science, engineering and math sciences.
Leif Ackerman: That is some incredible work that you and Microsoft are doing. I would imagine that you believe, and Microsoft as well, in these initiatives. Do you believe that these are some of the greatest areas of impact to focus on, so you can empower these girls at a very young age to pursue the careers that they so choose?
Gretchen O'Hara: Oftentimes we focus on how do we help women break through the glass ceiling and that is important work but we also have to reach women earlier and start to build the skills to empower girls to become our future leaders. That's one of the things that I'm working with other companies and other C-level executives in my role at Microsoft to bring together both programs and awareness to go after that opportunity together. Our ultimate goal is to give girls and young women the confidence they need to be successful in the work place as they graduate out of higher education.
Leif Ackerman: Yes, I agree that having that confidence is crucial for allowing them to really be who they want to be. You had touched a little bit on it as far as the collaboration with various organizations. Why do you think cross-sector collaboration is vital to helping solve a lot of these issues on empowering women?
Gretchen O'Hara: Many companies recognize that a gender gap exists and they also recognize the opportunity that greater diversity brings. I believe that most modern companies have individual missions to support women in the workforce , however, the opportunity to partner and collaborate across organizations allows us to make a bigger impact. It allows us to reach and connect in a broader way that could affect change more quickly across the U.S. and beyond to drive systemic change around the gender equality and the empowerment of women.
Leif Ackerman: Within the cross-sector of collaboration, a lot of corporations are moving towards that, because they realize there is more power in working together to tackle this issue. With your daily missions, what are some of the key lessons that help you to create that collaboration, have that environment, so you really can change the world?
Gretchen O'Hara: I ask myself a few important questions when I'm working on day-to-day projects that help keep these issues top of mind for me:
1. Is there a diversity aspect to this program and, if not, should there be?
2. Are there other organizations that are doing similar work that I should be collaborating with?
3. What best practices can I either share or leverage from the broader community?
Leif Ackerman: Based off that and what you do with your daily missions, what's coming up next for you? Do you have anything that you're working on currently?
Gretchen O'Hara: I've recently taken over as Vice President of Marketing for our One Commercial Partner organization here in the US, and now I'm trying to bring that same type of collaboration on program initiatives that I brought into startups and education into the partner community. I'm excited to bring my passion for STEM, my work with women and technology and just my work on women's leadership issues into the broader partner ecosystem to make an even broader impact. Leif Ackerman: For the folks that are going read this, how can they find out more information about the initiatives you're working on?
Gretchen O'Hara: I love it! I think the easiest thing is go to our MakeWhatsNext site and it will give you any and all opportunities to look at initiatives that Microsoft is focused on and really exposes the opportunity ahead for all of us if we empower our girls for the future, really from the classroom into the board room.
Leif Ackerman: I applaud you for all the missions, and the work that you're doing is absolutely fantastic. I'm very much looking forward to seeing you and hearing you at the upcoming summit, and I just want to say thank you for taking the time for this interview, Gretchen.
Gretchen O'Hara: I am so honored and privileged to be a part of this discussion, and it's just core to who I am and my values and what I want to bring to the community, so thank you for including me in, and I look forward to meeting with all of you there.
Leif Ackerman: Thank you so much.
Gretchen O'Hara: Thank you!
Calling all HuffPost superfans!
Sign up for membership to become a founding member and help shape HuffPost's next chapter
This post was published on the now-closed HuffPost Contributor platform. Contributors control their own work and posted freely to our site. If you need to flag this entry as abusive,
send us an email
.