In terms of personal accomplishments, no female snowboarder has achieved more success on a snowboard than Hannah Teter. Hailing from Vermont, yet residing in South Lake Tahoe, Hannah's resume reads like one who is the greatest ever at her sport. Olympic Gold Medal. Olympic Silver Medal. Multiple X Games medals. Six World Cup victories. The list goes on and on.
It isn't just her athletic achievements that makes Hannah so special. Instead of reveling in her success and celebrating with wild antics like most of her snowboarding peers, Hannah has chosen to focus most of her energy into philanthropic activities. Shortly after winning a gold medal in the Winter Olympics, Hannah founded a non-profit organization called Hannah's Gold.
The Teter family used to make maple syrup in their home state of Vermont, and Hannah took that knowledge to sell Vermont maple syrup called Hannah's Gold, with proceeds going primarily to help provide drinking water, sustainable farming initiatives including tools, seeds and fertilizer, recreational sessions and bicycles for children, paying for school fees, and many more positive amenities for people living in Kenya and other impoverished communities in Africa. In fact, Hannah donates all of her contest winnings to help those in need in Africa and beyond.
Hannah's charitable ways go beyond just Hannah's Gold. Using the same beautiful physical attributes that were on display during her modeling shoot for last year's Sports Illustrated Swimsuit Issue, Hannah created a women's underwear line called Sweet Cheeks. Alongside pro surfer Monyca Byrne-Wickey and other athlete friends, Hannah models for some of the underwear available for sale, with over 40% of net proceeds going towards Children International to help impoverished children and their families.
Between her athletic achievements, philanthropic activities and her burgeoning modeling career, Hannah Teter is a busy and talented person with a lot to give. I caught up with Hannah to talk about her Winter Olympic experiences, whether she'll compete in the 2014 Winter Olympics in Russia, her many philanthropic organizations, what she does for fun, and what the future holds for arguably the most talented female snowboarder on the planet, Hannah Teter.
Cyrus: In the realm of action sports, you're as big as they get. Olympic Gold Medalist, follow that up with an Olympic Silver Medal, numerous X Games Gold Medals, numerous philanthropic activities. You name it, Hannah Teter has done it. It's been a long time, how are you doing?
Hannah: Yay, I'm glad I'm back! I'm doing good, how are you?
Cyrus: Very good. I don't know if you remember the last time I interviewed you. It was five or six years ago, right around your 18th or 19th birthday. I think you were driving to Tahoe. And you did this crazy little scream that I used for the next five years on the radio show. It was awesome.
Hannah: No way, I never did that.
Cyrus: (Laughing) What are you up to right now? Where are you?
Hannah: I am back in Tahoe, and it's just covered in snow right now. It snowed a foot last night.
Hannah: Crazy. Yeah, I was going to go snowboarding this morning, but I just slept in and did yoga instead.
Cyrus: Nice, are you going to hit the mountain later this weekend?
Hannah: Yeah, I'm going up to Mammoth tomorrow because we have a training camp up there with airbags, and they're going to rebuild the half pipe and jumps and stuff. It should be fun.
Cyrus: This past winter was amazing, wasn't it?
Hannah: Yeah, it was ridiculous. We got 50 feet of snow in Tahoe at my house. I should send you a picture. It looks like full-on winter again. Everything is covered in snow.
Cyrus: It is. You're from Vermont, but Tahoe is your home base now, right?
Hannah: Yeah, this is where I base out of all winter because it's so nice to come back in-between contests and score powder every time.
Hannah: Yeah, life is pretty sweet over here.
Cyrus: I could imagine. One of the things I admire about you is all of your philanthropic activities. You've had Hannah's Gold, the philanthropic maple syrup company, going for years, and you donate almost, if not all, of the money you make from that to numerous charities, I believe mostly in Africa. Is that still going on? Are you still making the maple syrup?
Hannah: Yeah, that's still going on. It's doing really well. We donate all profits from that, and for the past four years I've been donating all the contest money I win to the charity as well, just to add another level to the whole thing.
Cyrus: Wow. That is another level.
Hannah: And then the next level is the Sweet Cheeks.
Cyrus: Mmmm. (Laughing) Tell us about those Sweet Cheeks. Sweet Cheeks is an underwear line started by you, and you and two of your cohorts also model for the line. What's the website?
Cyrus: And you have to love the website's slogan, it's "Panties with a Purpose."
Hannah: Yeah, definitely. Every pair of underwear we sell feeds a child for a month through Children International. Kind of a powerful concept. And they're so cute and so comfy and really good for sports, an all-in-one shebang.
Cyrus: It is. And not to mention, hot.
Hannah: Yeah, and they're hot.
Cyrus: These are some sexy looking panties, I'm not going to lie.
Hannah: And we've got more coming out. We've got some summer styles coming out. Right now it's just five on the line, but we're definitely expanding as we get more athletes on board to promote and get it out there.
Cyrus: The last time I interviewed you, you hadn't won the gold medal yet in Turin. You already had a name made for yourself in the snowboarding community, but you weren't really doing the modeling thing. And in the last couple of years you did the Sports Illustrated Swimsuit Issue, you have the Sweet Cheeks line going and, Hannah, you're pulling it off and then some. Bravo. I want to give you a golf clap real quickly, but how did you get into the modeling aspect? Was it you wanting to get into it, or were a lot of different agents and photographers trying to get you into doing the modeling thing?
Hannah: Well the first thing I did, and this was the first and only modeling thing I did, was Sports Illustrated asking me to do the swimsuit shoot. And I was all about it, thinking we were going to go to the beach and be in tropical water, and then I ended up in the snow on a glacier, and it was 35 degrees. I was like, "What am I doing?" Modeling was supposed to be easy! It's on and off. I don't really do it that much, but I'd like to, just because it's fun.
Cyrus: I think we'd all like you to.
Cyrus: I have no complaints.
Hannah: Yeah, there's a lot of support.
Cyrus: I think what I admire more than anything is your confidence. Confidence is sexy. I use a perverse little scale called the Tahoe 10 Scale, where if someone's a 10 in Tahoe, they're a six in San Francisco, and a two in L.A. You're like the Tahoe 20, so keep it going please.
Cyrus: You're very welcome.
Hannah: I will try. As long as we get Sweet Cheeks out there, that's the main goal right now. So if the modeling helps with that, then I'm all about it.
Cyrus: You've got to love the pair that says, "Make love, not war." Was that the first line for Sweet Cheeks?
Hannah: That was the first Sweet Cheeks creation. That was the start of it. Now we have more mellow concepts because that was a little bold for people.
Cyrus: Bold how? Bold because of the style, or because of the message?
Hannah: No, just because of the concept.
Cyrus: It's way better than some corny line like, "Juicy." At least it has a statement. I'd rather see, "Make love, not war."
Hannah: That's what we're talking about.
Cyrus: If somebody decides to Google you and look up your Wikipedia page in terms of what you've done over the years, is there anything left to accomplish? Are you motivated to continue to compete? Or are you ready to go to the next step, which is either back country or modeling or philanthropy? What's next for Hannah Teter? You've done so much already, and you're only 24.
Hannah: I am gearing up for Russia, home of the next (Winter) Olympics. I definitely want to do that one. That might cap off the whole Olympic thing for me, and then I could move into back country and more aspects of snowboarding. And I'm into fashion and designing clothes and stuff.
Cyrus: For people like myself who are not very familiar, how is Russia for snowboarding? I don't think many Americans know much about the mountains in Russia.
Hannah: We don't actually, because none of us really have been there. So it'll be interesting to see how it turns out. We don't know how it's going to be because nobody's really been over there. Shaun (White)'s going to have his own private pipe there the year before the Olympics, I hear.
Cyrus: Which begs the question. In a hypothetical situation, let's say you walk up to two houses. Both of them are having a huge party. One of the houses is owned by Shaun White, and he's throwing a party. The other house is owned by the Frends Crew. Mason Aguirre, Scotty Lago, those guys, and they're throwing a party. Which house do you go into?
Hannah: Um, that's kind of easy. The Frends Crew! Those guys are insane.
Cyrus: They're going to love you for that answer.
Hannah: Yeah, they're hilarious. Any time you hang out with those guys you're just holding your belly because you're laughing so hard.
Cyrus: Are you single, or are you going to break a lot of guys' hearts with your answer here?
Hannah: Uh, break some hearts.
Cyrus: You're not dating anyone in the Frends Crew, are you?
Hannah: No, no. They're the ones you just want to hang out with, that's it.
Cyrus: Not marriage material?
Cyrus: List off all of the websites you want mentioned. There's SweetCheeksPanties.com, which is for the philanthropic underwear line.
Hannah: And we want more friends on Facebook, so if people type in "Sweet Cheeks" on Facebook, find us.
Cyrus: Who's paying all of your bills?
Hannah: Burton Snowboards. We just were in Long Island doing the 2013 round tables, which was insane. And Anon goggles, Gravis shoes, and Sierra at Tahoe, which is my home mountain here.
Cyrus: How often do you go to Sierra at Tahoe? When you go are you mingling with the crowd, or do you have your own little back country runs?
Hannah: Well, they give me my own front row parking spot, so I just pull up, jump on the lift, go take some laps, and I'm here probably a couple of weeks out of the winter. Whenever I'm home for some powder runs.
Cyrus: Thank you so much for taking a few minutes out of your time. Please don't stop modeling. Please don't stop snowboarding. And it doesn't have to be in that order. Good luck in Russia, too. And for people out there, if you want to buy a pair of panties for your lady, check out SweetCheeksPanties.com. Proceeds go to a great cause. Hannah, thank you so much.
Hannah: Yeah, rock on! Thanks so much.
Mia Sullivan contributed to this story.
Bonus video of a recent interview with Sweet Cheeks team member Monyca byrne-Wickey.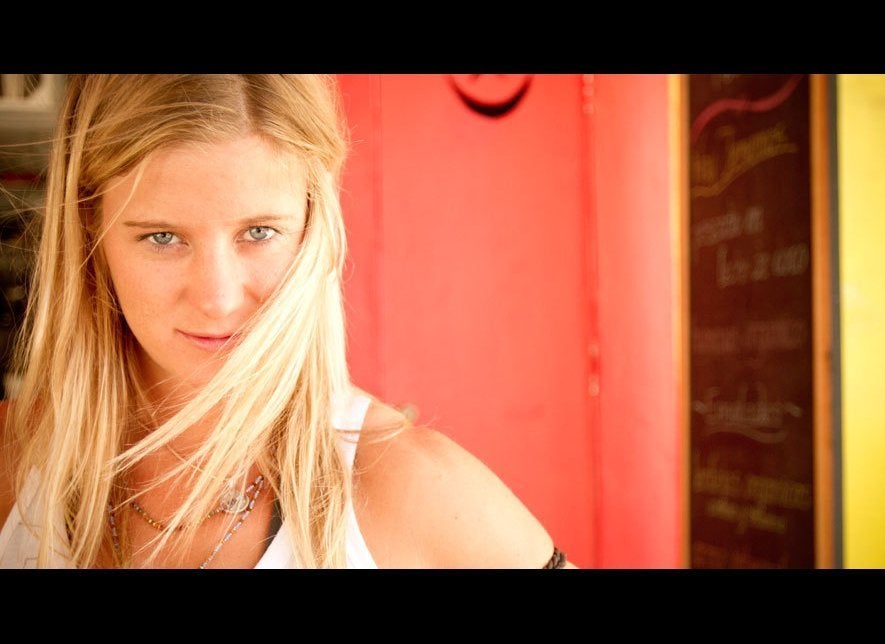 Hannah Teter
Popular in the Community