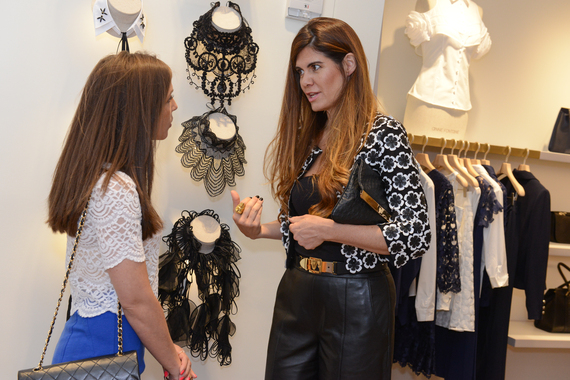 Anne Fontaine, a Franco-Brazilian fashion designer, entrepreneur, businesswoman and philanthropist, hosted a party at her store in the Heritage on the Garden to celebrate Forest Day, with a portion of the proceeds supporting the Anne Fontaine Foundation. Founded in 2011, as a nonprofit organization, the Anne Fontaine Foundation is committed to restoring forestland in Brazil by concentrating its means and initiatives in the Atlantic rainforest, also know as the "Mata Atlantica." Guests of the chic in-store event included Fontaine's husband, Ari Zlotkin, and Ron Druker, developer of The Heritage on the Garden.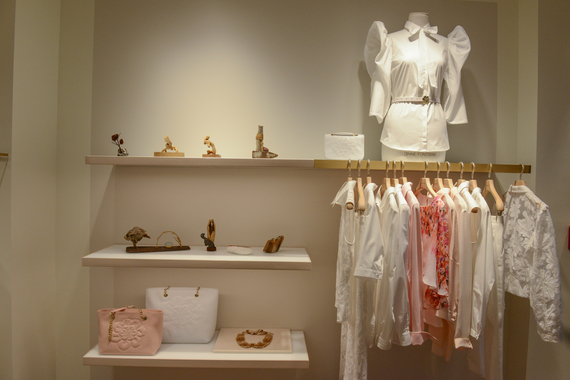 Known as the "queen of the white shirt," I sat down to talk with Anne about where it all began...
White has a lot of symbolic meaning in Brazil, where it is the color of happiness and is said to bring good luck. I came to design my own brand of white shirts by accident really. I moved to France when I was 18 to study biology and never imagined I would become a fashion designer.

It all began one day when I came across an old trunk filled with white shirts that my husband's family had produced. I instantly knew I wanted to create a line of white button up shirts! With my love for white coming from my homeland of Brazil, the idea just felt right!
While Anne's feminine and elegant shirts are undoubtedly an ode to today's modern woman, they're elegance makes them timeless. After all, in a closet full of season-specific trends, the white dress shirt is the great equalizer, the bottom line, the very definition of a back to basics wardrobe staple. Paired easily with anything from pants, a full skirt or your favorite boyfriend jeans, Anne's white dress shirt gives off a effortlessly sexy vibe that's sure to have all eyes on you.
What began as a collection of just white shirts, has grown into a lifestyle brand offering bottoms, outerwear, dresses, accessories, handbags, and embellished collars that make taking your look from daytime to playtime, easy.
After interviewing Anne, I can truly say that she is as beautiful on the inside as she is on the outside. As a fellow believer in conscious consumerism, I was impressed with her vision to create products with a purpose that are the kind of gift that gives twice.
The EcoBag for example, which was designed by Anne Fontaine, is a recyclable bag made partly from recycled plastic bottles. It contributes to funding the Foundation's reforestation projects. Purchasing an EcoBag helps to support the Foundation and at the same time to decrease the use of plastic bags. Making for the perfect heart felt Mothers day gift that is as elegant as it is impactful.
Now thats what I call style with heart.
*Ce fut un honneur d'interviewer Anne Fontaine
concernant sa nouvelle collection et sa fondation. Merci de m'avoir accordé ce moment. Ce fut un réel plaisir!
By Zoey Gulmi
Related