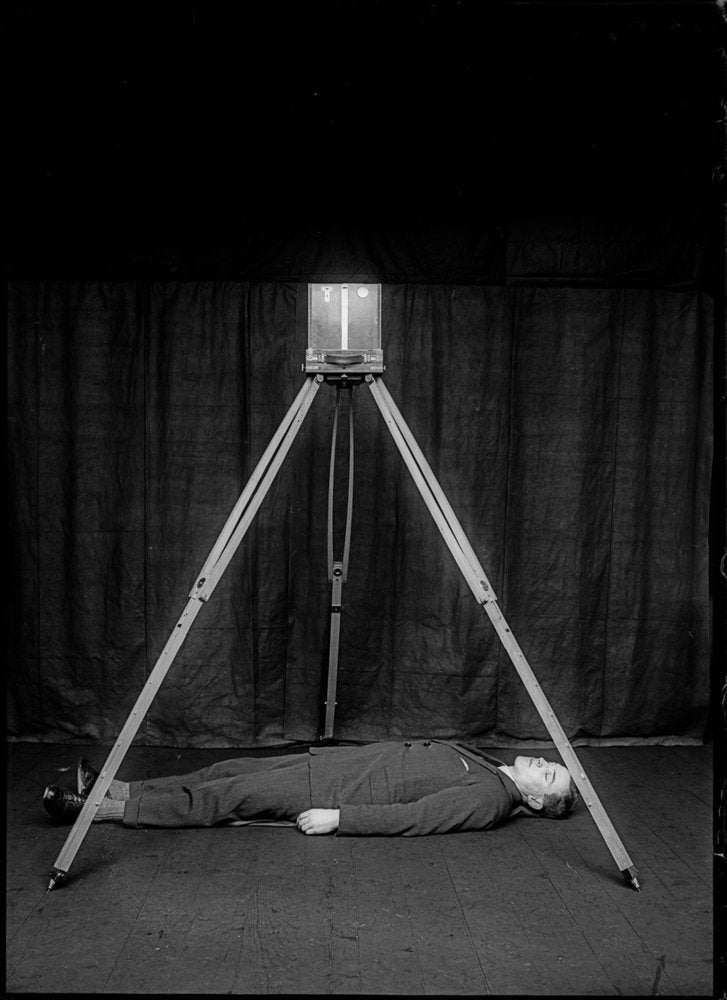 Over the past century, photographs have been used as evidence of acts of violence or crime.
An exhibition, dubbed "At the Crime Scene: Image Testing from the Shroud of Turin to War Drones," currently on view at the Italian Center for Photography in Torino, Italy, is exploring the role recorded images have played in documenting misdeeds and catastrophe. The show presents case studies spanning everything from 19th-century crime scene photographs to a 21st-century digital reconstruction a drone attack in Pakistan.
In between, there are images from the beginning of the 1900s, developed in the laboratory of Alphonse Bertillon, a French criminologist. Bertillon is credited with advancing scientific techniques to standardize criminal photography. Close-up shots of crime scenes taken by German criminologist Rodolphe Archibald Reiss follow from Bertillon's work. 
Another series on display traces the history of the Shroud of Turin -- a piece of cloth that carries the image of a crucified man, and stands as one of Christianity's most polarizing relics -- while other objects explore the impact of large-scale conflict, like the photographs taken in identical locations before and after World War I, documenting the effects of bombings. Even more contemporary conflict photographs capture the buildings destroyed in Gaza by the 2009 Israeli attacks. 
"This exhibition explores both the power and the limits of photography in the search for truth," the organizers write in a curatorial statement. "The power is the power of imagery, more impactful and convincing than words or numbers or statistics can ever be. The limit is that of technique, which often contradicts the concept that the photographer's lens is an infallible eye, one that captures everything and records everything, capable of freezing a given moment in time."
"At The Crime Scene: The Construction of Visual Evidence" will be on view at The Italian Center for Photography until May 1, 2016.
This post first appeared on HuffPost Italy. It has been translated into English and edited for clarity.
Calling all HuffPost superfans!
Sign up for membership to become a founding member and help shape HuffPost's next chapter
BEFORE YOU GO
PHOTO GALLERY
2016 Sony World Photography Awards