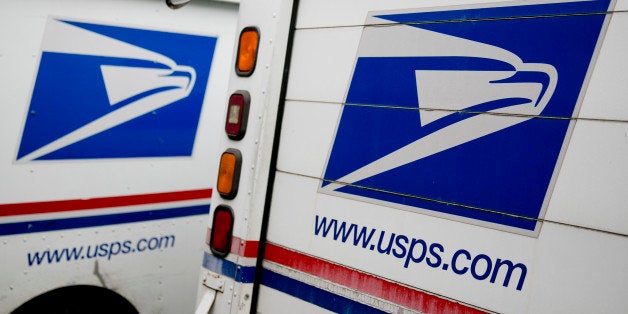 The ongoing, preventable plight of the U.S. Postal Service (USPS) is an important issue for those of us who have observed its steady decline over the last several years due to unimaginative management, huge prepayment obligations imposed by Congress, and a deck stacked to favor corporate rivals such as FedEx and UPS. The historic institution, created by Benjamin Franklin, has cut thousands of jobs: There are 220,000 fewer postal workers now than there were just over a decade ago. In addition, postal rates have been raised, and services have been cut or scaled back.
The USPS reported a $5.5-billion loss in 2014, out of $67.8 billion in revenues. Some critics argue that the postal service has become antiquated in the modern age of instantaneous email, and that its services should be corporatized. Despite setbacks and unnecessary fiscal burdens, however, the USPS still reliably delivers over 150 billion pieces of mail a year, at uniform rates, regardless of whether or not the area is deemed profitable for deliveries. The corporate mailers cannot make the same claim. The USPS has impressively not taken any taxpayer money since 1971, a feat not achieved by many subsidized or bailed-out big corporations.
The postal service has suffered from a severe lack of broad thinking and imaginative leadership. Recently retired Postmaster General Patrick Donahoe sought to fix the USPS's declining business by proposing shutting down rural post offices, reducing hours, slashing an additional 150,000 jobs, ending Saturday delivery and door-to-door delivery, and extending delivery times into the evening. Through these actions, Donahoe aided the postal service's spiral of decline by slashing away once-steady and reliable services and fair costs instead of seeking bold, transformative new strategies to bring in new revenue and maintain the postal service's vital utility and relevance for future generations.
Subtracting the prefunding requirements from the USPS, it would have been in the black by $1.9 billion in 2014 -- the second year in a row of revenue growth.
Mr. Donahoe's replacement, Megan Brennan, will be the first woman to serve as Postmaster General. Here are a few questions and concerns for the new postmaster general to consider as she begins her historic tenure:
Where does she stand on the congressional mandate that required USPS to pay out $103.7 billion by 2016 to cover future health benefits of postal retirees for the next 75 years? No other government or private corporation has to meet such an absurd financial burden. It is the primary reason for much of the USPS's financial woes.
How does she feel about reinstating the successful Postal Savings System (which bank lobbyists forced into cessation in 1968) for simple savings accounts? There are tens of millions of unbanked Americans, whom the banks do not want, who could use postal banking.
What about other sources of revenue? Establishing an honest notary service, cashing most checks, selling fishing and hunting licenses, wrapping holiday gifts, and accepting wine or beer for delivery are just a few congressionally prohibited proposals that have been put forward by postal activists and watchdogs.
What of improving the USPS's use of the Internet, even so far as providing affordable broadband and email services?
Recently 64 organizations, led by the American Postal Workers Union (APWU), came together in what is being called the Grand Alliance to Save Our Public Postal Service. (Check out this finely produced video featuring actor Danny Glover, who comes from a family of postal workers, discussing the new alliance to save and expand the postal service.)
The alliance is advocating for increased services, including the aforementioned postal banking service.
"Building the grand alliance is the only way we will ensure that a vibrant, public Postal Service exists for many years to come," said APWU President Mark Dimondstein.
Too many members of Congress lack understanding and appreciation of the USPS as a vital public service. Privatization advocates in Washington, D.C. -- most of whom don't use the USPS -- obscure our postal system's defining mission: "to bind the nation together" with universal service.
There are numerous compelling reasons to save the postal service from further degradation. It's one of the largest employers of veterans and minorities in the United States while also offering fair wages and benefits. Having a letter carrier walk all neighborhoods each day can be both a deterrent to crime and also an important safety protocol; there are many examples of elderly or infirm people in trouble being discovered and aided by their letter carrier. And the USPS is never going to redline your neighborhood or threaten to move overseas.
For more information on the Grand Alliance to Save Our Public Postal Service, and for information on how you can get involved, visit agrandalliance.org.
Popular in the Community