When she was a young girl, Paris stole the heart of writer Sandra Iskander, and a decade ago, she came to the city but never left. Here she tells us why.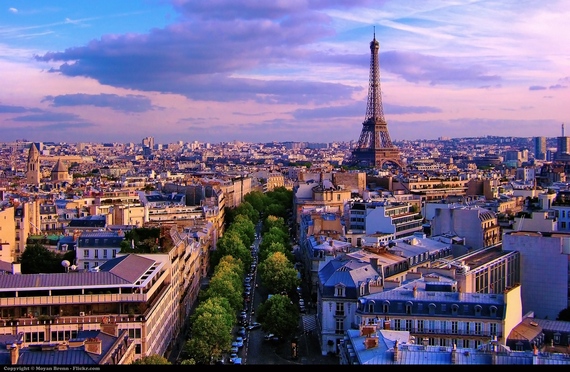 I have a confession to make: I've always been obsessed with Paris.
Like many Australians my dream destination was the French capital. My obsession with Paris has been with me for as long as I can remember. My mum grew up speaking French in her home, so in turn I grew up with the musical sounds of my mum's voice speaking French with her parents and siblings, and she always had Paris Match delivered. I remember flicking through the pages of the magazine, and I felt as though I was holding a little bit of Paris in my hands.
I wanted to live in Paris. I wanted to stand under the Eiffel Tower, then climb it and gaze down on the city. I wanted to buy a baguette every morning, stroll along the Avenue des Champs-Elysées and drink coffee in a café in Montmartre.
When I finally reached the city that was the focus of my obsession, albeit for just a holiday, it felt like a dream. With a permanent smile on my face from the moment I looked up to the Eiffel Tower, I felt that my dream city lived to my every expectation. I loved saying "Bonjour" every morning. I adored walking into the luxurious boutiques and I took in as many exhibitions as possible.
When I visited the Louvre Museum for the first time, I arrived there first thing in the morning and didn't leave until it closed, I remember I couldn't get enough, although my throbbing feet made me vow that I would not do that again, especially in heels!
And like so many travelers, after a memorable time in Paris I went back home.
It wasn't for long. I quickly decided that I needed to be back in the City of Light, for at least a year. I wanted to be able to take in everything that I couldn't fit in on my holiday and to really live the Parisian life.
Eleven years later I am still here, still taking in the city's beauty and its never-ending gifts of new things to discover and exceptional monuments to rediscover.
While I may not stroll along the "Champs" every day, I still marvel at the Eiffel Tower every time I glimpse it glittering in the sky and the thing I love the most is when I show off Paris to my friends and family when they come to visit.
I love climbing the endless steps with them to the Sacré Coeur and walking around Le Marais on a Sunday. I love seeing their eyes light up when they take their first sip of Angelina's famous hot chocolate or take their first bite of a crêpe. For me the best part of playing hostess to visitors is that I get to play tourist with them and discover Paris all over again and share those special moments with them.
Although I have visited many cities around the world, and I have loved them all, Paris has and always will be the City of Light and it is the city that will always shine for me.
About the author: Sandra Iskander serves as Paris editor for Where.

More Parisian travel inspiration;
(Photo Credit: ©