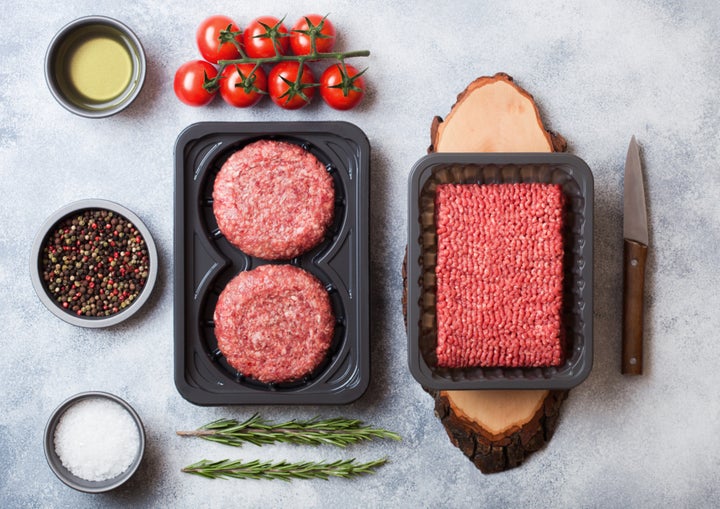 When browsing the meat case at a grocery store, you're often confronted with a wide range of different cuts and colors of meat that are labeled with terms like organic and grass-fed. So, how can you manage to pick something that you know is both good quality and tastes great? Well, there are a handful of tips and tricks that can help guide you, from questions to ask the butcher to colors you should look for that can help you decide which meat is best for you. To assist you on your meat-buying journey, we teamed up with Panera and called on expert butcher Brian Butler, currently the head butcher and co-owner of Salt & Time Butcher shop and Salumeria in Austin, Texas, to share his top five tips for buying meat. Check out his advice below.
Find A Reputable Butcher
To help you navigate all your meat options, Butler, who has worked in the meat-cutting business for 23 years, recommends you find a respected butcher.
"Go in and make up your own mind about a business," explained Butler, who suggests staying away from online review sites, and opting for an in-person visit to find a place you feel comfortable in. "You should feel welcomed and appreciated as a customer."
If you need a place to start, you can call your favorite restaurant to find out where they source their meat, or visit a local farmers market to ask for recommendations. As Butler pointed out, the butcher you choose might not be the least expensive, but finding someone who does a good job and whom you trust is worth the extra money.
Ask Questions
When purchasing meat, you should never be afraid to ask questions. Whether you're shopping at a local butcher store or at your chain supermarket, it's good to find out where your meat is coming from. If someone is available to answer questions, you can ask where the animals were raised and if they are grass-fed or raised without antibiotics.
"You should be able to ask [questions about] how and where the animals were raised that are being sold by that establishment," said Butler. "Butchers can be very compassionate towards animals, which can seem impossible. But, in reality, butchers love animals and should be seen as stewards to the environment."
You can also look to labels and certifications for cues about animal practices. For example, meat that is labeled as organic or raised without antibiotics, means that the animal has never been given antibiotics. Other labels that may imply positive practices include free range, pasture raised and grass fed.
Buy Local If You Can
"Customers are not aware of what a huge impact buying meats locally raised can have on local agribusiness economies," explained Butler. "Locally focused shops put real dollars into local economies' revenue streams. The farmers, mills, ranchers, processors, butchers, chefs, restaurateurs, all survive on this stream."
Buying locally also helps keep your community's butchers in business. "It's a dying craft, and it has few practitioners," said Butler.
Use Your Eyes, Ears And Nose
The color of meat depends on which animal it is coming from and which cut of meat you are buying. You should always avoid purchasing meat that is pale or off in color. A fresh cut of pork will be pinkish, while a new piece of beef should be a bright red. The meat should be cold and feel firm to the touch. It should not have any odors. "Buy meat that has good color and looks fresh," advised Butler.
If the meat is vacuum-packed, the color may change when it is exposed to air, but it should not have any excessive water or tears in the packaging.
Try Something New
"Don't be afraid of trying something new," said Butler, who suggests trying meats that you didn't necessarily grow up eating.
Butler suggests changing things up by trying lesser-known cuts like the thin-cut flank steak or pork collar. He's noticed that a lot of people don't take the time to explore different cuts of meat, but shopping with a local butcher can help you add something new to your personal menu.
"It's these cuts where you can find value, and something really tasty," added Butler. "Butchers aren't just there to cut your meat. We can help you with recipes, technique, knowledge, meal planning and buying on a budget."

Panera Bread is committed to improving the welfare of animals across its supply chain. To see how others are improving the way we eat, check out Food Interrupted, a six-part series by Panera, produced in partnership with Rainn Wilson's SoulPancake and ACE Content, that sheds light on these hardworking chefs, tastemakers and community heroes who are helping to change America's food system.