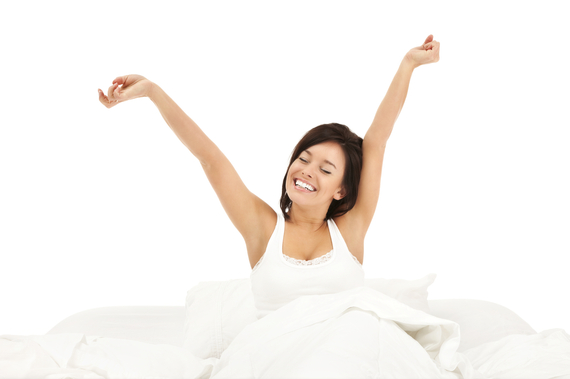 More and more scientific studies speak to the irrefutable benefits of sleep. A study published in Science even calculated that for the sleep deprived, an extra hour of sleep can do more for their daily happiness than a $60,000 raise. Arianna Huffington, Thrive

Few things can make you feel better than a good night's sleep. And few things have as powerful an influence on our lives and health. Sleep restores and recharges us, keeps us healthy, and can even affect medical conditions such as diabetes and weight gain.
It couldn't be easier to take back control of our lives.
It couldn't be easier to take back control of our lives, to redirect them with research and insight, and to help us thrive at whatever age and in whatever circumstances we find ourselves, for example: the stresses of work, exams, looking after small children or ageing parents, or simply those who love to live life to the full with a 'work hard, play harder' attitude!
Third Metric Technology Provides A Better Quality Of Sleep
Sleep well, the way nature intended.
There are a variety of ways to include Third Metric values in our relationship to sleep while including natural features to enhance the sleep environment. Principally we can look at innovations in the wellness industry. The creation of adaptive sleep technology is designed for a better quality sleep. These advancements include introducing innovations in radial-axis magnetism technology, a massage-effect surface, natural temperature regulation and more, all to provide us with an extraordinary sleep experience.
Creating A Natural Sleep Environment For A Good Night's Sleep
Adaptive sleep technology to get the rest we need.
The adaptive sleep technology of sleep take into consideration our diminished relationship to sleep and natural surroundings while also incorporating our modern need for more advanced comfort and support. This means we can now bring the healing power of nature into our sleep environment for a good night's sleep. To accomplish this technological feat technology has incorporated features that include ventilation, embracing natural materials and fibers and more including the development of adaptive technology.
Creating Our Personal Sleep Revolution
Creating a healthier, happier life doesn't need to be complicated. By simply incorporating an adaptive sleep system, my recommended choice is the Kenko Naturest Sleep System, into our bed and adding the sleep tips suggested in my first and eighth article, we will begin to create our personal revolution that will change our culture, our thinking, our workplaces, and our lives.
Please share this Third Metric article with your friends and significant others. To find out more about the Third Metric & Sleep read Thrive, Chapter One, 'A New Blueprint: Time to Renovate the Architecture of Our Lives'. To find out more about the Kenko Naturest Sleep System contact Jackie at; thrive.huffpost@gmail.com