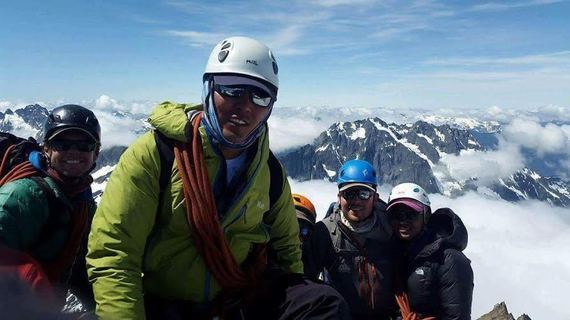 World's tallest peak Mt. Everest is famous across the world. Thousands of people from across the world come to Nepal to climb Mt.Everest. It is the tallest peak in the world. For the courageous people, climbing Everest is their identity. Ang Gyaljen Sherpa. Who was born in Solukhumbu District of Nepal is a person who has worked as a guide of Everest expedition team and helped save lives of many people. When he reaches the peak, he feels that his life has become successful.
Sherpa feels proud of being a Nepali and reiterates his experience of having scaled Mt. Everest to be like reaching heaven and remembers his tears of joy when he reached the peak. Sherpa who has already scaled Mt.Everest for 3 times plans to scale the Denali mountain of America this time. He has a strong tie with Himalayas. Sherpa who has spent majority of his time among the snow is no different than a snow leopard. Ang Gyaljen Sherpa is a snow leopard himself. He is a highly educated Sherpa. He has great knowledge of different languages like French, Japanese, Hindi, English, Tibetan etc. When somebody is looking for a Sherpa who can speak many tongues, his name comes in the front. He is rich in many talents.
Sherpa has scaled many other mountains in Asia and Europe. On May 29 2013, Sherpa scaled Sagarmatha with the message of world peace taking pictures of Gautam Buddha, American President Barack Obama and religious leader Dalai Lama to the summit of the Everest. Sherpa has now reached America. Sherpa saving lives of many people among snow storms have been covered by media many times. He has many fans in Nepal. He is not just limited in Nepal. He has scaled many summits in Europe and scaled Sagarmatha three different times. When asked how he feels about coming to America Sherpa says," I feel proud that I am able to convey the message of Buddha in a nation of dreams." America is a home to all because it is a nation of immigrants.
I respect this country and its people. When asked what he wants to do next, he said that he wanted to share his knowledge among people and also open a school where he could teach people about mountain climbing and talk to people about Sagarmatha so that they'd also be interested in scaling the peak. He said that he wanted to open a branch office in America. The world is a home, I am proud of humanity and I shall strive till the end for the welfare of people.