I didn't own a suit until I was 25. In fact, I'd never even tried one on until I had one custom-made for my body. I knew immediately that it was the most extravagant thing I'd ever done for myself, and later I realized it was also the most practical and revolutionary thing I'd ever done for myself. It was extravagant because bespoke menswear from a tailor in Manhattan's east '50s needless to say comes at a cost (the kind of cost one puts on a credit card); practical because no off-the-rack suit will ever fit my (petite, queer, transmasculine) body; and revolutionary because not only did this suit revolutionize my relationship with formal menswear (which I anticipated), it revolutionized my relationship with myself.
I wore my suit for the first time on New Year's Eve in 2010. I felt like the most self-possessed, at-ease, handsome version of myself that had ever existed, which was well-timed because it was also the first New Year's Eve my girlfriend and I had spent together. I told her that I loved her on New Year's Day, and while I'm not crediting worsted wool or a talented tailor for empowering me to express that sentiment, I will say that feeling like the most self-possessed, at ease, handsome version of myself didn't hurt.

I used to feel a very specific feeling of dread whenever I was invited to formal occasions. That feeling of dread was replaced by new feelings. Feelings like I-can't-wait-for-someone-to-get-married!, which despite being a romantic I'll admit was completely unprecedented. And despite my reputation for being a bad-but-joyful dancer, I never danced at a wedding (unless I was awkwardly coerced to do so) until I owned this suit. If this sounds like an ode to my first suit, it's because it is one.
After feeling all the feelings I've described above for approximately a year and a half, I stumbled upon some photographs of drag king Murray Hill in campy, perfectly tailored suits and found out Bindle & Keep, a bespoke menswear company based here in New York City had made them. I contacted Daniel Friedman, the owner, telling him that I wished to apprentice with him, and were I ever to have my own clients, I wanted them to be from my community. I wanted to play a role in transforming that feeling of dread into something healthy. Healthy and handsome. Last summer I started a tumblr. called The Handsome Butch and wrote the words "you have the right to be handsome" as a reminder to folks navigating the masculine landscape who don't feel welcome there. That was what I'd call Handsome Butch preaching, and now that I'm working as a queer clothier, I believe I'm practicing.

I travel with what looks like an old-fashioned leather doctor bag filled with beautiful English and Italian fabrics to clients' homes, offices or favorite well-lit bars -- wherever they're most comfortable -- and I measure them. I like to tell them about my first experience being measured, which was done in that east '50s storefront while I stood on a box, surrounded by both mirrors and customers. Needless to say I was uncomfortable. I wish that Bindle & Keep had existed in December 2010 (alas it was not born until August 2011). About a month after we take measurements and talk fabrics and style, I get to hand-deliver suits to folks from my community that only come in their size. This, without hyperbole, is the best feeling.
I can't tell you what size suit I wear because it's bespoke, which means it's my size. And to wear something that only comes in my size after trying on so many off-the-rack garments which may in fact be nobody's size is empowering, illuminating, transformative. I believe one's clothes shouldn't make one feel worse about things that already feel badly (like funerals), or not-good about things that are meant to feel good (like weddings), or -- while I'm at it -- things that may feel badly or not-good when they can actually feel good, like interviews. I know the word handsome isn't perfect and not everyone relates to it, so I'd like to add that I think we all have the right to have our bodies and identities affirmed, honored and respected, and that's not just something we do for ourselves and each other. It's something our clothes do for us.

Last month we measured a lovely woman (pictured!) in her West Village apartment for the suit she's going to marry her girlfriend in. Two weeks ago we measured a friend of mine for her first suit at the infamous and beloved bar Nowhere on 14th Street. Last weekend we measured a woman for a vegan suit (this means we're using hemp rather than horsehair for the canvas, and the suit's cotton rather than cashmere or wool). And this is just the beginning.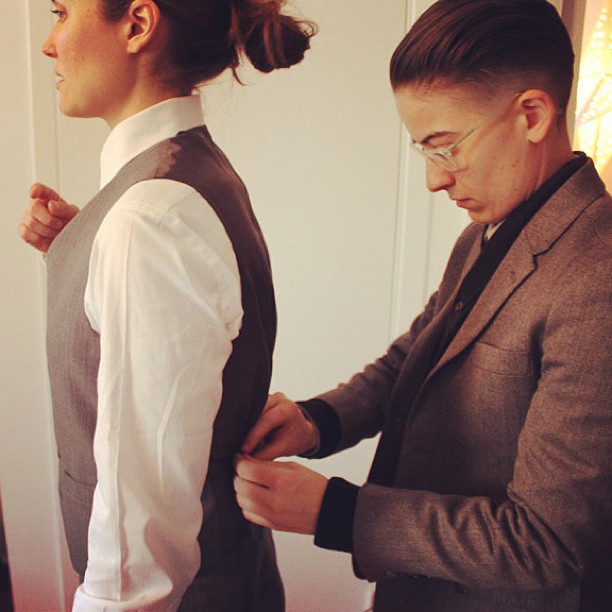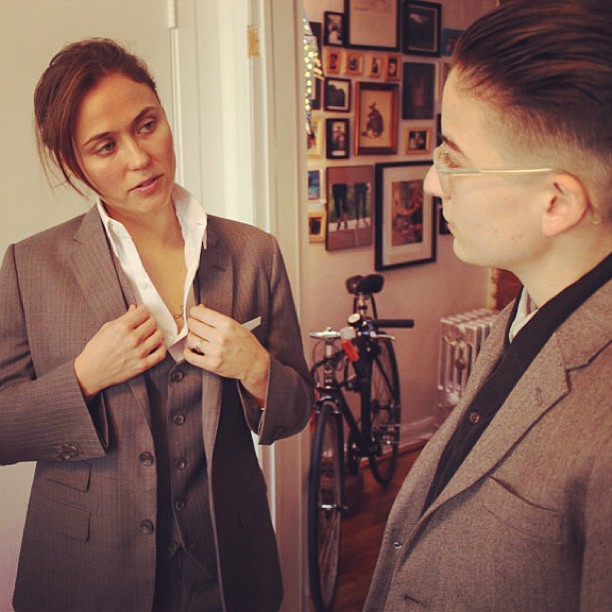 Fillmmaker & Actress Kelly Sebastian (left), Rachel Tutera (right)
Photo credit: Jenn Pennington
Calling all HuffPost superfans!
Sign up for membership to become a founding member and help shape HuffPost's next chapter