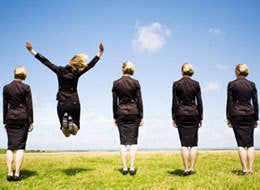 "Donors are people...People with children..." New York philanthropist Barbara Dobkin crooned a take-off from the 1974 "Free to Be You and Me" album as members of the press began convening in her family office. May 14 was the final day of the Women Moving Millions campaign, which had tracked $176 million in million-plus gifts. One had even come in the day prior, taking the campaign to $26 million over its goal.
Overture. As they often do, Helen LaKelly Hunt and her sister Swanee Hunt picked up the music as the press briefing began, harmonizing a nursery rhyme that symbolized the mentality in which they were raised: "The king is in the counting house, counting out the money; the queen is in the parlor eating bread and honey!" Helen spoke about the cultural influence of their childhood, which inculcated the idea that their money was not their responsibility.
Having spent their 20s following the injunction that their husbands should take care of their funds, in their mid-30s, the sisters figured out how to pick up the reins (if not the reign). They found their shared passion in funding women and girls, but more, in charting ways to empower women through a variety of means: escaping domestic violence; emerging from poverty; running for public office; and, yes, learning how to give the big dollars.
In particular, Women Moving Millions was born the day Swanee, a former US diplomat, booked her ticket to Liberia; she was heading out to assist Ellen Johnson Sirleaf, the first woman president in Africa, in whose campaign she'd been deeply involved. Since the country was only emerging from a brutal 14-year war and still unstable, she decided to review her will. As she informed her lawyer of her new plan to leave five million dollars for her older sister to pop women's giving forward, she teared up thinking what that would mean to Helen.
Then, she says, she realized: What if she didn't die? Or not in time, that is. Helen would never know about the gift. And if Swanee did die first, she would miss out altogether on the good feelings that go with giving. So why not give Helen the money now, so she could push women funding women, while she still was at her peak energy? This would really raise the bar for contributions to the foundations focusing on funding NGOs serving women and girls. Such organizations receive only about seven percent of US philanthropic dollars.
When she told her sister, Helen was just as moved. Then said, through her tears, "Five has such a ring, but ten is even better!"
The sisters decided that together they would put in 10 million dollars and begin to ask all the women they knew, "Do you have a million dollars you'd like to give to a women's fund such as the Ms. Foundation, the Dallas Women's Foundation, the Global Fund for Women?" Initially stuttering through the word "mil...milli...million," they soon started making their requests with conviction, and the campaign took off.
Why were so many women happy to part with a million dollars -- so thankful, in fact, that they continued to give through the economic collapse of the past year? There was a secret embedded in the ask. Giving to a cause that matched their values was an opportunity to right more than one wrong: They knew firsthand that wealthy women often are distrusted because of their money. And often the one distrusting is the woman herself.
And so a wave began. Over the past two years it has gained speed and size....
Helen and Swanee asked the Women's Funding Network, a membership organization of more than 140 women's foundations, to be their partner. The Network began coaching executive directors and board members on how to organize million-dollar "asks" in their communities. As Ana Oliviera of the New York Women's Foundation remarked at the media briefing, "We don't know yet our power, because this is just the awakening, and not everyone gets up at the same time." Most women with money are just beginning to ask themselves how their wealth might be a source of empowerment. Not a radical idea, male readers might be thinking, but for women, it actually is.
Second verse. And that was only the beginning of the day. Rushing out of the press briefing, Swanee and Helen and their childhood friend Carol Edgar jumped into a cab and headed to lunch with legendary journalist Dan Rather, who has recently expressed an interest in Afghan women leaders as a stabilizing force (an area of Swanee's expertise). The three women broke into a close harmony rendition from their chorister days at First Baptist Church of Dallas. It was an unintentionally ironic "I am not worthy the least of His favor, but Jesus left heaven for me." They were so pleased with the milky harmony that, tucked into a booth at a sushi restaurant, they couldn't help but serenade Mr. Rather, himself a Texas boy. A little singing always leaves a big impression...
Third verse. An hour later, the singing continued as the ladies swayed to U2, grinning to each other past Annie Leibovitz as that chronicler of history photographed the 60 mega-donors. The donors had congregated in New York to commemorate the final day of this campaign in the halls of the Brooklyn Museum where they recreated The Dinner Party, the Judy Chicago installation that depicts many of the great women from history dining together at a triangular table. As this group of women remembered the women who had paved the way before them, they reminded themselves also that the women's suffrage movement had begun 60 years before women actually won the vote. What if women had poured their funds into the movement at the right moment? What could have been won if they'd acted in time? This time, the opportunity would not be missed. They were ready to act, ready to give. They'd found their voice.
The encore took place around the piano at Helen's home, with the group belting out raucous suffragette songs, plus heart-felt (if off-key) versions of Helen Reddy's and Nancy Sinatra's classic feminist lyrics. When Gloria Steinem joined the group, the 60 toasted her as the one who had paved their way. "But you are as important to me," she answered, "because you're carrying the movement forward."
And the music has just begun.

Leah Hunt-Hendrix is a Ph.D. student at Princeton University in religion, ethics and politics, and just returning from living in Syria. She is the daughter of Helen and the niece of Swanee Hunt.