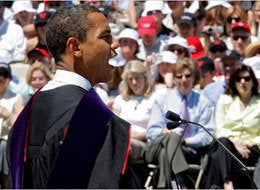 Although winter is lingering on in New England this year, with icy puddles and sidewalks still a hazard in the second week of April, the signs of spring are increasingly apparent. The branches of the trees on campus now sport promising buds, and the daffodils popped up with glorious color just in time for Easter. Students, too, are emerging from their hibernating habits to catch some sun on the hills around the baseball field, or on the library's lawn.
With the incomplete retreat of winter it seems premature to be thinking about graduation ceremonies, but such are the ways of academia. Seniors, of course, have been looking for jobs for some time now, and this year's search has been a particularly challenging one. Our faculty and staff are already planning for Commencement, which at Wesleyan University takes place over Memorial Day Weekend. I can't help thinking back to last year's ceremony at Wesleyan, when Barack Obama delivered the major address, substituting for the ailing Senator Edward Kennedy. It was a fine day, indeed. Candidate Obama stayed away from politics and delivered a stirring call for Public Service. Wesleyan was proud to present him with an Honorary Degree, Doctor of Laws. You can read or see the speech here.
The wag reporter for the New York Times last spring compared Obama's speech at Wesleyan to the Pope visiting Notre Dame. This year, of course, that comment resonates very differently as the mock furor continues over whether the president of the United States deserves honorary degrees from Notre Dame and Arizona State University. The president's historic status, his enormous leadership responsibility, and his ability to communicate to students and their families should make this a no-brainer, but ours is an age of political polarization in which generosity is in short supply and coherent thinking -- even in matters concerning our institutions of higher learning -- cannot be counted on. Instead of a joyous prospect -- the opportunity for graduates to hear from their eloquent president -- we have the familiar rancor and posturing of a political campaign.
An honorary Degree is the symbol of the association between a university and the recipient. As a symbol, it may well create political discussion. Today, schools that honored Robert Mugabe in the 1980s would rather forget the association they once prized. Their "freedom fighter" turned out to be a murderous dictator. In 2001 many Yale students boycotted the graduation at which President Bush delivered the Commencement Address. But even when things turn out well, it is rarely the case that a school that honors someone means to express agreement with all the views held by that person. The degree marks an occasion, and signals the highest respect of an institution for the recipient. Respect does not mean agreement. Bestowing an honorary degree acknowledges importance, distinction, and achievement; it is not a blanket endorsement. Surely President Obama's importance, distinction and achievements merit such honors. The question of endorsement ought not arise.
I hope that the administration, faculty and alumni at Notre Dame and ASU will honor President Obama in accord with the traditions and values of each school. These symbolic gestures would be especially admirable precisely because there are also important differences between the positions taken by the institutions and those taken by the honoree. The classes of 2009 at these schools would get to hear from the President of the United States at a ceremony of great symbolic importance in their lives. Having had the privilege to be part of such an occasion honoring Barack Obama in 2008, I am sure that it will be a day and a speech they will long remember.
Before we know it, spring will really be here, and the caps and gowns sprouting up will mark a change in the university's season. Our Commencement ceremonies signal both endings and beginnings. They are joyous occasions at which we mark achievement, distinction and transition. The Notre Dame and ASU communities know this, as does our president. They have this season the opportunity to honor one another, and I hope they take it.
Calling all HuffPost superfans!
Sign up for membership to become a founding member and help shape HuffPost's next chapter