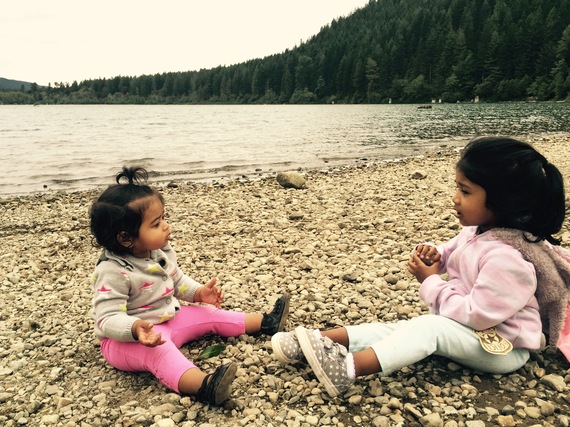 My Dearest Aleena and Yara,
Aleena, you are now putting together full sentences. Yara, you have just started to walk. It's time for the 4th installment of my letter.
(Here are the letters from the past 3 years: 2013 , 2014 , 2015.)
This year I am going to tell you about America.
America is in the middle of a heated presidential election. I am deeply concerned by the divisive language used by the Republican candidate, Donald Trump. During his campaign, he initially expressed that all Muslims should be banned from coming to America. Then, he changed the ban to cover Muslims from countries compromised by terrorism. Either way, in Trump's version of America, I wouldn't be able to come to the United States. In Trump's version of America, you wouldn't have happened.
But, you did happen. And I am so grateful for that.
You represent the American promise that is at this country's core! The promise that it doesn't matter where you come from; what matters is where you go. The promise that if you work hard and do the right things, you will be rewarded with opportunities. It is a promise that doesn't discriminate against race, religion, or gender.
I came to America in 1997 to pursue better opportunities, but I am not unique. Around the world, people look to the United States, like I did, and see a land of opportunity.
I arrived as a student of Angelo State University  --  a small university in western Texas, that I was able to attend because they offered me a full scholarship. Then, Microsoft  --  an American company  --  believed in me enough to give me a job. Today, I lead LiveStories  --  a company that governments across America depend on to make data-driven decisions related to building healthier, safer, and better communities.
I am grateful to the United States for the opportunities it has presented to me and I hope my efforts and contributions will build a better and stronger America.
For many people, the United States represents hope and justice. Whenever, the world finds itself in dark places of history, America is there to shine the light of reason and guidance. America gives opportunities to those in despair. America stands up for those who are unable to defend themselves. America gives voice to the voiceless. It is not perfect, but every day, guided by these principles, America gets closer to those ideals.
America's foundation  --  the promise of a better future for hard-working, honest people, regardless of background  --  seems more fragile than ever. By the time I write the next letter, it could all be very different.
However, one thing will never change: your story. You are the result of that American promise. You are here because millions before you have made sacrifices upholding these values. Now it is your responsibility to cherish and protect these values and pass them on to future generations.
REAL LIFE. REAL NEWS. REAL VOICES.
Help us tell more of the stories that matter from voices that too often remain unheard.