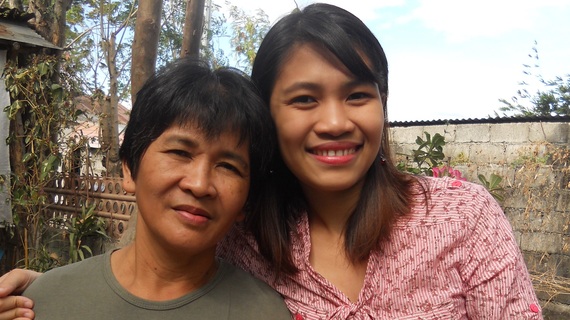 "You have no idea how many lives you are touching directly and indirectly with the loans from Opportunity," said Amina Mendez, who spoke with her mother at the Opportunity International National Summit, Oct. 2 - 4 in Chicago.
67 million children are not enrolled in school.
870 million people - about 1 in 8 - suffer from chronic malnutrition.
783 million people lack access to safe, drinkable water.
According to the United Nations, about 70 percent of those living in poverty around the globe are women; women who, as a result, are more vulnerable to forced labor, malnutrition, teenage pregnancy, early marriage and violence.
When I was young, my family struggled to make ends meet. There were times when food was scarce. But I still realized I was lucky. I had opportunity - the opportunity to get an education, to find a job and to eventually work my way up at Delta Air Lines from a flight attendant to chief marketing officer. But I had help. I had people who believed in my potential and gave me opportunities to succeed.
I became involved with Opportunity International to help empower women around the world to access opportunities and realize their potential just as I had. We provide small business loans, savings, insurance and training to over five million people working their way out of poverty in the developing world. 90 percent of our loan clients are women who consistently show inspiring resilience and determination to change their own world and the future of their children and communities. For every dollar earned by a woman, she invests 80 cents in her family - supporting education, economic growth and strengthening her community.
At the recent Opportunity International National Summit in Chicago, we heard from Remy Mendez and her daughter Amina from the Philippines. Remy made about $2 a day as a farm worker until she received an agricultural loan and training from Opportunity International that changed her family's future. Remy used the small loan to start a business raising hogs and growing food for her family and others. As a result, she was able to enroll Amina in the University of the Philippines then Ohio Wesleyan University where she graduated with a degree in Mathematics. Amina has returned to the Philippines to work for the same Opportunity International Bank that gave her mother the loan so many years ago. Plus, Amina's younger sister, Rina, is graduating college this year to become a teacher. With new economic potential, Remy and women like her in communities around the world are gaining a voice and the resources to control their own lives and inevitably their own futures.
It is difficult to bring about change. The statistics often feel overwhelming especially when it's something as immense as ending global poverty and creating gender equality. But this is where we start; we start with one person, in one community - and we're changing the world. Please join us in our fight to end global poverty.
Vicki Escarra is Global CEO of Opportunity International. She also spent six years as president and CEO of Feeding America, the nation's largest hunger relief organization, and nearly 30 years at Delta Air Lines, where she rose to chief marketing officer.
Related