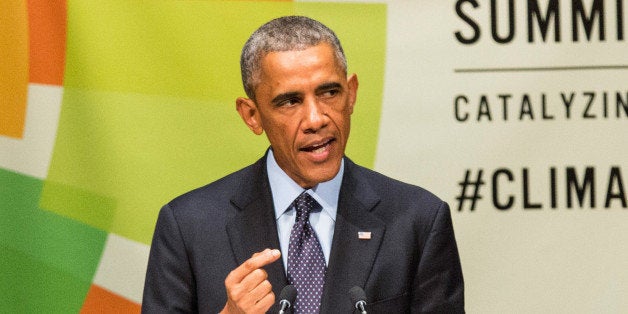 Today, leaders from more than 120 countries gathered in New York. On the agenda: a challenge that knows no borders, produces devastating local impacts, and requires global action.
President Obama joined the international community at the UN Secretary General's Climate Summit because he believes that we have a moral obligation to our children and to future generations to take decisive action now -- to reduce the carbon pollution and other greenhouse gas emissions warming the planet, and to build resilience to the climate impacts already being felt in communities across the country and around the world.
We are the first generation to experience first-hand the chaos that climate scientists have long warned was coming. In recent years, we have been battered by more frequent and severe storms, become inundated by rising seas and storm surge, parched by deeper drought, and burned by fiercer wildfires. From the world's poorest villages to the tiniest seaside communities, climate change poses a real and dangerous threat.
That's why the Obama Administration has sought to produce actionable climate science for the United States through the National Climate Assessment and has galvanized entrepreneurs and researchers to develop innovative climate planning tools through the Climate Data Initiative. And that's why, at today's UN Climate Summit, President Obama announced that he will marshal the United States' unparalleled research and technological capabilities to help developing countries understand the scope of the climate challenge and build climate resilience through a set of new global public goods.
The President committed to releasing global elevation data at a higher resolution than is currently freely and publicly available. Today's declassification and release of 30-meter elevation data for the African continent is a vast improvement over the previous free, open data set, which resolved to 90 meters. This data will enable aid organizations, development banks, and decision-makers in developing countries to better map and plan for climate-driven challenges like sea level rise in coastal regions and glacial melting in mountain ranges.
Our science agencies will work to develop extreme-weather risk outlooks extending beyond the two-week time horizon of weather forecasts, to provide early indication that severe weather may be on its way and help save lives around the world. NOAA will seek to expand a successful program that has already trained more than 300 meteorologists from developing countries in critical aspects of climate prediction, monitoring, and assessment.
And the United States is going to continue to lead by example through a new executive order directing our international development agencies to factor climate resilience into their research, planning, and investment decisions--from malaria eradication programs to hospital construction to seed purchases. We're joining the new Global Alliance for Climate-Smart Agriculture, which seeks to preserve food security despite a changing climate. And the President today announced his intention to create a new public-private partnership to ensure climate data and tools are useful to, and used by, decision-makers in developing countries.
But we know that without curbing the carbon pollution that is fueling global warming, the best data and tools we can imagine can only do so much to address the catastrophic impacts of climate change. Under President Obama's Climate Action Plan, the United States has claimed that mantle of leadership on this global challenge by putting America on the right path to achieve our 2009 Copenhagen pledge to reduce greenhouse gas emissions in the range of 17 percent below 2005 levels by 2020.
The President's plan will cut carbon pollution from existing power plants by 30 percent, thanks to a proposal set out by the Environmental Protection Agency this June. Partnerships between government and the private sector will deploy more clean energy, boost energy efficiency in more than 1 billion square feet of buildings, and phase down emissions of potent greenhouse gases known as HFCs -- super-pollutants with up to 10,000 times the global warming potential of carbon dioxide -- by the equivalent of 700 million metric tons of CO2 by 2025.
All told, the Obama Administration's actions since releasing the Climate Action Plan will cut nearly 3 billion tons of carbon pollution between 2020 and 2025, enable the development of more wind, solar, and geothermal energy, and save consumers more than $70 billion on their energy bills by 2030 -- all through executive action.
Today's Summit is an important step in our fight against climate change -- and we're not stopping now. We're going to do more, at home and in international negotiations, to tackle this challenge. The United States remains committed to working through the UN process to forge a strong international framework to cut greenhouse gas emissions. And President Obama will continue using his pen and his phone to cut carbon pollution, to partner with the private sector, to deploy more clean energy, and to strengthen American communities threatened by climate impacts -- because we can't afford to wait for the climate denier caucus to take action.
We're the first generation to witness the real devastation of climate change. We may be the last generation capable of curbing it. For the sake of our children, our country, and the global community, the United States will continue to use every tool available to us to tackle this challenge.
This post is part of a month-long series produced by The Huffington Post in conjunction with a variety of events being held in September recognizing the threats posed by climate change. Those events include the UN's Climate Summit 2014 (that was held Sept. 23, 2014, at UN headquarters in New York) and Climate Week NYC (Sept. 22-28, 2014, throughout New York City). To see all the posts in the series, read here.
REAL LIFE. REAL NEWS. REAL VOICES.
Help us tell more of the stories that matter from voices that too often remain unheard.