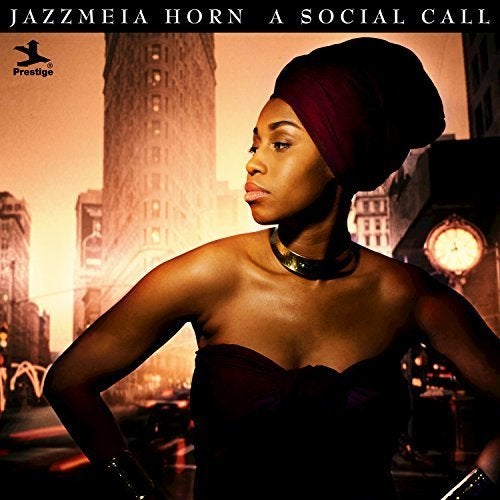 Jazzmeia Horn A Social Call Prestige PRS 00112
It should be no surprise that twenty-six-year old jazz vocalist Jazzmeia Horn is one of the most impressive new voices on the music scene today. In 2013, then twenty-two-year old Horn won the impressive Sarah Vaughan International Jazz Competition. Then again in 2015 she captured the even more impressive Thelonious Monk Institute International Jazz Competition, which led to a recording contract with the historic Prestige label and her debut album A Social Call. While the title references Gigi Gryce's composition Social Call – a song about a one on one interaction between two individual people trying to find a connection-Horn has expanded the concept of "social" on this album to be a timely call for social responsibility.
The woman has a beautiful, supple vocal instrument with a tremendous range and an intonation that has elements of some of her influences-Sarah Vaughan, Betty Carter and Nancy Wilson. She recorded this album while she was still pregnant with her daughter. There is a matriarchal strength to the way she sings some of the songs on the album like the gospel tinged "Lift Every Voice and Sing/Moanin'," (which features a steamin' trumpet solo by Josh Evans).
I was especially moved by her poignant and spectral rendition of Jimmy Rowles' haunting classic "The Peacocks," a beautiful song that is not an easy to sing well. Victor Gould should be singled out for his intuitively sensitive rendition of Rowles shimmering pianistic beauty and how well he comps Ms. Horn's performance. Ms. Horn's high register inflections at the coda are perhaps the only evidence of her showing some excess of technique where less is warranted.
The opening tune is a splendidly authentic version of Betty Carter's gymnastic "Tight." It's especially grand to hear her elastic rapport with Stacy Dillard's fluid tenor. She shows equal affinity to the pliable bass work of Ben Williams on her duet openings of "East of the Sun, West of the Moon" and on the title tune "Social Call." Ms. Horn has an easy, unforced scat style that is instrumental at heart and her unique phrasing emotes a deep understanding of the meaning of a finely crafted lyric. She clearly has a gift for the art, but scatting is best served in tasteful moderation, so as she gestates her vocal personality I am sure she will become more judicious in its use as she matures. The horn section of Dillard on tenor, Josh Evans on trumpet and Frank Lacy on trombone is tight, bright and swinging in the tradition of Cannonball Adderley's work with Nancy Wilson.
Ms. Horn's heartening monologue on the intro to the Stylistic's "People Make the World Go Round," her gospel/free-form vocalizations- in communication with the African drum and percussion work of Jerome Jennings-that Ms. Horn contribute to "Afro Blue/Eye See You/Wade in the Water," gives the album its' social context. Ms. Horn's high register squeaks and trills remind me of the expressive yodeling work of Leon Thomas and her spoken word sections conjures up the poetic work of Abbey Lincoln and Nina Simone. There is no doubt that she has been studying her vocal history in all its splendid variations. Her voice holds great prospect for the future. Not only has she absorbed these traditions, she has enough vocal discipline and range to pull off the most difficult of these techniques and enough personal assurance to make the end-product sound like her own invention.
Ms. Horn does her own take on the Scherzinger/Mercer pop classic "I Remember You" and on the soulful "I'm Going Down" originally sung by Rose Royce, on the influential soundtrack to the movie Car Wash. Ms. Horn and her formidable horn section make this last one a rousing exclamation point to this wonderful album. I for one will be looking forward to hearing more from this promising young artist.
Related
Popular in the Community