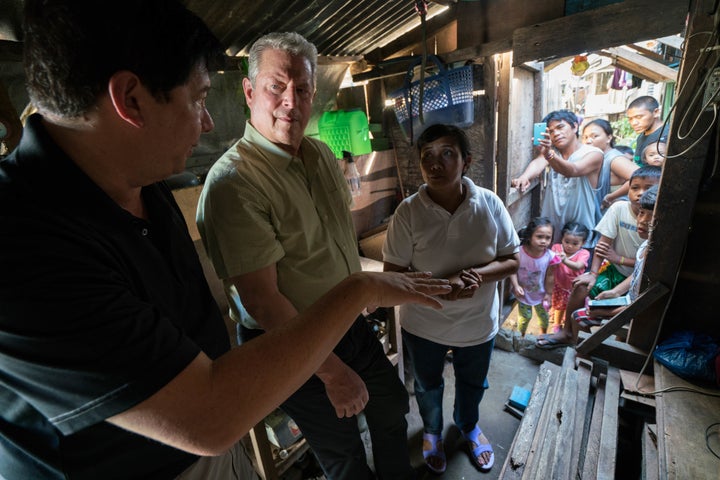 When I first realized Donald Trump's inauguration would occur on the second day of the Sundance Film Festival, I felt relief. Instead of being glued to the inevitable Twitter meltdown as our nation plunges into an alarming new era, I could embrace toasty theaters at an event where art prevails. Phew. 
Upon arriving in snowy Park City on Thursday, the rose-color glasses I'd donned felt a bit more pallid. Reality had sunk in, and suddenly I wondered whether it was even appropriate to spend the weekend seeing movies while a new political order emerges in real time. Then I sat down for my first screening, "An Inconvenient Sequel: Truth to Power," and those glasses lost their focus altogether. 
"An Inconvenient Sequel" is Al Gore's follow-up to "An Inconvenient Truth," the Oscar-winning documentary that in 2006 electrified the debate surrounding climate change. "Truth," a showcase for Gore's PowerPoint lectures about the horrors of global warming, was an exercise in apprehension. "Fix this now, or we are doomed," the movie screamed. Many, thankfully, listened. So many, in fact, that "An Inconvenient Sequel" is brimming with hope, sort of.
Now, listen. I'm a movie journalist. I can't pretend to write this as a climate-change sage of any kind. But, as science-y as these documentaries are, they are surprisingly easy to understand, especially in tone. (Credit this time around is owed to directors Bonni Cohen and Jon Shenk, whose film reveals more about Gore than Davis Guggenheim managed in "An Inconvenient Truth.") Yes, weather-related catastrophes have continued at frightening rates; just look at the recent floodings in Florida and Louisiana, or the shrinking Manhattan coastline predicted in "Truth." But the sequel praises the world's remarkable strides over the past 11 years, chiefly 2015's United Nations conference in Paris, which resulted in a wide-ranging agreement to reduce greenhouse-gas emissions and prevent Earth's temperatures from continuing to rise.
When I checked my phone after "An Inconvenient Sequel" ended, another New York Times push notification about Trump's links to Russian president Vladimir Putin had come though. More of the same. The next morning, after the former reality TV star was inaugurated, Twitter informed me that the Obama administration's climate-change page had been removed from the White House website.
Suddenly the outcomes Gore and his allies had effected seemed lost to what we call the "transition of power." What a way to begin Sundance, usually a joyful occasion about celebrating creativity.
At Thursday night's premiere of the aptly titled Netflix dark comedy "I Don't Feel at Home in This World Anymore," Park City mayor Jack Thomas spoke of his town's own efforts to combat climate change. Watching Thomas speak, it was hard to believe so much of the world beyond this little festival bubble would aggressively protest. 
On Friday morning, as journalists poured out of a press screening of "The Incredible Jessica James," talk turned to Trump. I congregated outside the theater with a cabal of journalists, many of whom adored the movie (myself included), particularly because it offered comforting counter-programming to the inaugural speech we'd just avoided.
Starring Jessica Williams, "Jessica James" borrows familiar post-breakup romantic-comedy beats, but its voice is distinctly modern. Fictional Jessica is an aspiring New York playwright with a progressive worldview that implicitly opposes much of Trump's rhetoric. At her younger sister's baby shower, for example, the titular marriage-averse millennial gifts a self-illustrated picture book called Subverting the ABCs of the Patriarchal Paradigm.
The movie provided a charming 85-minute reminder of the inclusive landscape we assume Hillary Clinton's presidency would have fostered. And then, as we stragglers went our separate ways, it was back to reality. The bubble had burst. Trump was our president. (Jessica Williams 2020.)
Less than 24 hours after the festival's start, Sundance is in a weird mood. Yet, just like most of this fearful country, those of us in Park City must decide how to move forward. In "An Inconvenient Sequel," Gore recalls having to do the same when the Supreme Court decided George W. Bush would be our president, and look how much progress Gore encouraged in the years since. If there's relief from the chaos in these Utah mountains, maybe that's OK. 
"An Inconvenient Sequel: Truth to Power" opens in theaters June 28. "I Don't Feel at Home in This World Anymore" hits Netflix on Feb. 24. "The Incredible Jessica James" is hoping to secure theatrical distribution at Sundance.
Calling all HuffPost superfans!
Sign up for membership to become a founding member and help shape HuffPost's next chapter
BEFORE YOU GO
PHOTO GALLERY
2017 Sundance Film Festival