When you think of someone who is on the autism spectrum, you might not think that they would hijack a photo shoot and endlessly mug for the camera. At least I wouldn't have until I met Carter.
The shoot had just started, and suddenly both of our photographers had been lured in by Carter's Carter-ness and were off in the distance snapping photos of him... Carter on a bridge, Carter looking serious, Carter smiling, Carter beside a dumpster keeping it real. Carter being Carter.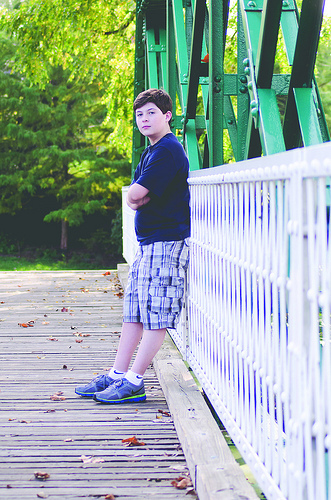 Carter is a 13-year-old young man with a great smile, a supportive family, a big personality, and with autism.
In 2012, I co-founded The Facing Project, a community storytelling project that connects people through stories to strengthen communities. Each project matches a community's writers with individuals facing a certain topic, and the writer writes as if they are that individual, in the first person. Projects have spanned the nation and covered topics, including poverty, homelessness, hunger, and sex trafficking.
2012 also happened to be the year I learned that my own son, Griffin, was on the spectrum. My wife and I really weren't sure what that meant. Yes, we knew what autism was, but we didn't know what that meant for Griffin and for us. We weren't sure what to do. My co-founder of the Facing Project, J.R. Jamison, and I decided to launch a Facing Autism project in Muncie to shine a light on autism in our community, and, selfishly, so I could learn what it meant to live with "autism."
We heard from parents and therapists. My wife even shared our story. But Carter's story of what it was like to be him absolutely blew us away.
Carter's story, "Pay Attention," as told to writer Jamie Linton begins like this:
Why do you want to write a story about me? Autism is not that big of a deal.

I feel like I am inside a little white box writing all my thoughts and feelings with dry erase marker, but no one can find me to understand what I am going through. I erase those thoughts and feelings myself, but some things I write in permanent marker, and they will never be forgotten.

If you could come inside, you would see the conversations I've had with you, the experiences I've shared, and the journey of my life; you would understand me.
Carter let Jamie into his white box of thoughts and feelings, and Jamie showed the rest of us around. But that's not all.
Carter also rapped to Eminem's "Not Afraid" alongside other teens on the spectrum before a packed audience of 350 people at the Facing Autism event and book release:
Stories reveal truths that can shatter preconceived notions and expectations. For us, Carter has smashed what we thought we knew about autism like a lead guitarist ending his show by swinging his stratocaster into the stage.
Autism awareness month is over. It was a month where we asked "Do you know what autism is?" Now I want to ask a different question:
"Do you know one person with autism?"