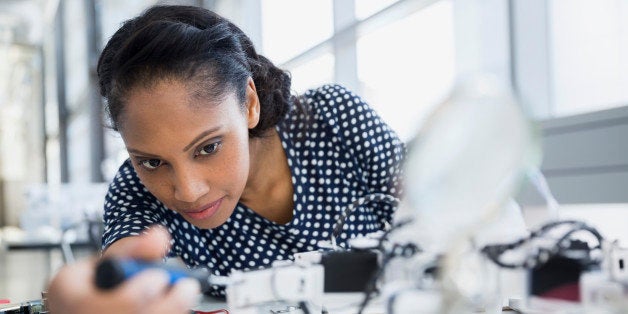 It's been reported that Millennials check their smartphones more than 40 times a day. So, what if they spent that time turning their apps, mobile devices, newsfeeds, and coding skills into a force for social impact?
It turns out that many of them already are. This week at UC Berkeley, students from more than 200 universities and 80 countries will come together to tackle some of the biggest challenges facing their generation at the Clinton Global Initiative University (CGI U) meeting. President Bill Clinton created CGI U in 2007 to engage college students in addressing important issues early in their lives, and entrepreneurial Millennials from around the world have been mobilizing around the platform ever since.
Each of the 1,200 college and university student-attendees is accepted to the meeting based on the strength of their ideas and Commitments to Action: practical plans to make a difference in the areas of education; the environment and climate change; peace and human rights; poverty alleviation; and public health.
Since its inception, CGI U has resulted in more than 5,500 Commitments to Action that are bringing solar energy to inner cities, introducing teenage girls to engineering, and making a difference in countless other ways that are inspiring the next generation of leaders. From building drones that fight elephant poaching to developing apps that address mental illness, here are some of the ways that young people are getting engaged online and on the ground as they redefine what it means to create positive change.
From Drones to Mobile Phones
Across the bay from Silicon Valley, this year's CGI U meeting will highlight leapfrog technologies as a tool for social good, with one session focusing on ways in which drones can provide greater information transparency and access to critical resources.
While the increased use of drones has raised legitimate public safety and security concerns, Abdelaziz Lawani, an undergraduate student at the University of Kentucky, is leveraging this technology to identify and fight poaching and deforestation practices in West Africa. Abdelaziz taught himself to build drones, and now through his CGI U commitment, he will use unmanned aerial services to monitor ecological threats such as poaching, uncontrolled bushfires, and agricultural encroachments in Benin and Niger.
In partnership with the University of Kandi in Benin, Abdelaziz will train other students at the National School of Wildlife and Protected Area Management on how information from aerial drones, in combination with GIS, open-source software, and social media, can serve as a powerful tool for real-time ecological assessment.
Other CGI U students are making a difference by employing more familiar technologies. Suraj Patel, a graduate student at UC Berkeley, noticed that while mobile devices are becoming more affordable, the user experience isn't necessarily becoming more accessible for the 700 million people around the world who can't read or write. Through his organization, Suraj is making a CGI U commitment to create a user interface designed specifically for illiterate users. He envisions a platform that will aid content developers in creating and disseminating audio, image, and video content for smart devices within parameters appropriate for a demographic too often left behind.
Seed Funding Powered by the Crowd
As more young people are becoming entrepreneurial well before they graduate from college, they are looking to acquire seed funding via digital crowdfunding platforms--opportunities that barely existed even a decade ago.
To help select students turn their commitment ideas into action, CGI U is co-hosting a Commitments Challenge with Crowdrise, an online platform dedicated exclusively to charitable fundraising. In an NCAA March Madness-inspired head-to-head bracket, the students who raise the most money for their commitment in each round move forward in the competition. No matter how far the students go--or when they're eliminated--in the Challenge, they get to keep what they raise for the implementation of their projects.
The competition--which launched with projects ranging from an electricity-free vaccine storage refrigerator to a low-cost water purifier --has reached the Final Four, and the winner will be announced on April 2 at CGI U 2016. Click here or on the widget above to help decide the winning project now.
A wide range of coding classes, bootcamps, and communities have emerged over the past decade on campus and beyond. At the Clinton Foundation, we've launched a series of Codeathons to mobilize young coders and designers who can harness technology to enable civic and social innovation.
On March 31, the third annual Clinton Foundation Codeathon at CGI U will bring together tech-savvy students from all over the world to find unique solutions to mental health problems on college campuses. Co-hosted by the Clinton Health Matters Initiative, this two-day event will gather developers to create new digital prototypes that could address depression, anxiety, and other mental health challenges.
These are just a few of the ways that young people are innovating for social impact within the CGI U community this year. To vote for your favorite project in the Commitments Challenge, visit our site on Crowdrise. You can also follow us on Facebook and on Twitter at @CGIU to see the winner and check out meeting news and highlights.
--Ragina Arrington, Outreach Senior Manager at CGI University
REAL LIFE. REAL NEWS. REAL VOICES.
Help us tell more of the stories that matter from voices that too often remain unheard.