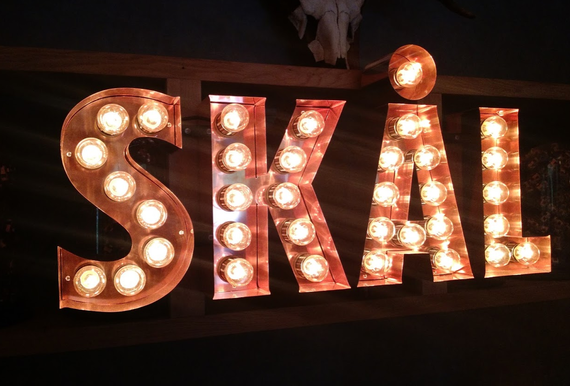 "Skal" is the Swedish word for "cheers" or "good health," and it's something that greets a visitor almost everywhere they go with Absolut Elyx (image by Hugh McIntyre).
Most alcohol brands of any real importance have some sort of physical presence for visitors. This typically takes the form of a distillery, which features tours, gifts shops, and the like. These companies often show you how products are made, and every bottler has their own backstory and their own way of doing things. Visitors aren't just a revenue stream--these companies want consumers to see who they are...but not all of them are great at getting that message across in a number of ways. Those that come to a company's physical location, be it a retail store, a campus, or, in this case, a distillery, should walk away knowing exactly what the brand stands for and how far they are willing to go to convey a personality. It's not just about looking a customer in the eye and telling them or airing the right ads on TV anymore. To really drive the branding message home, it needs to be done in a place where people can experience and be surrounded by everything and anything that will make them unconsciously learn what this brand is all about.
On a recent trip to Absolut Elyx's estate in Åhus, Sweden, it became clear to me that of all the brands that have attempted to display who and what they are through design and carefully-curated tours, I can't say that any of them can hold a candle to this Swedish vodka maker. While their lands and buildings are typically off limits to outsiders, the occasional glimpse inside is allowed, and I was lucky enough to experience what it's like to walk through where the vodka is made and experience all of the brand's intricately designed spaces, of which there are many.
The Distillery
The building where one of the world's most famous vodkas is made is surprisingly low-key, which isn't in line with how large the structure actually is. I expected a massive factory, the likes of which only the biggest companies in the world would have built, and while I wasn't wrong when it came to the size, I was shocked when it came to intimacy. There is a certain quality about the place where Absolut Elyx vodka is crafted that makes it feel almost as if one of the most mass-produced alcohols in the world is a small batch specialty item. I had to keep reminding myself that this was not the case, though had I not known what I do about the company, I might have guessed otherwise. It's not loud, messy, or too "industrial," but rather kind of quaint in its own way, and it seems like the kind of place where one could discover new things while getting deliberately lost.
The Tasting Room
Within the distillery, there is a room that not everybody who makes it to that building gets to see, but it's perhaps the most beautiful section of the entire place. All the way upstairs and through a small maze of functional areas, there is a tasting room unlike any I've personally ever seen in the world. Expertly designed in a fashion that mixes trendiness and old-world European elegance, this almost all-copper room (many of the furnishings and even the wallpaper carry through the same color as Absolut Elyx, the brand's high-end product), this is where longstanding bartenders teach classes on how to make the perfect martini--which is a lot smaller and simpler than many understand it to be.
Elyx's private tasting room could have been a place to save some money, as it's not used publicly, but instead the place feels and looks like the newest upscale bar that you and your friends will end up frequenting for happy hour, where expensive cocktails are on the menu...which is coincidentally exactly what the relatively new high-end product is created for.
The Hunting Lodge
Don't worry, it's really not about hunting these days, but the cabin that Absolut Elyx owns still has that rustic vibe to it. Set deep in the middle of a many-acred wooded plot, this tiny home is truly away from everything, and it is not something one would image one of the world's largest vodka manufacturers would have tucked away. Set just a few feet from a pristine, undisturbed lake, this is where many a dinner has been held on behalf of the company, because it provides a shockingly homey, intimate feeling that few environments can deliver. While I was there, the group I was a part of feasted on a number of dishes which featured ingredients all found on the estate itself, the variety in which was truly unexpected. Everything was raised and grown in Sweden, which is also the case with the ingredients used in the vodka we sipped all night long.
The Trailer
This might not sound fancy, but because this is Elyx, the company found a way to turn what appears to be an ordinary, everyday truck into an experience. It's still simple, but beautiful and cooler-than-cool in a simultaneously over-the-top, yet perfect way. Walk through the front door and you're immediately greeted by a bar, a handful of couches and chairs, and a completely open back, which gives perfect, stunning views and access to the forests of rural Sweden, which few outside of Scandinavia will ever have an excuse to visit.
The Estate
Everything on this written out photo tour of Absolut's hidden-away grounds and buildings is certainly beautiful, but nothing comes close to the grandeur of an old school European castle. There are only so many of these structures left in the world, and many of them belong to heirs of this throne or families that were once considered nobility. Absolut Elyx also owns an incredible estate in rural Sweden, and it's just as regal as I'd always imagined a castle (or, castle-style home) would be.
Putting my business hat on here for a moment: What delighted me the most about my tour of Absolut's many official homes and buildings connected to the Elyx moniker wasn't just that they were beautiful--that is to be expected, though not necessarily to this level--but how much detail and effort was put into everything associated with the brand. It's not easy for the same conglomerate to be able to keep their branding sturdy from a cabin to a trailer to what can only be called a castle, and even fewer will even bother trying.
Many companies wouldn't use their resources to make sure that there is true, noticeable consistency and a signature style to every location bearing the brand's name, as they don't understand how important it is to keeping a brand name strong. That sentiment is even truer when it comes to those spaces not typically seen by the public...except for companies that can't help but keep a certain level of taste and quality in everything it does. With every additional stop on our tour, I was amazed by the use of the same style of furnishings, the feel every room possessed, and the incredible amount of copper used as tastefully as it was.
The copper, by the way, is not just a color and a metal chosen arbitrarily by the vodka maker because it stands out and is distinctive. While creating every batch of Absolut Elyx, the distillers continue to use a piece of copper in part of the process, which gives it a flavor and a story. It makes plenty of sense that the copper tone is carried through the product's packaging, as that's what everybody in the world sees, but few will get to understand just how deep that color runs, and how much it means to this Swedish vodka maker.
Related