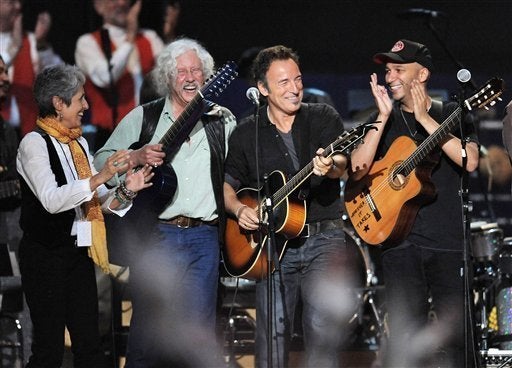 Run into first friend, Mercedes, whose mother is in the New York City Labor Chorus. Mercedes tells me her mother Rona says "Joan Baez is a doll."
On escalator I run into a friend from Camp Kinderland #1.
In seating area I run into two more friends from Kinderland (#2,#3).
Wonder if I will run into my aunt, uncle, cousin, other cousin and other cousin's son.
The Cougar! John Mellencamp sings If I Had a Hammer. Then he introduces a song he wrote, which he said was inspired by Pete. I was sure it was Hurts So Good but it wasn't. It was A Ride Back Home
Billy Bragg says "these are weird times when a labor union can own a car company." He sings, and is funny and has great stage presence. And a totally hot British accent. Is he single? (Billy, if you're reading this, I don't mind that you have to travel and you're a musician. We can work on that. The important thing is communication. And you're obviously good at that. Plus I think we're meant to be because you pass my litmus test, proficiency in singing The Internationale, which very few men do these days. It's sad but true.)

Emmylou Harris makes the by now nauseatingly played out and saccharinized Water is Wide beautiful again.
Joan Baez really IS a doll. She's also a MILF and a FILF (a folk-singer...)
Bring Em Home sung by Tao Rodriguez-Seeger et all is pretty amazing. Uplifting and at the same time totally tragic. Very emotional.

Rufus Wainwright's fedora is totally eclipsed by Tim Robbins' NPR ponytail. Nonetheless, they sing a beautiful version of Michael Row Your Boat Ashore.

Intermission. I run into four more friends from camp (that makes 7). Run into two more (now we're at 9.)
Norm Lear presents Happy Birthday letter from Obama to Pete. Writing is nice. Coming would have been nicer. I'm bummed that Malia and Sasha aren't here.
Pete Seeger leads entire audience in an a capella version of Amazing Grace. He explains "there's no wrong note as long as you're singing." I think he means "as long as you're singing, not too loudly."
Cameo by Oscar the Grouch.
Richie Havens looks and sounds amazing. Such great cheekbones. Sings Freedom/ Motherless Child. which he finishes with a martial arts jump kick. He also kind of gracefully drop kicks his guitar. Not sure what that move is called. Or if it is a move.
I get confused when someone I think is my mother's cousin comes to the stage. It's actually Arlo Guthrie. But I text my cousin "Arlo Guthrie = Cousin Jackie." Before I hit send I get a text from my cousin "how much does Arlo Guthrie look like Cousin Jackie."
Peggy Seeger reads a sweet letter to her brother. But first she thanks all the people working backstage who we can't see and the crowd goes wild. (You know you're at a lefty folk concert when the invisible and unthanked workers get the loudest applause.)
Ben Harper sings with his mother and aunt (the oldest chick magnet trick in the world. Older than dog walking or being great with kids.)
Bruce Springsteen waxes very poetic and eloquent about Pete. When The Boss asked the Sege to sing This Land is YourLand and asked him which verses he wanted to sing, Pete said all of them. "He sings all the verses, all the time.... Especially the ones we'd like to leave out in the history of our people." Calls Pete a stealth dagger through the heart of what this country thinks of itself. Says he's like a grandfather "if your grandfather is gonna kick your ass."
On way out I run into two more Kinderland friends. (that's 11.)
Run into cousins. My cousin's five year-old son asks "when are they doing this again?"
Good question!
Calling all HuffPost superfans!
Sign up for membership to become a founding member and help shape HuffPost's next chapter