If you want powdery sands, soul-warming sun, and crystal clear waters, the Caribbean provides thousands of beaches to choose between. Whether you want secluded mountain-coddled coves and peaceful palm-lined stretches of sand or idyllic resort-fronted stretches and lively people-watching expanses, you'll find an abundance of the most spectacular beaches in the world. Choosing from which beach to enjoy the surf and sun is a tough task, so we have put together an Insider's Guide to the Best Beaches in the Caribbean.
10. Half Moon Bay, Antigua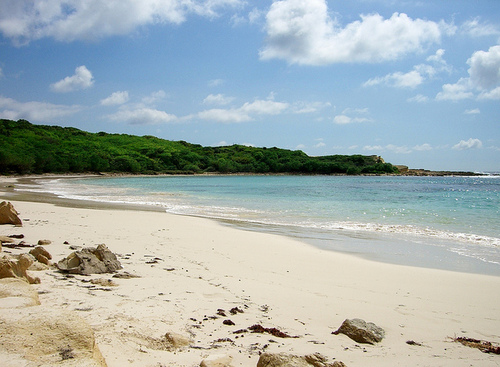 Photo credit: Michelle Owner of the Squishy via Flickr
At a resplendent 1 mile (1.5km), Half Moon Bay is possibly Antigua's most gorgeous stretch of sand. The beach is a haven for windsurfers and boarders, who head out beyond the reef to ride the Atlantic's occasional wild surf. On the beach side, the reef provides a calm shelter of warm, clear waters, drawing snorkelers and swimmers. A short drive from English Harbour, Half Moon Bay has restrooms and beach chairs, and makes for a perfect family outing.
9. Sandy Lane Beach, Barbados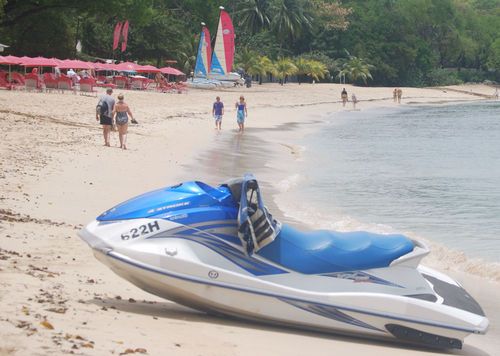 A favorite for beach-loving families, Sandy Lane Beach sits quietly on Barbados' west coast. Soft, white sands front calm, shallow waters and a picturesque tropical lagoon, perfect for swimming and splashing. You can rent beach chairs, umbrellas, and even spot a few celebrities who come to stay at the luxury Sandy Lane Resort. Plenty of water activities abound, as well, from waterskiing to deep-sea fishing, all of which can be arranged at the resort's Beach Club.
8. Cane Garden Bay, Tortola, British Virgin Islands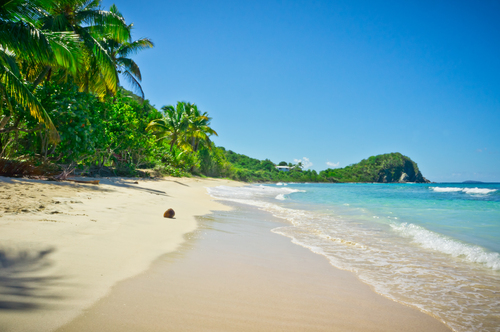 Fine white sands sheltered by swaying palm trees front this peaceful bay in Tortola, British Virgin Islands, and is a favorite of the yachting set and watersports enthusiasts. Surfers, swimmers, boaters, and jet skiers come together along this stunning stretch, just a stone's throw from Road Town. Even though the vibe here is pretty laid back, Cane Garden Bay is a lively spot, with plenty of restaurants, pubs, clubs, and music.
7. Seven Mile Beach, Grand Cayman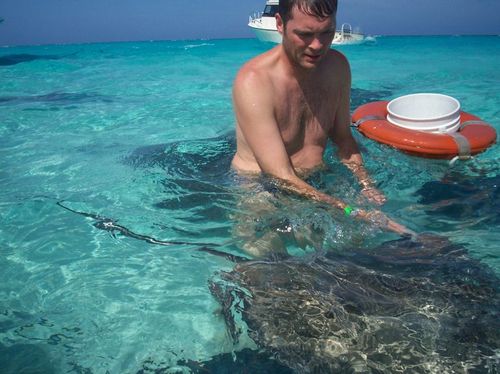 The crown jewel of the Cayman Islands, Seven Mile Beach lives up to its reputation as one of the most outstanding beaches in the Caribbean. The sugar-white sandy expanse stretches for more than 6 miles (10km), and is lined with Australian pines and palm trees as well as luxury resorts and condominiums, all fronting gin-clear, placid waters--perfect for snorkelers and swimmers. All sorts of watersports concessions are available, as well, from parasailing and windsurfing to boats and aqua trikes.
6. Turtle Beach, St Kitts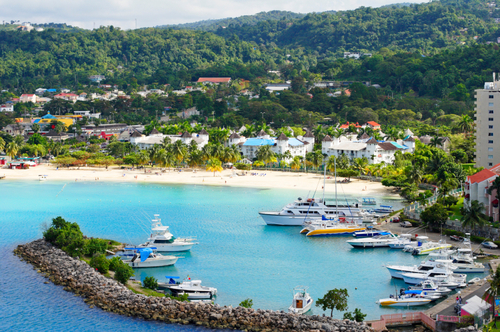 Don't let its size fool you. Though small, Turtle Beach is one of the most popular spots on St Kitts. For the most part it's pretty undeveloped -- a sandy beach fronting warm shallow waters in secluded cove with a view of Nevis -- but those seeking out some sun, surf, and local culture will find much to enjoy. Monkeys, sea turtles, and goats wander near the shore, while the open-air bars serve up margaritas, buckets of chilled Carib beer, and local seafood. On Sunday afternoons you can hear a feast of local live music.
5. Bavaro Beach, Punta Cana, Dominican Republic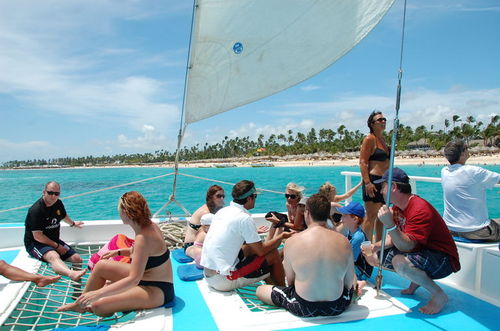 The gentle surf of Bavaro Beach invites swimmers and sunbathers to indulge in miles of golden sand and warm Caribbean waters shaded by swaying palm trees. Offshore coral reefs invite snorkelers to commune with an array of tropical fish, while windsurfers and kayakers cruise through the calm waters. Most of Punta Cana's resorts are clustered here, as well as other tourist attractions including water parks and golf courses.
4. Palm Beach, Aruba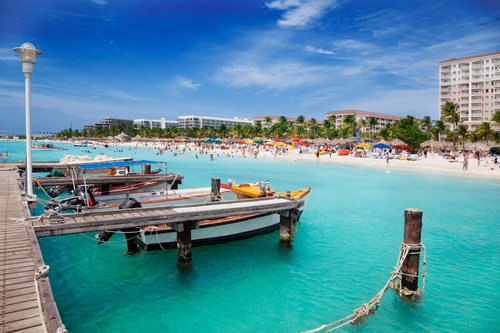 Whether you want to sun, sail, fish, snorkel, or just people-watch at one of the open-air bars, Palm Beach in Aruba is often lauded as one of the best--and liveliest--beaches in the world. Activities abound, and the social traveler will find much to do along its 2 miles (3.2km) of idyllic, powdery white sands. High rise resorts line the beach, but are set back by flowering gardens, and attract colorful bird life. There are also two piers packed with restaurants and shops.
3. Anse Chastanet, St Lucia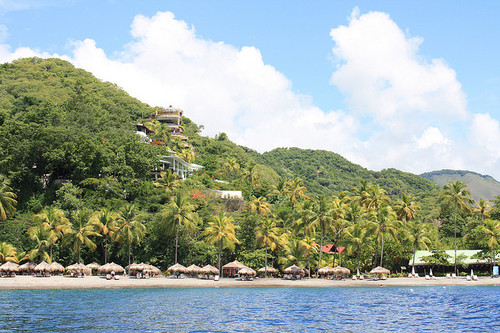 Photo credit: Richard Esguerra via Flickr.
Ensconced in a sheltered cove north of Soufrière, Anse Chastanet in St Lucia exudes exotic tropical beauty. The hidden dark sand beach, surrounded by jungle-clad mountains, fronts some of the clearest waters in the Caribbean. Snorkelers and divers come from the far corners of the world to explore the offshore reef with its bountiful colorful coral and sea creatures. On the beach, you can sip a fruity drink from the beach bar and soak up the sun; towering palm trees provide a shady respite.
2. Luquillo Beach, Puerto Rico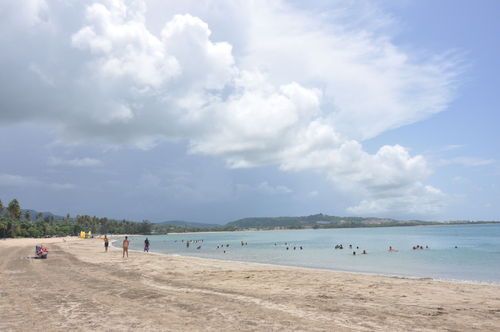 Located on the northeastern coast of Puerto Rico, Luquillo Beach draws sunbathers and watersports enthusiasts to its sweep of white-sand beach, which opens onto a crescent-shaped lagoon. Coral reefs protect the beach from the turbulent Atlantic, creating a tranquil paradise for families who come to enjoy the calm, translucent waters. The beach is well equipped with picnic areas, snack bars, restrooms, beach chairs, and umbrellas.
Sparkling turquoise waters, calm waves for swimming and snorkeling, soft white-sand beaches, and a beautiful palm tree setting between two mountains make
in
a popular beach destination in the Caribbean. The heart-shaped stretch has great facilities, too, from snack bars and restrooms to boutiques and watersport kiosks. A nature trail from Magens Bay Road takes you down to the beach along a boardwalk that weaves through a tropical forest and mangroves.
- William Travis for Viator
Related