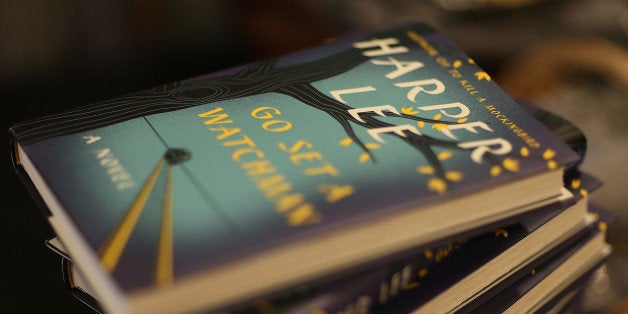 Whether or not the beloved fictional character Atticus Finch's stellar reputation in To Kill a Mockingbird has been irreparably deflated from civil rights advocate and upstander extraordinaire to the racist-rhetoric ranting, card-carrying member of the Klu Klux Klan in Go Set a Watchman will continue to be debated.
Even before the release of Go Set a Watchman, a deeper analysis of Atticus' character in To Kill a Mockingbird (Malcolm Gladwell's 2009 essay in The New Yorker and Facing History's study guide, Teaching Mockingbird) revealed his flaws as well as his courage. Atticus' courage and his flaws in To Kill a Mockingbird are what make him a great role model. Both books, with their opposite characterizations, provide us with lessons about racism, ethics and moral courage. And Go Set a Watchman does more. It provides us with another opportunity to examine inclusion in the literary industry.
As is now widely known, in 1957, after ten rejections, Go Set a Watchman fell into the hands of veteran editor, Tay Hohoff, who painstakingly worked with Lee over a two-year period editing the book into what we have come to know and love as To Kill a Mockingbird. Lee wrote Go Set a Watchman with a character who was a racist. Hohoff, raised as Quaker, shaped the racist character into a character that was a progressive white hero. This editorial change is remarkable not just from the standpoint that by doing so Hohoff created an enduring classic, but with that change she also reinforced the myth of the white savior , turning our attention to revering and honoring the Atticuses of the world while doing little to eliminate the structural racism that gave birth to the character's nobility.
Editors have that same privilege today. In the literary world, writers tell their stories and editors define our reality. Editors have the opportunity to use their own personal filter to grant access to writers and deem their stories as authentic if it resonates with their own life experiences, educational backgrounds, and the world as they can imagine or perceive it to be. This privilege, afforded to select agents and editors, is deeply embedded in the infrastructure and woven into the economic fabric of the publishing industry. In a global society of multiple realities and complexities, it is astonishing that the publishing industry remains overwhelmingly White obstructing, albeit in most cases unintentionally, the worldview of readers.
Don't get me wrong, To Kill a Mockingbird remains one of my favorite books not just for its literary richness, but because it offers the opportunity to dig deeper into complex issues of race and morality. However, if we use Go Set a Watchman to only offers us a better character analysis of Atticus, we will have missed an opportunity to reexamine the role of agents and editors in shaping literary culture and, as a result, an opportunity to demand more inclusion in traditional publishing.
What do I mean by inclusion? Inclusion extends beyond representation. Surely, we can reference many (yet clearly not enough) outstanding authors from diverse group identities (race, ethnicity, gender, sexual orientation, religion, disability) whose works have met and exceeded industry standards. However, representation is not inclusion.
Inclusion is about creating conditions that leverages diverse representation in order to advance industry standards. Inclusion is providing access to information and social support in equitable ways. Inclusion allows for full participation in establishing and shaping the accepted norms and behaviors of the industry. Inclusive practices allow for underrepresented voices to exercise formal and informal power to fundamentally influence and change the literary industry. When, as a member of an underrepresented group, I can see my work as mainstream prototype of literary output rather than as a special edition, then we have achieved inclusion.
These efforts are well underway with grassroots organizations like We Need Diverse Books and at Boston's literary writing center, GrubSteet, that recently launched a blog series dedicated to reviewing books by authors of color and other authors often overlooked by the literary industry. The catalyst for creating this blog was an interactive session, A Manifesto for Inclusion, at the 2015 Muse and the Marketplace Conference dedicated to exploring the topic of inclusion in publishing. In that session, facilitator Regina Brooks, Lead Agent and President of Serendipity Literary Agency in New York, shared the story of when she first transitioned into the publishing industry after a career as an aerospace engineer with NASA, and was congratulated. "I am glad that you are agenting now," a fellow literary agent told her, "because now we are going to get more books from People of Color." Regina told the audience, "It never occurred to me that I, alone, was supposed to take on that responsibility."
That responsibility does belong to all of us. As gatekeepers for industry standards, agents, editors and publishers need to understand privilege and explore how their own culture influences their decision making, how resources are allocated, and, the craft of good writing withstanding, how culture influences what gets promoted as authentic and real to the reading public. Writers are encouraged to expand their fund of knowledge by checking their patterns, habits, sources of information and experiment with diverse characters until they become familiar and real enough to include in their stories. Readers are encouraged to continually build their personal capacity for new ways of knowing and thinking, and to purchase and read books with characters and experiences outside of what resonates with their own culture.
As a multicultural society, we can no longer afford segregation in the publishing industry comprised of select gatekeepers who define the literary landscape based on their worldview. Words create worlds and the literary industry should represent a much broader one.
Calling all HuffPost superfans!
Sign up for membership to become a founding member and help shape HuffPost's next chapter