Imagine being torn out of your loving mother's arms at age eight. Next thing you know, you're alone, crammed onto a train full of people headed for another city -- one you barely know. You think that at least your aunt and uncle, whom you've met a handful of times before, will be waiting for you upon your arrival.
But instead, you're greeted only by a couple of threatening teenagers in uniform who drop you off at a dormitory, where you join a ragtag group of other lost children. When you set foot in the small, dirty room that will be your home for the next ten years, you discover your four year-old sister lying on the bare concrete floor, sobbing. She desperately needs your tender care.
In one day, you've not only lost your mother, you've become one yourself.
This is no nightmare. It is just one small part of the true story of Ping Fu, told in her memoir, Bend, Not Break. You can watch the short video trailer (directed by my talented husband, Kiran Ramchandran) below.
Ping Fu's journey only grows more remarkable from that traumatic outset. She went on to face ten years of near-starvation, abuse, and child labor as a factory worker and soldier during the Cultural Revolution in China. She received no formal education during that time.
But Ping never let these bitter experiences defeat her. On the contrary, she found beauty in nature and kindness in small acts of generosity from friends and neighbors. She refused to grow hard, but instead opened herself to compassion for all humankind, living the philosophy, "Always err on the side of generosity."
After arriving in the U.S. at age 25 with only $80 and a few words of English, Ping Fu worked her way through school as a computer programmer. She has since triumphed as founder and CEO of Geomagic, a software company that is leading the 3D printing and imaging revolution. In 2005, Ping Fu was named Inc. magazine's Entrepreneur of the Year. Today, she sits on President Obama's Council on Innovation and Entrepreneurship.
Above all, Ping Fu is one of the most generous, compassionate, and wise people I've ever had the honor to know.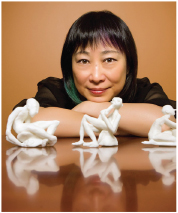 Photo credit: Arin Wiscomb
Ping and I love to tell people how we met -- at Burning Man in 2010. Dressed in a custom-printed silver mask and wearing purple streaks in her hair, I never would have suspected Ping's position as a high-tech leader. But then again, that's part of what makes Burning Man so great. You get away from identities and egos.
A few months later, our mutual friend Chip Conley, founder of Joie de Vivre boutique hotels and author of Emotional Equations, mentioned to me that he really wanted Ping to write her life story. Would I be interested in helping her tell her tale?
I'm so glad that I said yes, because working with Ping to write Bend, Not Break has been the best experience of my entire publishing career. Ping is not only gracious and intelligent, but she has a wonderful ear for language -- especially considering the fact that she didn't begin learning English until she was in her mid-20s. Beyond that, I am awestruck by her ability to overcome adversity, to forgive and love, and to shine her bright light in the world. She is a living embodiment of my mantra, "Fear Less, Love More."
Bend, Not Break centers around eight of Ping Fu's life lessons, from her childhood in Mao's China, to finding her way as a poor American immigrant, to becoming a widely respected female executive and mother. Whether you're interested in learning more about China, gaining insight into the world of venture capital and high-tech start-ups, or simply reading a provocative, inspirational story of the power of resilience, I feel certain you will enjoy reading this book.
REAL LIFE. REAL NEWS. REAL VOICES.
Help us tell more of the stories that matter from voices that too often remain unheard.