I'm admittedly obsessed with TED talks (for those of you unfamiliar: TED is the non-profit devoted to ideas worth spreading; you've probably seen their carefully curated talks online, on everything from love to global poverty). I listen to these talks nearly every day -- while I'm folding the laundry, doing mindless work or even while out running errands.
So when I was recently offered the opportunity to watch the TED magic happen live, I jumped at the chance. Or rather, I hopped on a plane to Seattle to be there for the launch of the Marriott Hotels partnership with TED. Yes, that's right. Travelers staying at Marriott Hotels will now have access to the mind-bending, inspirational, and thought-provoking content TED has to offer.
I was lucky enough to be at the Marriott in Bellevue, Washington for the first of five global Marriott Hotels-hosted TED Talks by TED Fellows. TED Fellows come from across the globe (90 countries to be exact) -- they're artists, doctors, scientists, entrepreneurs, and inventors, among other designations. The theme chosen for the Seattle talks was curiosity -- innovation, travel and entrepreneurship are just some of the other topics to follow in future locations that include London, Dubai, Bangkok and Santiago.
Now I've seen all kinds of hotel lobby entertainment -- but these fascinating conversations with brilliant, creative, and moving thought leaders, artists, and scientists that TED is curating with the Marriott Hotels just seriously upped the game.
Matthew Carroll, Vice President and Global Brand Management of the Marriott Hotels said: "At Marriott Hotels, everything we do is guided by our belief that travel expands the mind and triggers new and creative ways of thinking...and we are bringing to life new innovations that help elevate guests' stay to memorable experiences."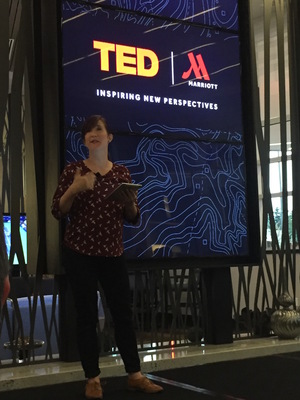 And memorable it was. The event created a warm, inspired vibe -- I made new friends, had meaningful conversation with fellow travelers, and left the event feeling refreshed, motivated, and reflective. A far cry from a typical work-traveler's weary, jet-lagged hotel experience.
And beyond the TED Fellows talks, Marriott guests will now get to enjoy guest room entertainment that will include TED inspired quotes, blogs, and talks. Hotel guests will even get access to original TED videos on the Marriott Hotels social media channels.
As an avid traveler and a girl with an unquenchable thirst for learning, inspiration, and reflection, the Marriott Hotels-TED partnership is a match made in heaven.
I can't wait to see what they're cooking up for Vancouver next Spring at the annual TED Talks conference!
Want some inspiration and motivation sent right to your inbox? Alexis is hosting the Borrowed Wisdom World Summit, a free online interview series featuring top personal growth and wellness experts. Click here to sign up!