Virtuoso pianists Greg Anderson and Liz Roe appear this Sunday at Davies Symphony Hall at 7pm. Their program is all about music and film pairings. Just like food & wine. What goes best with what? For Halloween? And The Red Spectre is expected to show up. Should we dress?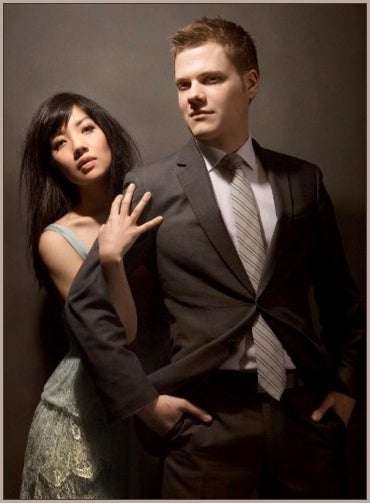 Mel Brooks' film classic Young Frankenstein follows the intermission. Note: it will not be screened with live accompaniment. But – its perfectly-paired soundtracks will rattle the spirits of those on the Composer List: Richard Wagner, Franz Schubert, Irving Berlin, and – Ah! – Victor Herbert.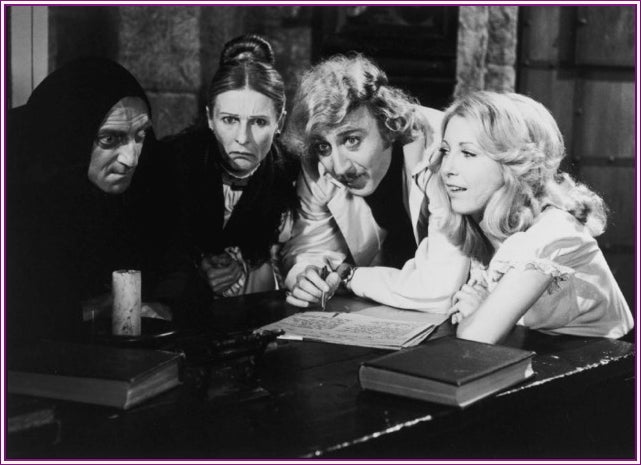 "The premise of the concert," said Greg, "is that Young Frankenstein was very inspired by horror films of the early 20th Century and, obviously, treated in a very comedic sort of style. This way, we get to show some of the inspirations behind Young Frankenstein while showcasing some early horror films with innovative and mind-bending musical accompaniments."
Said Liz, "One of the pairings is our arrangement of Radiohead's Paranoid Android with The Red Spectre – which is rather like surrealist film. It's basically about a demon who is conquered in the end by a kind of female. It's almost proto-feminist in a sense."
Greg: A female angel recovers some of the spirit of the female that the demon destroyed! We've timed our arrangement to fit the film, hitting certain bullet points really strong along the way. The film has a Dali-esque vibe to it as does Radiohead. 'Paranoid Android' is itself something of a nightmare.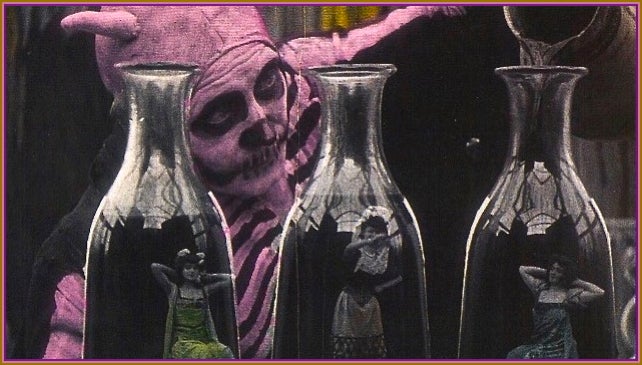 Liz: Right after that we're going to play Ravel's La Valse. It is itself an apocalyptic ode to the waltz. Musically, the piece is terrifying and cataclysmic. It works organically with The Sealed Room – a film from 1909, directed by D.W. Griffith and based on Edgar Allan Poe's The Cask of Amontillado. [Watch for a quick shot of Mary Pickford.] The film is about this room that a King creates for himself and his mistress. She ends up having an affair with the court troubadour. The King traps them and then seals them in this room – where they suffocate and die. The Ravel feels so destructive – it implodes upon itself. It works perfectly with the nature of the film which is dizzying and where you are trapped and ultimately destroyed.
Greg: There are moments when strains of La Valse fit perfectly with the scene, like early in the film when the lovers are romancing one another. Later, as they realize their fate, the music is swirling and seems to trap them in. By the time they are pounding on the walls, the bombs are going off in the music. It all ends in a very dramatic collision.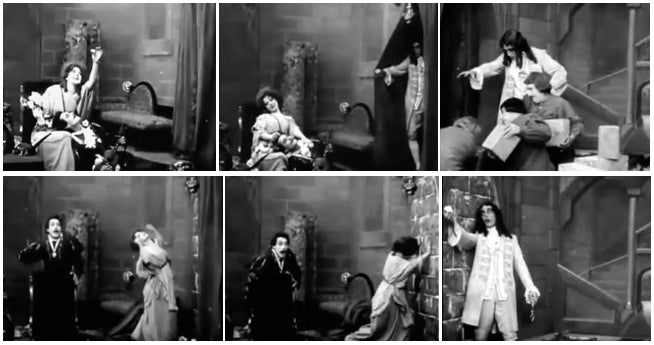 Also on the program is Michael Jackson's 'Billie Jean'. Your video of it on YouTube is incredible! For some of us, it will be a first time concert hall experience of a four-hand-piano arrangement of an early '80s major pop-dance tune.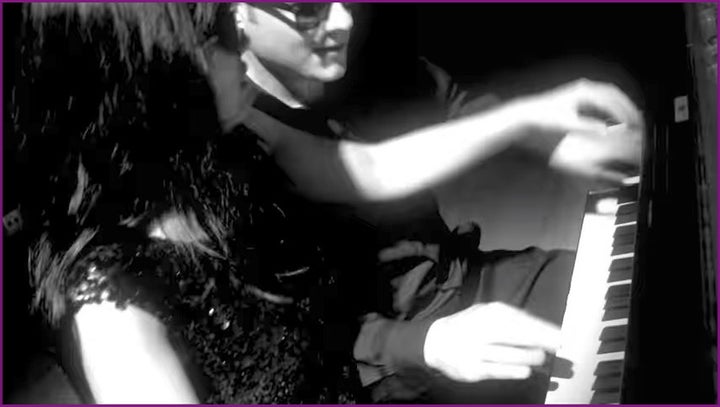 Liz: It's an homage to Thriller which is the ultimate top Halloween selection. We thought we might as well start off with a dark and spooky mood. 'Billie Jean' itself is paired in the music video which is loosely a film noir – '80s Pop video style. We think it's appropriate for the holiday.
Greg: It starts the concert off with a bang. Then we'll introduce the subject of film and music pairing and perform the last three movements of The Rite of Spring in Stravinsky's original four hand arrangement.
Again, a very rare experience.
Greg: And it's a violent one, too. It depicts a young virgin dancing herself to death, sacrificing herself to the God of Spring. The music is very terrifying, you can hear her gasping for breath. The film pairing is our own film which is very surrealist. It's a film we made in 2013 celebrating the 100th Anniversary of the piece. The imagery we have paired with this shows millipedes crawling over the keys of the piano as we're playing. Then there are nightmarish visions in the dark. It climaxes with us performing on a piano that is simultaneously drowning in the ocean – as we are drowning in the ocean. And then it's burning in the desert. We are playing on a piano that is aflame. Eventually the piano is just a huge ball of fire. That's our contribution to the evening.
Liz: It was slightly death-defying. When we were drowning the piano into the Pacific, Greg got slightly injured. A huge wave drove the piano into his foot and ripped off his big toenail.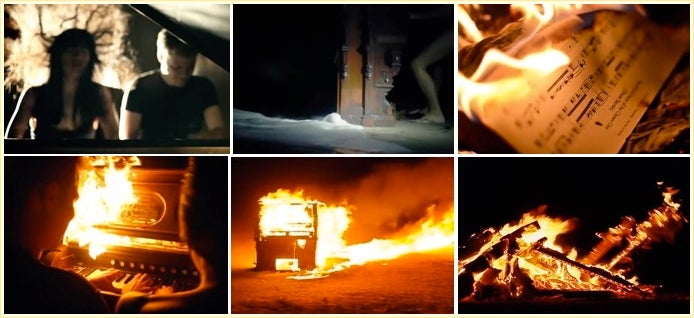 So, you actually sacrificed a piano. How did that effect the production budget?
Greg: We work on an extremely small budget. I do all the video editing myself. We do the directing and a lot of the production. And we have a lot of friends involved. We got the piano on Craig's List. It's a bit of a tragedy that it was built in the 1870s. It was an antique, but ––
Greg: That's right! It's not like it was making beautiful music at that point.
Greg: It was old and it was lighter! That made it more manageable for us to carry it down the shore and put it in the ocean.
Liz: And then the week after we burned it to a crisp! We took it out into the desert. I'm very cautious – so, the week before, we did some tests. How to recreate the scene with this flammable gel – how to control the burning. But on the day of the shoot it was so windy that it just wasn't happening. We wound up dowsing the piano in gasoline. And we're actually playing on it as it's going up in flames. Greg and I have a repertoire of over fifty self-produced music videos that we've posted on YouTube and our website. The Rite of Spring selections are the most extreme example of our imagination and how we can pair classical music with visuals. It serves as a point of inspiration for this entire show. We see how music is so much a part of the cinematic experience – that visuals can prompt musical responses. We like this idea of merging the two art forms and finding ways to heighten the emotions, the spirit, and narrative power of classical music.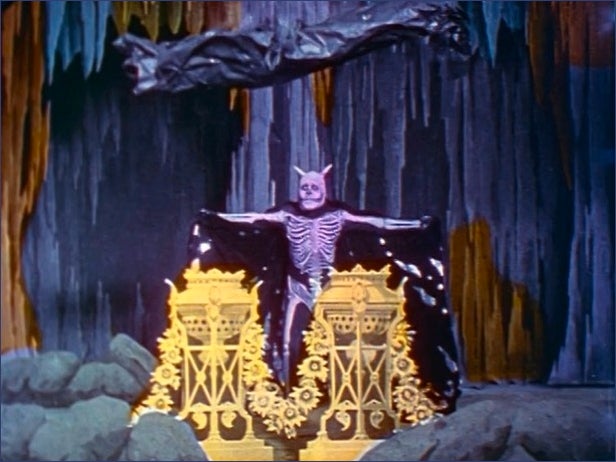 Greg: I should mention that we are likely to throw in some other small but fun surprises. There should be another short film that is played with musical accompaniment. At the end of the first half we'll have some musicians from the symphony perform a piece we wrote – Danse Macabre, Bacchanal for Two Pianos, Two Percussion, and Solo Violin. It's very virtuosic.
Liz: We treat music videos as a singular performative context. Some of them are straight-forward performance videos. But a lot of them are tailored for the environment of YouTube where there are all sorts of distractions – the ads, the comments – that lessen the audio quality, etc. So, sometimes we're going for a more dynamic visual experience to bring in the viewer. Our mission is to make classical music a powerful and relevant force in society. We are also hoping to bring in a viewer who may have never been exposed to classical music or thought it was all boring or too intellectual or too formal. A lot of times videos will break those barriers and perhaps make the music seem more colorful and exciting. That's why we will go to extremes visually and with the concept. Also, we're trying to elicit or provide a visual interpretation of what we believe is the spirit of the music.
How did you meet? How did your musical partnering begin?
Greg: We've been friends for years. We met at Juilliard in 2000, in the dorms, before school even began. We were assigned to the same floor of the dormitory. It's just the natural inclination of musicians – who are friends – to find ways to make music together. That certainly happened with the two of us. We wanted to find ways to play together – and did. We quickly realized we had a real and magical synchronicity and chemistry in performance together. But, neither of us had aspired to be a Piano Duo nor were excited by that repertoire. So, we started to craft our own concert experience – that would make two pianos or four hands feel like something really grand, exciting, and worthy of the concert stage and a full recital. We started creating arrangements of popular music of our own time – just like composers of the past did with their own era. Mozart wrote pieces based on folk songs, Chopin and Liszt did the same with operas and the dance tunes of their day. We are doing the same thing – as in this concert with Michael Jackson's 'Billie Jean' – one of the most popular dance songs of our time. One of our videos is Taylor Swift's 'Shake It Off'. We just started creating these new things that could make the music exciting. It blossomed and has really snowballed over the past fifteen years we've been playing together. We've crafted a huge repertoire of new music, wild music – and have altered the way we present our pieces onstage to get everybody immersed and engaged.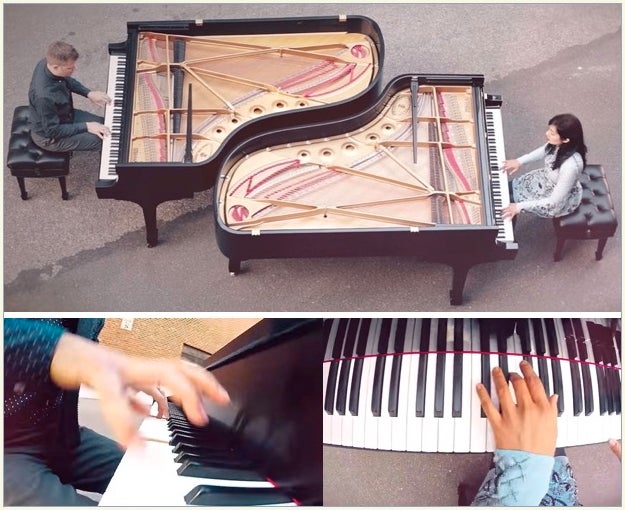 Liz: There is something poignant about kids today who take the instant availability of everything for granted. Part of the reason we love live performance is that it does capture a little bit of that evanescence – hopefully, with an impactful and meaningful experience – that you can't quite replicate. The experience itself is what it's all about. A unique point in time, where everyone is bringing their mood and state-of-being to the very moment. It creates this alchemy of wonder and discovery. That's why we're motivated to keep playing these live shows. A live performance is something you cannot replace.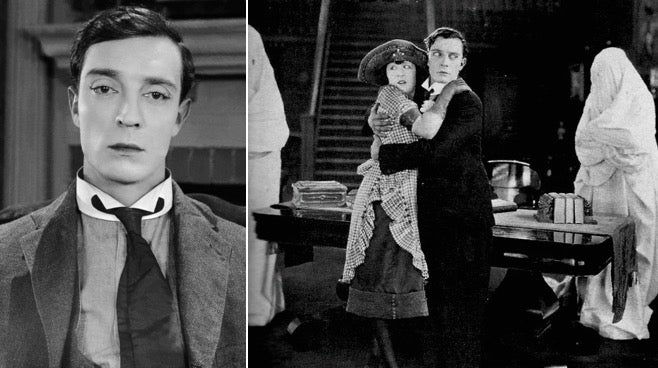 Related
Popular in the Community