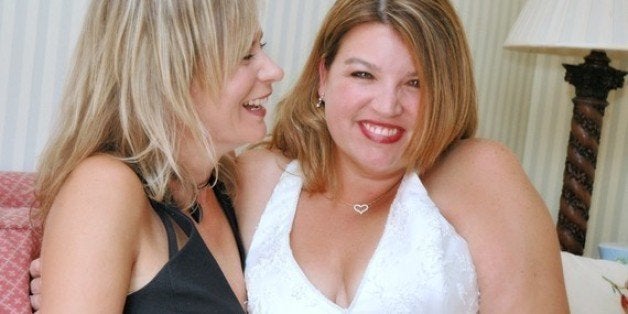 This month my wife Laurie and I celebrate our tenth wedding anniversary and that has made me reflect on how far we have come, and how much we have had to overcome being a bi-national lesbian couple. We have spent so much time advocating for LGBT equality and talking about our battle for civil rights, but when all is said and done the most outstanding thing about our story is our love and commitment to one another.

Almost eleven years ago, I was sitting in my home office in Ashington, West Sussex, England, and I logged onto a lesbian dating site, I had no idea I was actually going to find the love of my life. I was still mainly in the closet and was just dipping my toe in when along came this amazing American woman who turned my whole life upside down. First we messaged and emailed photographs, then we talked endlessly on the phone getting to know every detail about each other as we juggled the time zone differences and being so far apart. We both had a love for music and we used to sing our favorite songs to each other, one of the most poignant songs I would sing to Laurie was "Both Sides Now" by Joni Mitchell, it just somehow captured every emotion I felt about my life. We literally fell in love over the phone and music played an important role for us both.
A little over a month after we met online I flew from London to Boston to spend eight incredible days with Laurie and this only proved our love was deep and true. When it came time for me to leave we both felt heartbroken and knew we had to find a way to be together and make this crazy love affair work. As I flew home I wrote this letter to Laurie.
"My Darling Laurie, I am flying home from my stay with you and I have so many emotions inside. Firstly love for you, more than I have ever felt for any person before. My heart is filled with you all the time; my every thought is of you.
We had such a wonderful time together, as soon as I saw you my love for you deepened. Looking in your eyes I felt the love back from you as deep as mine. You are a beautiful person, you make my heart skip a beat whenever you are near or I hear your voice.
So many incredible moments for me to treasure in so many ways. I love the way you look at me with that sparkle in your eye that tells me you love me. Your smile so brilliant it lights my heart and fills me with warmth.
Laurie, we gave and received rings to show our commitment to each and I want you to know I am 100% committed to you. Whatever mountains I have to climb to be with you forever I'll climb, nothing and no one will stop me from spending the rest of my life with you. You are my life partner; I love you for always and never forget that.
Just months later we married in both America and England, our family and friends on both sides of the pond celebrated our love with us. We walked down the aisle to "I knew I Loved You Before I Met You" by Savage Garden and I sang "Both Sides Now" as a surprise for Laurie, we laughed, we cried and we loved every minute of our wedding days.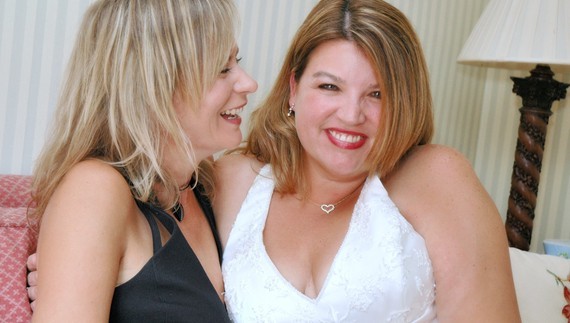 When I wrote that love letter to Laurie and I had no idea of how high those mountains were going to be that I had to climb, but Laurie took my hand and we climbed them together, step by step we overcame many hardships. There were times we felt hurt by prejudice but our hardest battle was with the federal government and being faced with the possibility of enforced separation. Our story went all the way to the US judiciary committee and we were lucky enough to have the support of so many wonderful well known people who showed their solidarity by sharing our story and sending messages of support. I'd like to thank them for being a part of our love story, who knows where we would be right now without their help in proving together we are stronger and that #LoveWins!
Thank you, Congressman Jerry Nadler, Congresswoman Niki Tsongas, Nigel Lythgoe, Adam Shankman, Mary Murphy, Mandy Moore, Stacy Tookey, Suze Orman, Clive Davis, Sharon Stone, Kate Walsh, Toks Olagundoye, Jason Alexander, the late Patty Duke, Fran Dreschner, Kelli Giddish, Debra Messing, Kathy Najimy, Steven Collins, Betty Buckley, , Elizabeth Vargas, Sam Champion, Ginger Zee, Elizabeth Gilbert, Martina Navratilova, Billie Jean King, Sarah McLachlan, Leann Rimes, Gloria Estefan, Samantha Ronson, Talor Dayne, KD Lang, Billie Myers, Julia Fordham, Mari Wilson, Hilton Hollis, Andie MacDowell, Ellen Pompeo, Barbara Niven, Heather Unruh, Carnie Wilson, Melissa Gilbert, Simon Britton, UAFA, Harvey Milk Foundation, Tietheknot.org, GLAD Law, Immigration Equality, Gay Marriage USA. Special thanks to trail blazers, Edie Windsor and Lawyer Roberta Kaplan.
We may still be advocating for LGBT acceptance but no one can ever tell me our love is less worthy than anyone else's, we would never have made it this far if our love was not true. As Laurie and I sit on Ka'anapali beach in Maui, celebrating our anniversary, there won't be any clouds at all just us feeling proud that we can say "I love you" out loud and we will raise a glass and give humble thanks to all those who helped us up that equality mountain!
Love does win but let's keep changing hearts and minds together.
Popular in the Community