I introduced myself to Arlene Alda at a recent event I attended that featured her husband as guest speaker. I was interested in her and her upcoming book, Just Kids from the Bronx: An Oral History: Telling It the Way It Was.
Abe Rosenthal. Carl Reiner. Martin Bregman. Leon Fleisher. Lawrence Saper. Mary Higgins Clark. Jules Feiffer. David Yarnell. Milton Glaser. Mildred S. Dresselhaus. Regis Philbin. George Shapiro and Howard West. Mark Cash. Arlene Alda. Michael Brescia. Emanuel Azenberg. Avery Corman. I.C. Rapoport. Colin Powell. Lloyd Ultan. Dion DiMucci. Barbara Nessim.
I was nervous. I guess partly because I've long admired Mrs. Alda for her many accomplishments. She received the prestigious Fulbright Scholarship and realized her dream of becoming a professional clarinetist. She played in the Houston Symphony with Leopold Stokowski, raised three daughters and changed career paths by becoming an award-winning photographer and author.
So I was thrilled to have a chance meet her, if only for a few short moments.
To her, I was a complete stranger, so I didn't know what to expect as I tapped her on her shoulder. She couldn't have been nicer, and I immediately felt at ease.
She listened with keen interest as I recited the elevator speech I'd been practicing all day, the one about my mother who is about her age and was also born in the Bronx. I told her that as a child I was more interested in hearing stories from my father's escape from Germany than I was hearing my mother recite stories about being born in the Bronx.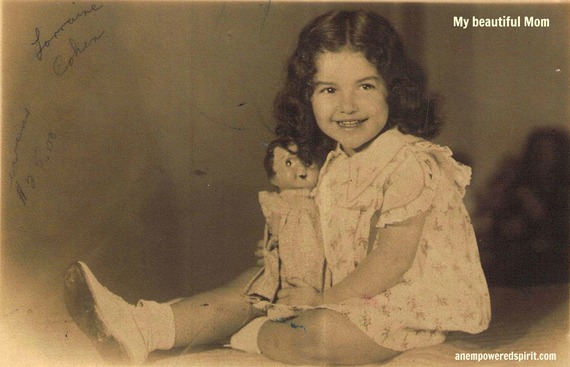 Now, Arlene Alda's book will change all of that, Mom!
Her book of childhood recollections, including her own (We lived in a one-bedroom, one-bathroom apartment. Mother, father, older sister, older brother, the mutt fox terrier Spotty, and me) collectively constructs a loving portrait of a borough, despite its difficulties, that bred countless residents, who not only contributed to society in extraordinary ways, but who also felt a common love for their beloved Bronx.
Al Pacino. Robert F. Levine. Suzanne Braun Levine. Steve Janowitz. Margaret M. O'Brien, S.C. Joyce Hansen. Robert Klein. Julian Schlossberg. Anonymous. Rick Meyerowitz. Joel Arthur Rosenthal. Millard S. Drexler. Andy Rosenzweig. Kenneth. S. Davidson. Daniel Libeskind. Valerie Simpson. Arthur Klein. Dava Sobel. Robert F.X. Sillerman. Maira Kalman.
Every story is a gem, bringing us back to our childhood when we'd sit on the front stoop to hear our grandmothers spin yarns about their childhood adventures. And, because the Bronx gave birth to countless influencers, by the end of the book, you'll wish you were born there, too:
Former Executive Editor of the New York Times ,Abe Rosenthal recalls his parents as "pioneers" who moved from the tenements in the Lower East Side of Manhattan to Decatur Avenue in the Bronx.
Funnyman Carl Reiner recalls his love of comedy being sparked by a family of funny people who thought humor was an important force in life.
Boyhood friends George Shapiro and Howard West recall suffering along with the underdogs, the Brooklyn Dodgers, until the color barrier was broken by the great Jackie Robinson.
Melvin Glober, a.k.a award-winning rap artist Grandmaster Melle Mel, narrowly escaped being on the wrong side of the law because he was smart enough to listen to his sage mother, his strict teacher and his own inner intelligence.
Sam Goodman. Chazz Palminteri. Daniel Hauben. Louise Sedotto. Steve Jordan. Neil deGrasse Tyson. Michael R. Kay. Melvin Glover. Jaime Rodriguez Jr. Luis A. Ubinas. Bobby Bonilla. Sotero Ortiz, Wilfredo Feliciano and Hector Nazario (members of Tats Cru). Majorca Carter. Carlos J. Serrano. Renee Hernandez. Ruben Diaz Jr. Jemina R. Bernard. Amar Ramasar. Gabrielle Salvatto. Erik Zeidler.
This book was an enjoyable read, and I'd highly recommend it to every reader. It's not only a portrait of America, but it illustrates that if you hold on tight to your dreams you can make anything happen.
After reading Just Kids from the Bronx I had a few questions I wanted to ask Mrs. Alda. She graciously agreed to answer them:
CC: The impressive array of people who grew up in the Bronx leads me to believe there are many more stories that need to be told. Did you have to turn anyone away who wanted to be included in your book? Were there stories you wanted to acquire but were unable to?
AA: There are definitely many more stories to be told. This is just the tip of the iceberg. The interviewing for the book started in such a random fashion. I initially had no idea as to who should or would be in Just Kids From the Bronx. I started by talking with the CEO of J.Crew, Millard (Mickey) Drexler, who grew up in the same building as I did in the Allerton Avenue section of the Bronx. Going back to our apartment building, the Mayflower, with Mickey was the starting point for my wanting to collect stories from other accomplished Bronxites. I started slowly and cautiously by interviewing and talking with other people I knew who were Bronx-ites of some prominence. After just a few interviews, I realized I was painting myself into a comfortable corner. Who were the people I didn't know? And who were the younger people who grew up in the Bronx... What were their stories? How were the changes in the Bronx over the years reflected in the lives of those who grew up decades after I did? Once I started those explorations, I was on my way to covering ground that rounded out a compelling story of decades of growing up in the Bronx, with all the changes those decades implied.
Most people didn't know that I was working on Just Kids From the Bronx, so the issue of turning people away was hardly a major one. I don't think people were knocking on my door to be in the book. I had to go out and look for them.
A few of the prominent people I would love to have interviewed were Justice Sonia Sotomayor, Edgar Doctorow and Kerry Washington, but those interviews didn't happen. A loss on all counts.
CC: As a busy wife, mother, grandmother and someone who has always followed her passions, is there any advice you'd give to women on maintaining a sense of balance in their lives?
AA: From my own perspective as that of a married woman with children, I think it took me years to find my equilibrium. I was not a good juggler, so when my kids were little I spent their early years putting my own profession on the back burner. I didn't know how to apportion time to them and a budding actor/husband and also to me. What I found out over the years is one simple truth. You can't have everything all at once, but if you can get your priorities in order, you can have a good shot at "doing your own thing" in due time. You have to be lucky, though. Having a good supportive spouse helps a lot! The old cliche also applies: Patience is a virtue. There are never any guarantees for success, but maybe a warranty that lasts a few years? That's not bad either.
CC: Many of my readers are midlife bloggers/writers. Can you offer any writing tips?
AA: I'm not sure I have writing tips, having come to writing as a third career choice (music, photography and then writing). But here goes anyway. Writing is a process. Writing is a skill. Writing is an art. It can come from your head and/or your heart. Write every day, even if it's a sentence or a paragraph. One thought leads to another. Whenever I write anything, and that includes this email, I let it sit for awhile, and then I edit like crazy, but I don't edit while I'm in the throes of getting it out. I let it sit. Editing comes later. A question I always ask myself when writing is, "Why am I telling you this?" and "Am I telling it in the best way possible?"
If you can honestly answer those questions to your own satisfaction, then that's a great start. There's the old Shakespeare character of Polonius in Hamlet, who, in giving advice to his son, says, "...and to thine own self be true." Even though Polonius is often described as a foolish old man, his advice seems pretty good to me.
CC: That seems pretty good to us, too. Thank you, Arlene Alda, for being so gracious and for taking the time to answer my questions.
Arlene Alda's book "Just Kids from the Bronx" will be on sale beginning March 3. All author proceeds will go to several children's organizations located in the Bronx.
Cathy Chester has been diagnosed with Multiple Sclerosis since 1987 and uses her writing to advocate and encourage people to use their abilities to live a healthy and vibrant life. Read more of Cathy's work on her blog, An Empowered Spirit.
Calling all HuffPost superfans!
Sign up for membership to become a founding member and help shape HuffPost's next chapter