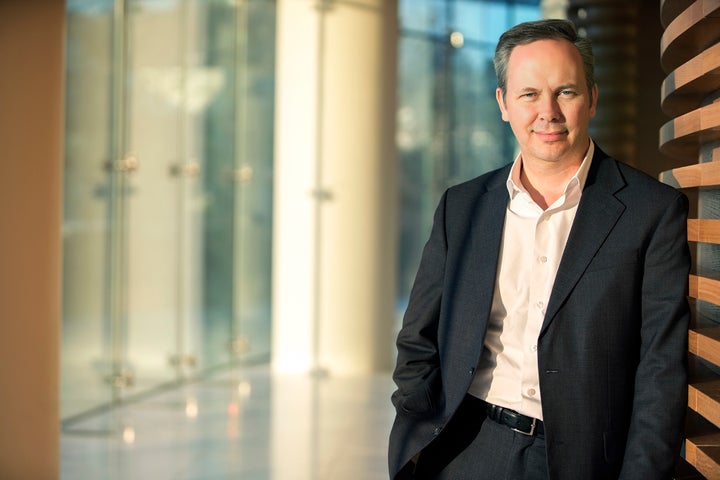 Anyone who knows Mark Hirons will agree that there is no individual more deserving of the title "Workplace Designer of the Year." In addition to being a talented designer and amazing mentor, he is one of the most humble, genuine guys you will ever meet. Inspired by this recent accolade, I sat down with him to get his thoughts and perspectives on the ever-evolving world of contract interiors:
AS: What are the biggest changes influencing workplace design in 2017?
MH: Today's workplace needs to be nimbler. It needs to find creative new ways to offer choice, flexibility and personal control to an ever-growing spectrum of workers. Ultimately, the strongest workplaces are those that find ways to be both experiential in order to attract and retain top talent and transparent to authentically translate company cultures.
AS: What's exciting and what's terrifying?
Everything about the evolution of the workplace is exciting. Seeing more organizations recognize design as having a major impact on individuals' experience, enjoyment and engagement is invigorating and empowering. It nurtures more opportunities to creatively tell organizations' unique stories and explore design possibilities that will enrich the lives of their end users… which always is rewarding.
What's both exciting and terrifying at the same time is the incredible rate of change occurring in today's workplaces and the responsibility that change places on designers. Our work doesn't just evolve space, it can be a catalyst for advancing company culture. We have a responsibility to ensure design solutions are aligned with these organizations' cultures, which in reality heightens the value for design to support business success.
AS: I know mentorship is a topic near and dear to your heart (or at least everyone says how amazing you are at it, even if it's not a passion…). What's different about the new generation of designers entering the industry?
MH: The biggest difference is this generation's focus on purpose. Today's designers are impassioned to authentically represent brand experiences in ways that are sustainable and will make broader positive impacts on individuals, businesses and communities. Their passion is inspiring.
The other key generational shift is how the new generation balances technology and ideation. No doubt, there have been important advancements in how we visualize design over recent years, and certainly new technologies should be used to study and craft design stories. That said, ultimately the means to best express the essence of a conceptual idea is a quick sketch. Distilling "why" a design is meaningful versus composing "what" is in a space is vital in authoring the best story. Simplifying an idea to a poetic line sketch translates the emotion from which a story can be crafted.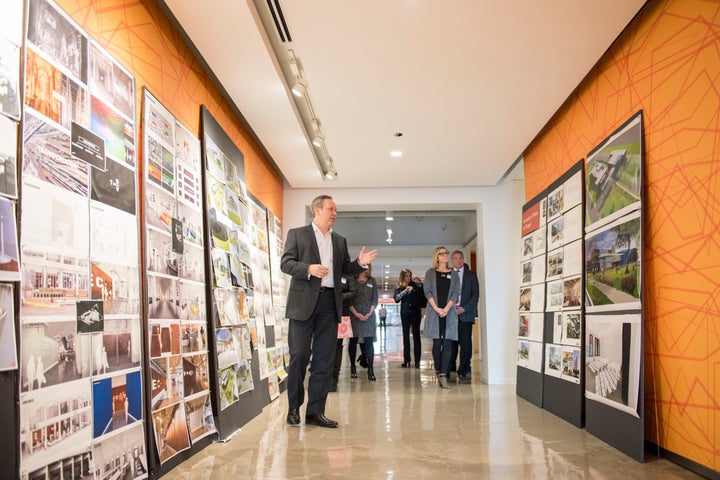 AS: What's important about how we respond to new generational differences within firms?
MH: The key is respect and passion. Firms should recognize the common attributes all designers inherently have that serve as the foundation to build lasting relationships… regardless of age. Firms that can recognize, appreciate and celebrate designers' differences and then find ways to empower them to learn and listen to each other will cultivate the strongest creative journeys.
AS: How does your response above translate when designing workplaces for other companies?
MH: Provide balance and 'know thyself.' In order to get the best out of everyone, a company has to be honest about its culture, be committed to its vision and drive toward a better organization for all. Understanding each generation's talents and tendencies, and how you can effectively support knowledge sharing is essential.
Empower choice. By offering a variety of spaces, companies allow individuals and teams to find their preferred spaces (quiet rooms, work cafes, innovation hubs, outdoor terraces, etc.) and be most effective. Companies shouldn't limit choice, but instead embrace it. They should provide a wide spectrum of opportunities to allow all to achieve higher levels of engagement.
Focus on acoustics and lighting. Organizations should create spaces that allow for increased acoustical attenuation and lighting for different users, even offering personal control when possible.
AS: What are the key challenges most companies are facing for the future?
MH: Recruiting and retaining talent, ensuring transfer of knowledge across generations and driving continued innovation and engagement.
AS: How can workplace design help?
MH: Workplace design can help in numerous ways. It should create centers of engagement that not only support individual work efforts, but also serve to support a stronger cohesive company culture that helps people feel accountable to one another, build trust and drive success. Modern workplaces need to be tools to attract talent. They need to function beautifully and inherently inspire curiosity and innovation.
Workplace design also should reflect empathy as opposed to apathy. Designers should never just apply current norms and expectations to the next project. Instead, workplace design constantly should be responding to each organization's unique challenges, listening thoughtfully and foreseeing new opportunity. This is how workplace design moves beyond a spatial solution to a means of achieving real positive impact and forging new ideas.
Connect with data. More and more, designers can balance design efforts with tools and practices that allow for measurement. We recently learned Zurich North America's new HQ has improved employee satisfaction scores by more than 30% and 23% above the national average—that's rewarding for designers and tangible for our clients. Capitalizing on insights to inform design and capture its impact is increasingly powerful.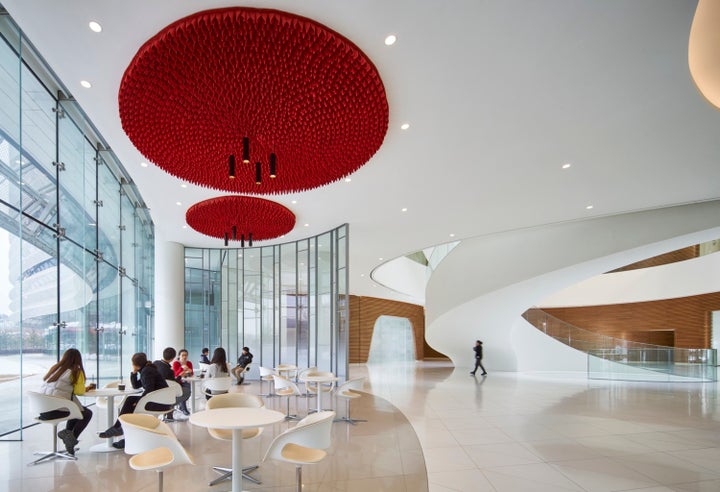 AS: You know my passion is in furniture. What's important for us to know about the role furniture plays in creating compelling work environments?
MH: Furniture is the tangible connection between individuals and their environment. I believe it has the responsibility to be both inherently sculpturally and functionally beautiful. Furniture must allow us to be at our most productive and supportive in a variety of settings. It needs to be ergonomic, sustainable, well-crafted and purposeful. Allowing for movement and controllability for users makes furniture part of the active work environment, provides personal customization and ultimately makes the entire workplace more engaging.
AS: What should manufacturers be doing better to help you do your job?
MH: Manufacturers should focus on really understanding working ergonomics and creating furniture that offers comfort at any given posture: standing, sitting or moving. Also, committing to the highest quality from production through installation is vital to designers and ultimately our clients.
AS: I know as a designer each project is unique and different, but are there any consistencies every project needs?
MH: Every good project requires a strong concept, an engaging and purposeful plan, a thoughtful range of experiences and a sense of craft.
AS: If you had to pick a handful of things that every successful workplace should have in them, what would they be?
MH: I wouldn't pick things, I'd pick characteristics. Every workplace needs to have purpose, offer delight, be intuitive and memorable. Curating what experiences will resonate with different clients to achieve these qualities is ultimately part of the fun.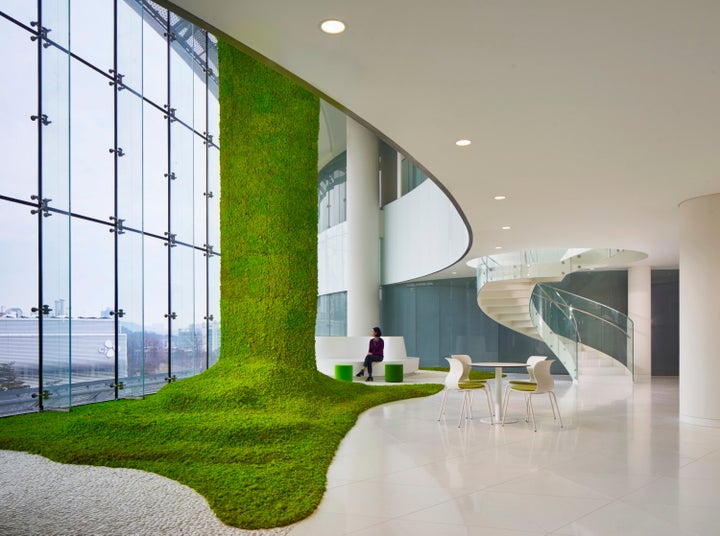 AS: What's on your bucket list professionally?
MH: I would love to work on a museum or design a resort that integrates with a breathtaking natural landscape.
AS: What advice do you have for young designers looking to get into the profession?
MH: Never forget to listen and seek to truly understand others and their needs… as often the best opportunities lie beyond initial expectations.
Push yourself to create a story that becomes the client's favorite to tell others about their space. Never stop drawing—it serves as your expression to explore.
About the author: Amanda Schneider, LEED AP is a researcher, writer, consultant, and the founder of Contract Consulting Group, a research-led strategy firm focused exclusively on the Contract Interiors market. Do you work in the industry? Are you interested in getting PAID for your opinions? Click here to Join In for market research opportunities!
Popular in the Community