I needed some glit and glam to sparkle up my life, so I happily went to The Blonds show at the Altman Building. They are one of the Ecco Domani Fashion Foundation winners. They received $25,000 to do a show -- and it rocked. Working off a theme of transformation, Phillipe Blond went from fashion hound guerrilla to her glamorous self as she peeled off the suit and started the show.
It's as if we're dressing women to do battle, and the glam punk ascetic is in. The brass armor that was on showcase here will do the trick. The duo, known for their bejeweled corsets and meticulously created outfits, have created looks for Britney Spears and Rihanna, and their creations have been seen on many a stage.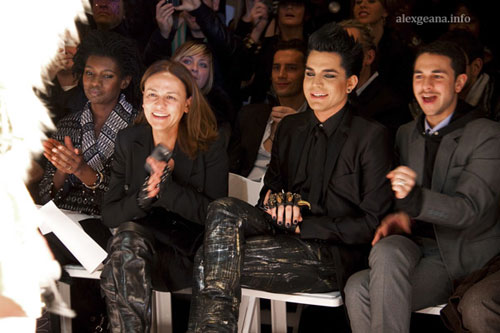 Adam Lambert and his new beau loved it. Wearing a Blonds glove, he posed for pictures. The Blonds kept their more enjoyable and outlandish pieces for their personal collections. In the Bryant Park Tent, all the Ecco Domani winners showed a condensed offering. The foundation has spent a million dollars supporting young talent. I all of a sudden want to buy this wine again.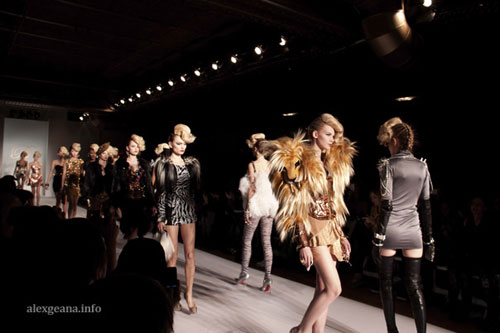 Before the runway started, I did an interview with Phillip and David Blond. Enjoy.
HuffPost: How long have you two been together?
HuffPost: Why did you decide to join forces?
Blonds: Two blonds are better than one!
HuffPost: Individually, what do you each contribute to your design duo?
Blonds: Technically [David is] the creative director and Phillipe is the head designer but it's a complete collaboration from start to finish.
HuffPost: How long does it take to put a look together?
Blonds: It depends on how complicated the piece is: dresses usually take 2-4 weeks and corsets 4-8 weeks.
HuffPost: What is the process -- do you start with sketches or work directly on models and mannequins? What sparks your process?
Blonds: We start with an idea or feeling then sketch like crazy; materials come later since we don't want to limit the creative process and boom you have the look!
HuffPost: Are you excited about your win with the Ecco Domani Fashion Foundation, do you have any goals or expectations for the show?
Blonds: There are no words to express how thankful we are. We're so excited and honored to be a part of the Ecco Domani Alumni and to be chosen by this esteemed panel of judges is a magical feeling.
I think this will have a huge effect on our business and we can't wait to see what happens next!
HuffPost: Collectively, what is your biggest fear?
HuffPost: Your favorite food?
Blonds: Phillipe's is gummi candy and [David's] has to be bacon!
HuffPost: Where can people buy your clothes?
HuffPost: Ever consider creating a ready-to-wear line?
Blonds: We will very soon, everyone should feel glamorous everyday!
HuffPost: Your sensibilities seem like a perfect fit. Have you two had a chance to work with Gaga, has she reached out?
Blonds: Gaga is an amazing artist! Although she has her own team, she's worn a few Blond pieces, but we'd really love to collaborate with her and Haus of Gaga to create something exclusive.
HuffPost: What is your take on the noir, almost apocalyptic undertones emerging as a sub-trend?
Blonds: I think this is the most exciting time to be in fashion because you can do anything or be anything you want to be!
HuffPost: What do you dislike the most in other people?
HuffPost: You asked your Facebook fans to be interns, and some offered to fly in from other countries. Were any of those accepted, and did they do it?
Blonds: No, but I'm sure they would have...
HuffPost: How do you feel before each show (don't just say nervous please)?
Blonds: VERKLEMPT! VERKLEMPT! VERKLEMPT!
HuffPost: What is your personal definition of style, i.e., what does style mean to you?
Blonds: For us there is no definition of style, it's about creating your own and not relying on others to dictate it to you.
HuffPost: What inspired this current collection?
Blonds: A cult movie called The Lair of the White Worm. Its 16th century armor construction techniques, Marlene Dietrich and the women circa 1939.
When the leading lady shouts "jungle red!" This film is about a woman realizing her beauty, power and sexuality then reclaiming it and so is our collection.
HuffPost: When did you two first know you wanted to make amazing clothes?
HuffPost: Where do you see yourselves in five years?
Blonds: Who knows, we've only planned through February 16th, 2010. But I'm sure we'll have taken over the world by then! ;)