For years, I have been lucky enough to learn from my friend who is at the forefront of the social entrepreneurship movement. Poonam Ahluwalia is the Executive Director of YouthTrade and the YES Campaign, leading efforts in igniting and sustaining entrepreneurial efforts around the world. She is a passionate leader on behalf of youth worldwide and she was recently named 2013's India New England Woman of the Year -- an honor for a woman who has contributed greatly to the social entrepreneurship movement while remaining committed to her family and raising two children. The following is an interview with Poonam, which I hope can inspire and educate readers on this incredible effort.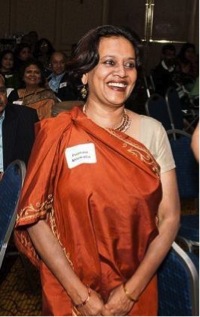 SM: Tell our readership about your work in youth entrepreneurship.
PA: In 1998 April -- in the tradition of fools rush in where angels fear to tread -- I resolved to bring youth unemployment and crisis on the global agenda with our other concerns such as women's rights, education and micro-credit. With partners around the world, we held consultations in different parts of the globe to understand the issue and build alignment and then in 2002 -- we launched the decade campaign of action at the Library of Alexandria, Egypt under the co-chair of President Clinton and Mrs. Mubarak. About 2000 delegates (50 percent youth) from 120 countries participated in five days of celebration and resolved to work together to fulfill the goals of the Summit. In preparation for the Summit in 60 countries, the YES Networks were formed autonomously and the stage was set for in-country work. We then met in Mexico 2004, Kenya 2006, Azerbaijan 2008 and Sweden 2010. In these 10 years, over 400 projects have been launched, 150 original publications prepared, millions of dollars have been raised and millions of youth have been touched. Even now a YES event is taking place somewhere in the world, and we do not even know about it -- this is the power of enrollment and a testimony to how embedded our work is in the world and is continuing without any active support from the core team in the U.S.
SM: In my opinion you are one of the great education leaders in the world -- how did that occur?
PA: I think my main asset is that I am ignorant and do not know much; and that allows me to go forth basically unaware that I can fail. I believe that nothing is impossible and that anyone can accomplish whatever they set their minds and heart upon. My main expertise is in community organizing and creating simple architectures where everyone can have a role. Since my childhood, I have felt enraged by the inequities of life and the needless poverty in this wealthy world. My deepest desire has always been to level the playing field and work towards the possibility that that everyone has an opportunity to fulfill their promise. I know that ordinary people like me can visualize creating extraordinary possibilities and that the only thing limiting us was how big we were willing to think and how powerfully we could get behind ourselves.
SM: What is your background?
PA: I grew up in India to a well-off caring and happy family. My parents truly appreciated me and I was never punished or forced to endure harsh words. I had a normal happy childhood surrounded by family and friends. My challenges began when I met someone I wanted to marry and my parents refused and so 33 years ago I married against their wishes and broke their heart to follow mine. But their love for me was so strong that after a few months they came around and accepted it. And it is a testimony to their generosity, and my husband's forgiveness that they became extremely close with each other, and my parents were able to appreciate the life that I had chosen, despite its inbuilt struggle and chaos.
SM: Why did you come to this country?
PA: My husband Mohinder Ahluwalia came here in 1985 to study for his MBA at Boston University. We came really poor and were so blessed to find a wonderful couple who lived in Brookline and who agreed to hire us as household help -- despite knowing that neither of us really knew how to do the work that they needed. For 30 hours of household work we got a small attic apartment and $200 a month. This $200 became our monthly expenses -- everything else that we earned we saved. In addition to this Mohinder worked evenings and I cleaned and cooked in the neighborhood. Once he graduated and took up a job, I enrolled at BU College of Communication for an MS in Mass Communication. I remember that when we moved to our first apartment on Gardner Street in Allston, we furnished it with the "garbage" of the rich folks living in our neighborhood. It was an exhilarating time as we "found" wealth lying outside

SM: What are your goals for the future?
PA: There are not enough jobs in the private and public sectors to absorb millions of young people who are in the labor market. Vocational training without job creation is mute. So in June 2011 we invented YouthTrade as our contribution to Conscious Capitalism. YouthTrade certifies young mission-driven entrepreneurs and works to place them at conscious companies such as Whole Foods Market -- the North Atlantic Region is co-founder of YouthTrade. Recently we placed two products at Nordstrom. We 55 certified entrepreneurs many of them are in all 300 US based Whole Foods Markets. I have three goals: (1) building the marketplace for YouthTrade globally, (2) setting up Youth Enterprise Generators at universities with the hope to create two exit points at the Career Center -- one for jobs and the other markets as entrepreneurs, and (3) the YouthTrade Champion program for corporations to buy a percentage of their supplies from our certified companies. So yes, as always we have a big portfolio of ambition.
SM: Can you give our readers advice on how to get involved in this movement?
PA: I have seven design principles for young people who aspire to be successful social entrepreneurs.
1. Believe in the power of your dream and do not get stopped by circumstances: dreams are REAL.
2. Create from the future: Imagine having accomplished your goals and walk back in time.
3. Be a Dream catcher and find a Dream catcher: Find people who will believe in you unconditionally and give the same gift to others.
4. Practice Freedom: By practicing freedom I mean making the choice to be free from moment to moment. We cannot be free if other people's opinions and our circumstances imprison us.
5. Helicopter above your circumstances, so you can observe what is going on and find a way out of your maze.
6. Be too ambitious to compete: Competition limits you to others like you -- move beyond that to truly create something new.
7. Love and create something from nothing: Knowledge is disempowering... ignorance is bliss... create a future undaunted by the naysaying power of knowing too much.
Calling all HuffPost superfans!
Sign up for membership to become a founding member and help shape HuffPost's next chapter