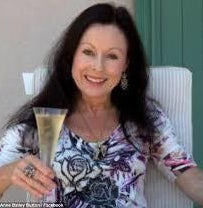 The best 'Real Housewives' franchise you're probably are not watching is The Real Housewives of Auckland (RHOAKL). Although it aired two years ago in New Zealand, its one and only season is now winding down in the U.S. Plagued by controversy (not uncommon to its American counterparts) and a literal boatload of drama, RHOAKL had its top shit-stirring cast member lawyering up before it aired in NZ. Like most televised trips that Real Housewives embark on, the cast members' boat excursion did not go well and that is an understatement. In the midst of a light discussion, one of the ladies cavalierly threw out the N word, and later on, both of the women involved in the ensuing altercations did not want the incident to air. Of course, viewers got to witness the entire debacle. When cast members sign up for a reality TV franchise, they have agreed to all the terms involved in opening up their lives to the cameras.
One woman that literally kept things light and bubbly, with a champagne glass in hand and a notably sparkling laugh, was Anne Batley Burton, AKA "Anne the Champagne Lady." This moniker is fitting since Anne successfully promoted her own champagne line, Jacquart, through RHOAKL and it continues to sell quite well after the show's New Zealand run. My friend Ryan Baily of The Emotionally Broken Psychos podcast and its spinoff Realizing Stuff with Kara and Ryan joined me to interview Anne for The Huffington Post. The Champagne Lady garnered a fan following for her laugh, smile, love of wine and pussies...If you watch the show, then you know I'm referring to her cats and the abandoned ones she's focused on saving.
Shira: Hi Anne, we both find you delightful on RHOAKL and since there is only one season, we're scouring the Internet for all other clips of you to enjoy for ourselves!
Ryan: In fact, I was just telling Shira that I was listening to your Christmas song today and I found it to be so funny and loved the lyrics.
Anne: Oh, thank you! Yes, what fun! My friendship with Vicki Loach, the Rock Chick, turned out to be one of the best things to come out of this show. She helped me do the Pussy Galore party and since then, she has done a lot of those events for free because she just wants to help with the cats.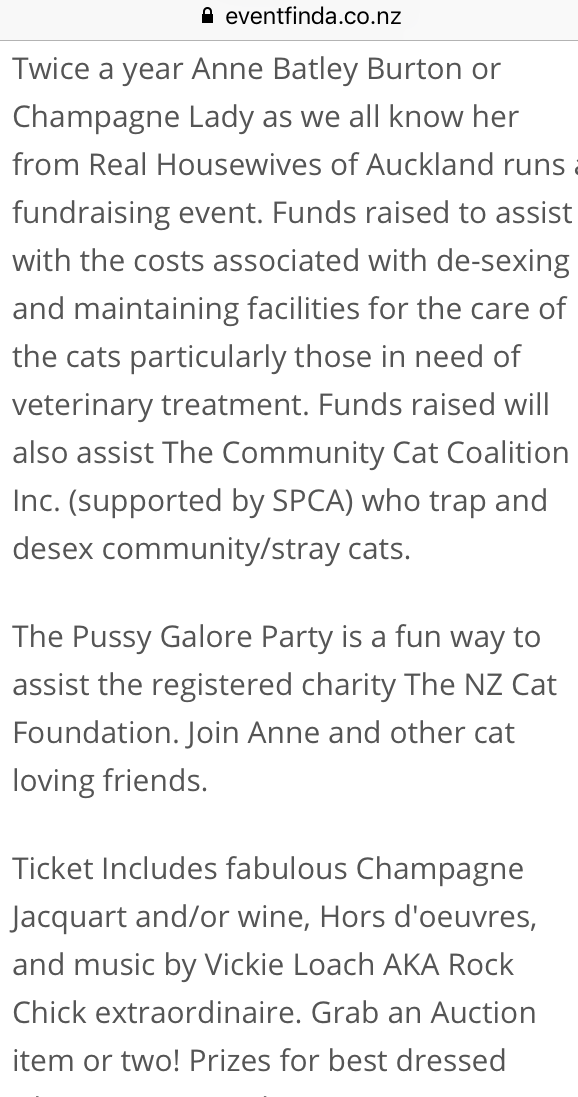 She had the idea to come out with the Christmas video. We'll be shooting a brand new one for this upcoming Christmas. We're going to do it in the studio properly this time and work with a professional video guy and maybe go into the pussy palace and have a party with champagne. The idea is that people will be able to click and give to the cat foundation in New Zealand. www.thenzcatfoundation.org.nz That's going to be really fun!
Shira: What were your thoughts when you were first cast on RHOAKL?
Anne: I'm not a big TV advocate so I hadn't seen the other franchises when they approached me. It was a very long process and at the last minute actually, they wondered if I would be suitable. They thought I might not be a fit or something even though they really liked me and then they decided I was a fit. We didn't know what we were being interviewed for initially - for quite a while actually - and then they told us we should watch the Melbourne Housewives before going further. Watching, I couldn't believe what was going on and I said I didn't want to look like a bad person. They said 'It would be very difficult to make you look like a bad person.' I thought, to hell with it! I'm going to take a chance and get my champagne brand out there and save the pussies!
Ryan: RHOAKL airs on Bravo here in the U.S. during the weekend. What do you think is attracting American viewers?
Anne: I don't know, maybe they like the accents! (laughs) I feel we're a littler more low key than the others. I've seen some scenes from the others now and some of the things they get up to, getting breast implants and all these procedures, I think 'oh my God!' I didn't even want a spray tan and that was sort of horrifying enough for me. I think we are more low key as people and maybe there are more story lines, but I haven't really seen many of the others so I don't know. What do you think?
Shira: We think the drama came immediately with this franchise. You got into some things the American franchises don't tackle in the first few episodes. Maybe it was the way it was edited with the drama inserted upfront.
Ryan: The plus size comment was made in the very first episode! It was pretty dramatic in the best way possible.
Anne: You were asking me prior to this interview if there's going to be a second series and we've been disappointed because we've more or less been told there isn't going to be one for now. I never say never as we have been waiting to see what the feedback is from the United States. I think it's a question of funds as to why we didn't shoot a second season - It's really expensive to film this in our really small country. I hope that by you guys interviewing me for Huffington Post we can get some feedback from the United States. We heard they're going to try to do everything to make a second series possible but I hope the feedback from overseas helps us. They don't want to leave it too long because the show is already re-running here and they need to do it early next year if they're going to do it at all.
Shira: What was your first impression of the other ladies?
Anne: Well, I did know a couple of them prior to filming. Julia I knew because Auckland is a small place. Louise and I would see each other around the tracks regularly. Angela I had only met a couple of times. Louise and I have become really good friends from the show. Michelle I had never met at all prior to filming and we all knew of Gilda because she's been a prominent sort of figure in the Auckland scene over the years. It was really great, but as time went on, we had our ups and downs.
Shira: You and Michelle seemed to have a good dynamic. At some point the two of you went dancing together.
Anne: Michelle invited Gilda and myself to her birthday a year after the last episode and that was lovely that she invited us. She didn't invite anyone else from the cast. We do things occasionally though we're not on the phone often, but once in a few week we speak.. Julia and Angela - I don't really make any deliberate contact with them. but today I'll be seeing Angela at a lunch. The two of them are pretty close. They're obviously different from the rest of us. Louise and I became really close through the show.
Ryan: American reality stars sometimes complain after their shows air that they didn't receive a fair edit. Watching back the show, did you feel you received a fair edit?
Anne: Very fair! Everybody did. At the end of the day - and I remember Chris Taylor (of Bravo in New Zealand) saying this too when my husband and I ran into him - everyone came out exactly as they are. They were very clever because everyone's true characters came out and there's no doubt about it. I was portrayed as I am! I love champagne, dancing and I love saving all the stray PUSSIES! (laughs heartily)
Shira: Julia had to lawyer up after the exchange on the boat. Is that what contributed to a lack of funds for the show to continue with a second season?
Anne: It wouldn't have helped. It was really an unnecessary thing to happen. She made a mistake and did something damn stupid.
Shira: Did Michelle sue her afterwards? I'm not quite clear on why lawyers were involved.
Anne: Neither of them (Julia or Michelle) wanted it (the N word boat incident) to be shown. The whole point is that it's a reality show and if you're drunk and taking all of your clothes off on top of a table, they have to show it and they aren't taking it out.
Ryan: How is your champagne doing after the show?
Anne: That's the thing! My champagne sales have doubled since the show aired. I am drinking a glass right now as I speak to you both and I actually encouraged you both to do the same before we got started! (laughs).
Ryan: We all need to be The Champagne Lady!
Shira: Fans of the podcast Watch What Crappens (which recaps RHOAKL on Fridays) wanted to know how many cats you actually own.
Anne: The formal charity that I belong to oversees 200 cats and I refer to them as 'my cats.' A lot of people want to donate for things to do with humans, but it's so hard to get them to donate for the pussies. These cats are in a 9,000 square foot avery and it's all mesh so they have all this indoor and outdoor space. As for my own cats in my own house, we have 6 in our house in Parnell. I ended up with all strays and my husband gets fed up sometimes, especially as one of our cats was trying to grab a piece of chicken off of his plate this morning.
Shira: My sister wanted to know how your nephew is doing. On the show, we saw that you gave him etiquette lessons on how to treat a lady.
Anne: He's doing really well! He's quite a precocious young man with a good sense of humor and a twinkle in his eye. He has a rather good imagination and is incredible and is totally without a sense of embarrassment. He is a natural who can sing and do whatever. I haven't seen him in an etiquette situation with a young lady in a while, but I hope he's keeping up to scratch!
Shira: You say that you never use Botox or fillers...you were even freaked out by the idea of a spray tan. Some fans were curious what your age is or thereabouts...I feel weird asking the question, but would you be willing to give us an idea?
Anne: Throughout Housewives, the producers agreed under contract not to divulge my age as for my image as Champagne Lady it's important I appear as young as I feel. So, I don't tell people my age. I always say 'if a woman will tell you her age , she'll tell you anything' and laugh!
Ryan: What's changed in your life since filming RHOAKL?
Anne: I'm even more busy than I've ever been before. Now I do an "about town" social segment on a local show. I have to go out and party even harder than usual! (laughs) In fact, I bought some ginger wine this morning for my throat. I'm also doing a pilot show in a few weeks for another show that's going to be pitched. It's a reality type thing with a different concept. Because of RHOAKL, I have my champagne in a major, popular food chain in New Zealand and it was a lengthy and hard process before getting accepted. It's great because the champagne is selling and lots of things have opened up for me as far as business is concerned. The other thing is I am also The Barrel Lady - I import wine from France so Monday I'm off on my barrel run. It all keeps me very very busy!
In the US, we (Jacquart champagne) are sold in about 15 States (mainly independent retailers). In Texas, we have 2 listings with HEB, a very large chain of grocery stores. If anyone would like more details, they can contact our brand ambassador in the U.S. who is based in New York, Anne-Celine for more details: anne-celine.michel@jad.fr.
To catch Anne Batley-Burton, The Champagne Lady, on Real Housewives of Auckland, tune in to Bravo Saturdays at 12p/11c.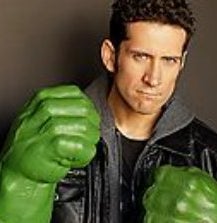 You can follow my co-interviewer Ryan Bailey on Twitter @RyanBailey25.
Support HuffPost
The Stakes Have Never Been Higher
Related
Popular in the Community