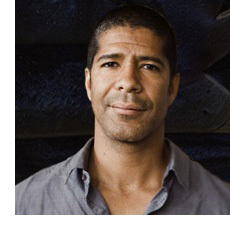 Christopher Carter is a master sculptor - and the Smithsonian agrees. "Growth of a Nation" (2007-08) a signature piece from Carter's StalwART series has been acquired for exhibition by the Smithsonian African American History and Culture Museum.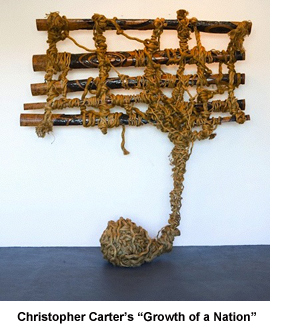 Christopher Carter, 49, is a contemporary American artist and sculptor of African-American, Native-American Indian and European descent -- born in New Mexico, grew up in Boston, Mass. and currently lives and works as a full-time artist in Miami, Florida.
Christopher was drawn to art as a career at an early age, enrolling as an art student at the Interlochen Arts Academy, Michigan, at the age of 15.
He later attended the Maryland Institute College of Art (MICA), and thanks to a study abroad program at the University of Georgia, Christopher studied bronze casting and foundry work at Cortona, Italy. Before graduating with a BFA degree from MICA, he received a paid internship at the New Arts Foundry in Baltimore. He received his MFA in fine art/sculpture from UC Berkeley in 1995.
From 1992 'til 2002, Christopher worked as an Animator and Storyboard Artist in San Francisco, where he says he learned to work collaboratively. Throughout his career he has also been an educator, with visiting teaching and professorial posts in art at Boston, UC Berkeley, and San Franciso's Art Institute of California,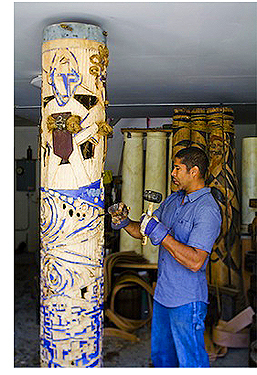 Christopher was in New Zealand during the summer of 2002 studying the art of the Maori people, particularly their tradition of wood carving tradition. He subsequently produced a series of carved monumental columns, decorated with animistic totemic features, and two of his "Totemic Columns" were purchased by The Grand Rapids, Michigan, Arts Museum and placed on permanent exhibition in the atrium entrance.
Christopher makes significant use of found materials in his sculptures, such as resins, glass, recycled wood, recycled metal, reclaimed materials and discarded objects. He accents the inherent qualities and history of the material he uses, infusing them with a deeply organic vibrant atmosphere. His works project themes of struggle and resilience.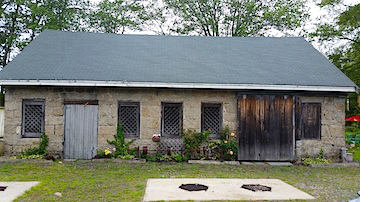 One of his sources of material is from a Carver, Mass. building (left) in which armaments for the War of 1812 were manufactured.
His assemblages embody power and energy resonant of the source materials that he selects for his creations, which are composed of recycled woods, metals, glass shards, rope, resins and a variety of discarded found objects, that when brought together generate a new way of viewing traditional concepts.
Christopher describes the underlying premise of his work as...
The idea of a hidden history informs my sculptural work. My sculptures are tombs of the modern urban landscape. Smooth, glassy infusions of resin pull them into a high-tech world. While mining through my collection of gathered materials; comparisons and concepts are unearthed and explored, suggesting meaning and relevance when pushed to a sculptural form.
What are your thoughts and feelings about having one of your artworks in the collection of the Smithsonian National Museum of African American History and Culture ?
CC: This acquisition by a great institution, the Smithsonian, serves to validate my art expression and inspires me to create other singular works that will resonate strongly with my contemporaries for years to come.

It's been a goal of mine for many years to have my work acquired by such prestigious institutions as the Smithsonian and in some ways it seems like a full circle, having spent my undergraduate years in Baltimore, neighboring DC. The layers of historical influence of art and craftsmanship that live in the walls of the Smithsonian perhaps had a long standing subconscious effect on my work.
You've said that you think of yourself as an artist first, before ethnicity, has that acquisition changed your view ?
CC: I still consider myself an "artist" first before my ethnicity. I am proud of my mixed heritage, but do not consciously create all of my work from this perspective. If the resulting work mirrors aspects  of my experience and heritage it is not necessarily intentional but a function of drawing from my personal history while executing a work.
You are opening a new gallery in Miami, what do you hope to have as a result ?

CC: My hope is that this space will address almost all of my needs as a maturing artist and , in turn, provide an intuitive exhibition/educational space for all mediums of expression. The Wynwood area of Miami has become an international hub for artists offering cutting edge contemporary work of all mediums. There is a freedom of spirit in this neighborhood and openness for visual experience. After years of having my studio in the Bay Area of California, Miami's Wynwood is the perfect location to establish my current artistic roots.
In today's commercial and artistic worlds, can an artist have great success, such as you have had and are having, acting only by themselves ?
CC: I think that certain artists who focus on one discipline, virtually ignoring all others, can make substantial headway into the career of their choice. I have found that by continuing education and exploring opportunities generally considered outside ones field, the versatile artist may find their talents valuable "across the board."

There are prodigious talents of creative thinking found in many commercially applicable arts as well as straight business ventures. My talents/opportunities have led to success in Real Estate, Finance, Advertising and philanthropy beyond my general focus of creative endeavors. The art educator route is important as an artist matures and susses out their  place in a contemporary art world. Without inclusion into the contemporary foray it is difficult to judge one's individual impact to the 'tapestry" of  semi-popular expression.
Describe your approach to using found objects, do the objects themselves hint at what is to be done with them, or do you determine all in your works ?
CC: Objects/found materials in my work function as the mortar as well as inspiration. The discovered materials sometimes inspire the direction while my process fuels the need for more (materials) to help achieve a resolution. The works are eclectic for sure because of my penchant for working materials and methods in challenging often distressing ways. Essentially pushing materials and objects out of their intended purposes into a new surprising vernacular. Each object or material that I acquire I feel an affinity to. It may not be apparent immediately what will become of the object/material but over time it will get sorted and considered as my ideas formulate.
How would you contrast the art scenes in Miami, New York, Chicago, and Los Angeles ?
CC: I assuredly do not have my thumb on the pulse of the Art Scene anywhere but have noted trends toward large scale public sculpture and Modernism in Chicago and the architecture of that city is astounding. While LA has a penchant for the figurative, surrealist and conceptual installation plus contemporary kitsch. The New York Art scene is nearly indecipherable to me as they have everything and the new Whitney resurrected at the end of a revitalized meat packing district !

Miami is home to an improbable number of Family collections (Rubell, Margulies and De la Cruz...etc.) and hosts many international Art Fairs beyond ArtBasel. Plus the addition of the Perez Art Museum of Miami and the shake up of MOCA splintering into the ICA (Miami Design District) has created more venues and volatility in the Miami art scene. The Wynwood Arts District in Miami - considered a Graffiti paradise - has fleshed out to a burgeoning food, art and entertainment scene with the influx of investors (initially Goldman and Marty Margulies) from NY to Latin America, plus the presence of these same family collections and the ongoing revitalization of the Design District (by Craig Robins of Dacra Development).
How important are social connections and personal relationships in developing a successful career as an artist ?
CC: Social connections are very important, from my undergrad at MICA to being reunited with one of my most influential educators (Jane Rosen- Professor Berkeley) I was a Graduate Student Instructor for Drawing and the language of Sculpture while completing my MFA at UC Berkeley (Sculpture) and roughly six years later I was asked to take over these same classes as an interim Professor ( 03-04). I then went on to a full time teaching position at the Art Institute of California,SF. 2003-07. My association with the Art Institute of Cal. SF came thru my colleagues at (Colossal) Pictures and Wild Brain Inc...

Finding my way back to the north east corridor came through my affiliation with curators (DC) and Museum representation in Philadelphia (AAMP) which was a direct result of my PR Art rep (Aria Gannon of aPR) and my social/alumnus history with the DC area...

My "career" in Miami began with my inclusion in Art Basel 04' which was made possible by my wife's family ties and a grant (OmniArt). These are just a few examples, there really are too many to list. Basically every successful art endeavor I have been involved in has been the result of solid, often serendipitous social and personal connections.
Do you consider yourself fluent in multiple mediums ?
CC: Yes, I feel I am fluent in many mediums but always pushing to learn and incorporate a varied approach to my work.  Now with the help of some talented colleagues in Architecture, Contracting  and Engineering I am developing a compound of sorts for the viewing, production, teaching and furthering of the Art practice in Miami.
Is self-reflection difficult for an artist ?
CC: Self-Reflection is a pillar of expression. I would imagine most artists find self-reflection necessary and quite liberating. Over a career of art making I think its quite fascinating to reminisce about the many phases one's ideas and practice has evolved over time.
Where would you want your career to be in 10 years ?
CC: That is tough to foresee. I have just been asked to be a judge in the upcoming grant bestowing www.wegeprize.org which I plan to commit to for at least 10 years. I hope my career grows stronger in international circles. With that said, I would be honored to be invited to La Biennale di Venezia in Italy, sometime in the next 10 years. Personally I hope to find myself creating (at a larger scale), educating (teaching - community) and exhibiting (locally and internationally) my ideas of Art in its many forms and providing more meaningful opportunities and a space (Gallery and Workspace) for others to do the same.
Calling all HuffPost superfans!
Sign up for membership to become a founding member and help shape HuffPost's next chapter