Co-authored with Dr Yasmine Van Wilt, Fellow of the Royal Society of Arts, Mellon Fellow at Union College, Kobalt/AWAL recording artist, dramatist, artist, academic, and contributor to Arianna Huffington's Thrive Global.
This is the first of a series of interviews with extraordinary people who are using their skills and training as artists and humanists to improve their communities, challenge assumptions, and advance our understanding of the human condition. In this piece, we spoke with world-renowned, best-selling author Daniel H. Pink about the ways his scholarship in the humanities shaped his career. He offered advice to young humanists and asserted the socio-cultural importance of the humanities.
Daniel Pink is the author of five books, including three long-running New York Times bestsellers, A Whole New Mind, Drive, and To Sell is Human. He was host and co-executive producer of Crowd Control, a television series about human behavior on the National Geographic Channel. He has been a contributing editor at Fast Company and Wired as well as a business columnist for The Sunday Telegraph. Daniel Pink's TED Talk on the science of motivation is one of the 10 most-watched TED Talks of all time.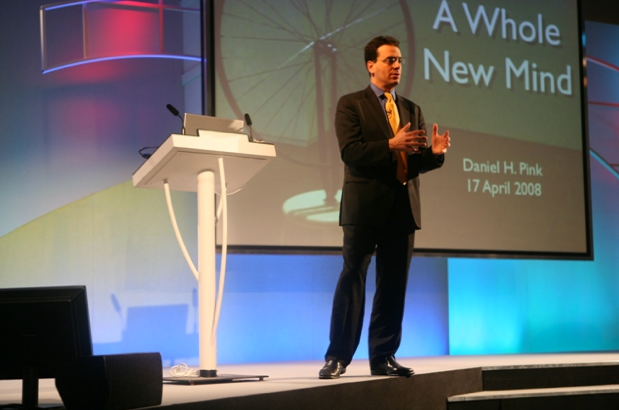 YVW: Thanks so much for speaking with me today. We are great admirers of your work. Would you mind discussing your forthcoming project?
In general terms, what I'm looking at is the science of timing. So some of the questions I'm exploring are: When should you switch jobs? When should you begin a project? Why do we behave differently at midpoints? How do people synchronize their actions in time? What does this look at the science of timing yield?
YVW: How did undergraduate and postgraduate study shape your career?
It's an interesting question. I actually don't think that my law degree played that huge of a role. What it might have done is helped sharpen some of the very systematic, logical ways of reasoning as a writer. I would argue, though, that what I did as an undergraduate might have had a much more important impact on me. I was a Linguistics major as an undergraduate; it was a fascinating subject at the juncture of the humanities, the social sciences, and the sciences. This is what attracted me about the field. And this juncture is what I'm trying to capture in this new book. For example, in A Whole New Mind there's a chapter on the brain. I've read many papers in biology, looking at how our bodies and brains operate at different times of the day. And Linguistics sits at the juncture of these three domains. So my undergraduate study in this field really did shape the way I've approached the intersection of these three areas of study.
YVW: What advice might you offer to an incoming undergraduate who is trying to determine what area to study?
I'm not convinced that the area of study matters very much. I think people need to pursue something that's very interesting. It's concerning to me when people look at the course of education as just a means for getting a job four years later. If you're just doing this because it is going to lead to a "good job," you're better off doing something you're genuinely interested in. If you're genuinely interested in Engineering. Do that. Or Medieval Studies. Do that. It's a little bit of a fool's errand. The example that illustrates this is that I think at no one point in the last four years...were there a lot of kids who grew up thinking that they wanted to be a Petroleum Engineer.
The point of college is more to acquire skills than to acquire domain knowledge. One of the skills that is going to be most necessary: you have to be able to read with rigor and write with clarity. You have to be able to communicate. To make an argument, whether it's in a written piece or in front of a group of people. You need to be able to make sense of the information...these two faculties are essential skills. It doesn't really matter what you study. Great quantitative reasoning skills are valuable. We're behind in teaching basic scientific literacy. Just having a basic sense of how the world works is so important. I also think that having an aesthetic sensibility is invaluable. We need to know why things are compelling. These are the building blocks. This is really why the domain that you pursue is important. Study should lead to the acquisition of these skills and these faculties.
YVW: You've given extraordinary guidance in your seminal work A Whole New Mind: Why Right-Brainers Will Rule the Future. There's been a great deal of discussion about the cutting of public funding for the humanities and arts. Do you have any guidance you'd be comfortable offering to politicians and to the general public about how we might address this?
This is an important question. You know, the idea that these cuts are being made for monetary reasons is ridiculous. The federal government is barely spending anything and, in fact, a lot of the National Endowment for the Humanities and the National Endowment for the Arts' funding is vital to performing groups and museums that are not in New York. The coastal cultural institutions are going to be fine. The coastal elite don't depend on this funding. The people who depend on it are the theaters in Des Moines or the small musical group in Macomb County, Michigan, or the tribal performing arts group in Oklahoma. The arguments for cutting these budgets don't hold up and will ultimately hurt the constituents of the Trump administration.
On the other hand, it's crazy that we even have to make the argument for the funding of the arts and humanities. The arts enrich us as citizens. They help us live a good life. Arts are a huge driver of the economy, especially in places where manufacturing has left. Even in rural places. I see no compelling argument on any dimension for the cuts that are being proposed, and I find it to be a weird fight to pick politically.
YVW: Absolutely. And we've seen the ways in which artists are building sites for the development of arts and cultural growth within cities devastated by the decline of manufacturing. For example, Jack White's new Third Man Records buildings in Detroit is extraordinary. He's also helped to develop Nashville. What advice might you give to young artists and humanists who are struggling to find their niche within the current landscape?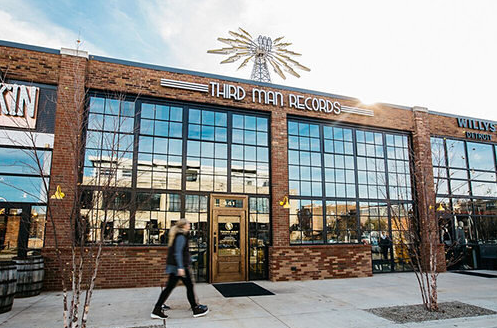 I think it has always been difficult in this country to be an artist. Whether one is a poet or a painter or a jazz musician. I think there are a few approaches that these young creators could take. And none of these is a killer app. And it sounds cliché, but one of them is to run for office...or knock on doors...or do basic grassroots politics. Politicians are in general receptive to those who make the most noise. I would also advise to make sure you have a business sense. Go take an accounting course. You have to have some qualitative skills. It doesn't mean you have to spend all of your time on it, but become proficient. Beyond the politics, I think there's something to be said about really democratizing the work that is done by the NEA and the NEH. And I know that these organizations are trying hard to reach the public in new ways. But a lot of people still think that "art" involves going to some hushed gallery and eating canapés. And again, it's sad, but I think that what artists can do is democratize the arts.
The work shouldn't be for the select few. It should be for the people. By the people. Some of the great things that have happened in this country…focused on bringing the arts to the masses. Look at the New Deal...in this era we were enlisting painters and writers to help revolutionize society. To help envision and realize a better and more humane society. Artists should agitate and democratize their own work, but they should also work to democratize the arts themselves. And I think that there will be public officials who will be helpful to this. Here in Washington, we have these extraordinary museums that we've already paid for; and we need to visit these places. Walk into the Hishhorn. People, everyone, can just go in and pick one piece of art and look at it. People who can should just go in there and spend the time imbibing it. It's free.
Museums need to be flinging open their doors to people and making what is inside these halls accessible to everyone. Maybe this artist-as-citizen uprising will try to democratize the arts rather than make it the province of the select few. Art just makes us better. It helps us live better. And I think it is very sad that a lot of people are reticent to go to a symphony performance. And the arts community has to fight back on this. Why can't we have more symphony conductors explaining what they're doing and how and why they're doing it? They can do talk-backs after the performances. Or they can speak before the performances. Maybe if people felt the work was for them they'd attend. Some museums do this, for example. They make the effort to help people interact with the work. And have people explaining or interacting with viewers. We've done the job of making literature and film accessible….
YVW: Yes. It is often a question of bridging the divide between what is considered "high" and what is considered "low art." I try to navigate this in my own work. We need to be less concerned with work being considered higher in value than function, for example.
Yes, and when you look at it from the perspective of how this knits a community closer together...And these can create communities by using the humanities as a knitting needle I think we find that the arts and the humanities are some of the most important contributors to our understanding of community. To our understanding of identity. Why not have public art projects made by many people...there could be special viewings where people can interact with work and possibly even add to this.
Related
Popular in the Community