Designer Sue Wong poses alongside a model wearing a dress from her "Edwardian Romance" collection. (image via Sue Wong on Facebook.)
Designer Sue Wong will show her new collection for Fall 2014 this week in an invitation only show at her Los Angeles Atelier on April 11. This year's collection, called Edwardian Romance, continues Ms. Wong's theme of Hollywood Glamour but adds a touch of Downtown Abbey vintage style. Before the fashion show began, I had the the opportunity to sit down with Ms. Wong for an exclusive interview about her designer viewpoint, inspirations and what's next for her fashion line. Following is my interview with Ms. Wong.
Q. Tell us about the Fall 2014 collection, it's Edwardian inspired correct? Any hints of Downtown Abbey?
A: The Edwardian Era has always inspired my work. Poetry, the paragon of Beauty, the haunting nostalgia affect our present and future... these are all important issues that have carved my life's path and procured my success and are the underscoring paradigm from the Edwardian era. The period's romanticism and transformational aspect is synonymous with my design philosophy.
I love the period costumes of Downton Abbey. I have an affinity for this era and its iconography in a way that is effortlessly aligned with my fascination with seductive stories that is embedded in the stunning bead work that I include in my work. A sense of mystery is definitely a strong component to any sophisticated woman and it is never more so present than in the iconic women from this Belle Epoque from whom I draw inspiration. So I interpret that in the design in the use of illusions in lace -- of what part of the body to reveal and what to keep hidden. I have always had a long standing fascination with those eras because they represent historical turning points when there was an explosion of art and style and music and culture -- and the Edwardian era is the anthem of such. The confluence of political, social and industrial change led the way to unparalleled expressions of ideas by writers, musicians and designers.
Q. What is the collection color palette for Fall?
A: I have neutrals such as: sandalwood, taupe, ivory and platinum.
Jewel tones such as: sapphire, turquoise and amethyst.
Fall colors such as: chocolate, red and black.
Q. Tell us about the fabrication for this collection.
A: I use a variety of lace, tulle, chiffon, taffeta enriched with time-honored SW signature couture techniques such as: embroidery, appliqué, hand bead work, sequins and seutache. These are accented with novelty elements including hand-knotted beaded fringe, cascading tiered skirts and Grecian draping. I love to start with diaphanous exquisite fabrics and then add design layers of gorgeous handwork: often a shimmering effect with incandescent beads, or unique embroideries and or layered textures embellished with passementerie and seutache.
Q. From past collections, I know you love vintage styles. Do you study old designs and patterns?
A: In my Bohemian days in Venice, CA -- I owned a one if a kind boutique store on the Oceanfront Walk, and would relish in buying vintage clothing and I would create one-of-a-kind gorgeous gowns, using the beautiful details extracted from these vintage clothing -- a unique look for my boutique. Vintage has always been a very strong trajectory in my work and iconography. I am fascinated with creating "hybrid" and unique visions and while I reintroduce the sense and sensibilities of vintage -- I always reinvent them in an arresting contemporary style that very much speaks and reads as quintessential glamour for today.
Q. Any plans to bring Sue Wong to New York for Fashion Week?
A: The positioning of my brand is Old Hollywood Glamour and I tend to create fashion events that honor that theme, here in Hollywood -- the glamour capital of the Planet! Of course, New York is an exciting and important Fashion capital, and remains one of my favorite cities in the world; and yes -- I would love to do a fashion event there someday.
Q. What do you think makes Sue Wong so luxurious as a brand?
A: Fashion is Art and I approach each and every design as an individual piece of art brought to life in exquisite fabrics with dramatic couture flourishes that channel the inner Goddess. I am particularly drawn to the unabashed beauty and glamour of Cinema's Golden Era, that idealized age when film stars were larger than life and truly the powerful substance of dreams. That power transfers to any woman who wears a SUE WONG.
Q. Is everything made in Los Angeles? I've been to your Atelier, it's impressive to see the seamstresses and pattern makers on-site.
A: I do all of my design work in Los Angeles and the manufacturing is done overseas. I also oversee all of the key aspects of production in Los Angeles with a dedicated staff of pattern makers and I personally sit in on all of the production fittings to make sure that every detail as well as the cut and fit of every SW gown is perfect.
Q. Any plans to expand your brand in terms of accessories or beauty products?
A: We're branching out in other products. We have the Sue Wong for Acme Pen collection. Acme sells high end pens to museum shops based on work from notable artists and architects including Kareem Rashid, Ray and Charles Eames, and Antoni Gaudi. As an art and architecture aficionado I'm thrilled to be one of the first fashion designers to be included amongst such great company. I also have a Sue Wong for English Home Collection of high-end bedding with collections inspired by Hollywood Glamour, Parisian Elegance and 1920's Shanghai. English Home is based in the UK and has outfitted many celebrity homes including Buckingham Palace and my own historic Hollywood home, The Cedars I'm also excited to announce that I'm launching a line of claw-footed bath tubs, bath hardware and vanities from Vintage Tub... and there's more to come. I believe that my design sensibility of glamour and opulence lends itself to an entire lifestyle beyond my clothing designs, and I envision the Sue Wong brand everywhere from fashion to beauty to home.
Q. Finally, what do you think makes Sue Wong a distinctive successful brand in today's overly crowded fashion world?
A: My signature style is unique and special. In an expedient world, I offer exquisite detailing and drop-dead glamorous looks at Pret-a Porter prices. I take great pride in calling myself "the Everywoman's Couturier." I've always been fascinated with the glamour of Old Hollywood and I channel the unique style of this golden era in my work and infused it with a contemporary sensibility. The Sue Wong look exemplifies glamour, beauty, romance, style, femininity, and is a homage to the Eternal Feminine Divine that resides in every woman. My mantra is: Beauty. Magic. Transformation. What I create is Beauty. The alchemy of Beauty is magical -- Magic has the ability to Transform. I would like to think that when a woman puts on a SUE WONG, she is magically transformed and connected to her ultimate, Feminine Divine Goddess.
With each new collection, I try to astonish and captivate my customer in some manner. I strive to create garments that are works of art; that are graceful; that are elegant; that are unique; and that are timelessly beautiful. I want the Sue Wong customer to feel the same!
To see images from Sue Wong's Fall 2014 "Edwardian Romance" collection, click on the slideshow below.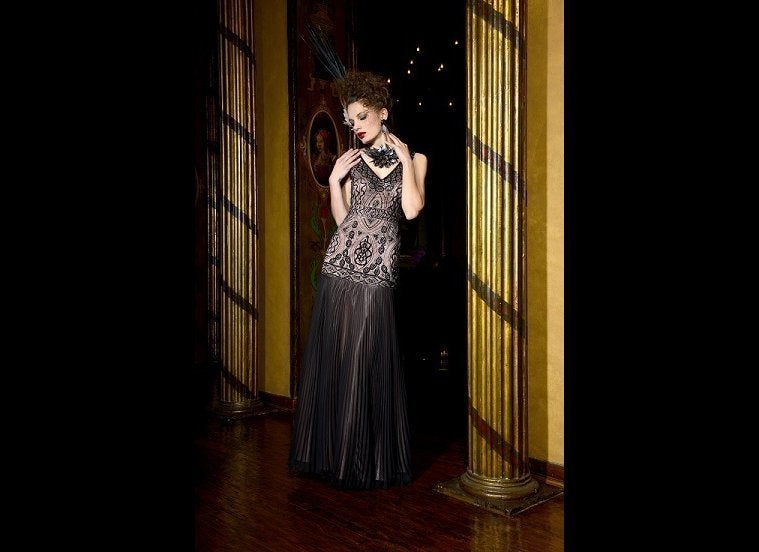 Sue Wong's Edwardian Romance Fashion Collection for Fall 2014
Related