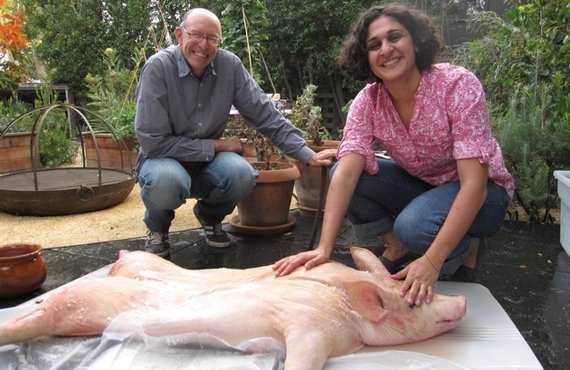 Michael Pollan is a food activist, journalist, and bestselling author whose books, like The Omnivore's Dilemma, Food Rules: An Eater's Manual, and In Defense of Food, have revolutionized the way Americans think about food. What you may not realize is that Pollan is a man obsessed by live-fire cooking and he devotes the first section of his most recent book, Cooked, to the art and history of barbecue.
Name three techniques every guy should master.
Grilling (but I don't have to tell you that): You invest money in buying tender premium cuts of meat and seafood, but you save on time. The cooking time for direct grilling is measured in minutes, not hours.
Braising: This means cooking larger, tougher cuts of meat with liquid in a sealed pot at a low temperature for a long time. You invest time (three to four hours of cooking time, although your active participation is much less than that), but you save money, as braising is designed to make cheap cuts of meat tender.
Cooking pasta: The secret is to use lots of water and plenty of salt and boil the pasta just long enough so it's tender. Basically, if you can boil water, you can cook pasta. One of my favorite side dishes is pasta tossed with extra virgin olive oil, fresh lemon juice, and sea salt.
What are the three things to keep in mind if you're just starting out in the kitchen?
Pay attention to where your food comes from. I won't buy meat unless it's grass-fed or pastured and ideally raised within a 150-mile radius of my home. Buy local first, then organic. If the ingredient list on the package has a lot of polysyllabic chemicals you're not familiar with or can't pronounce, don't buy it.
Make friends with your butcher, fishmonger, produce man, and cheese vendor. Ask what he's most excited about today and tailor your shopping list and menu accordingly.
Think quality, not quantity. It's better to eat four ounces of local grass-fed beef than a cheap 14-ounce industrially processed steak.
SIGN UP for Steven Raichlen's UP IN SMOKE newsletter to learn more about barbecue!
Steven Raichlen is the author of the Barbecue! Bible cookbook series and the host of Primal Grill on PBS. His web site is BarbecueBible.com.